Anti-Gay Priest Who Set up Church to Oppose Homosexuality Removed Over Sexual Harassment
The founder of an Anglican church in Florida who expressed staunch anti-LGBT views has been removed from the priesthood over allegations he routinely harassed young men.
Father Eric Dudley, who set up the St. Peter's Anglican Cathedral in Tallahassee, is accused of overstepping boundaries, grooming and sexually harassing several men at his church, which he set up "based on anti-homosexuality" principles.
Dudley founded the church having left his previous position as rector of St. John's Episcopal Church in 2005 after it brought in a gay priest and he could no longer abide to the "deeply unrepentant heresies" there.
Dudley left his post as dean of St. Peter's Anglican Cathedral in August 2018 after several of his alleged victims came forward. He has now been fully removed as a priest from the Anglican Church following a report by the non-profit Godly Response to Abuse in a Christian Environment (GRACE).
According to the report, Dudley "showered" his victims with praise and encouraged them to have a more active role in his church.
He also provided them with money and gifts, such as "books, tuition for college courses, a clothes shopping spree, a used car, airline tickets [and] one of his personal cassocks valued at $1,500."
The report also details a pattern of behavior from Dudley towards his alleged victims, including secretly changing the hotel rooms he had booked from two beds to one bed when they had to travel together. Dudley also encouraged his alleged victims to drink scotch in the single room with him once they had checked in.
In one instance, an alleged victim described how he shared a hotel room with Dudley after the priest invited him to visit Anglican churches in South Carolina and Northern Virginia. The man claimed that after drinking scotch and sharing personal stories with one another, Dudley began to cry and placed his head on the man's lap.
The next morning, the man said he woke up to Dudley's hands inside of his shirt, rubbing his back and chest. When asked what he was doing, Dudley apparently said he had "never been this close to somebody before."
The man then went into the bathroom in shock. "Part of me is going like, 'This is super strange. That's weird.' And another part is going, 'This can't be happening.' Eric is known as the guy who hates gay people," the man told investigators, according to the report.
"We're the church that built our church based on anti-homosexuality...no way this guy is coming onto me, I'm misreading him. I'm misunderstanding this situation," the man is quoted as saying.
The next morning, the victim said he again woke to Dudley rubbing his chest under his shirt. "I was disgusted with myself and angry at him," he recalled.
When they arrived later that day in Northern Virginia, the man claims he found Dudley had again only booked a single room for them both in the next hotel. When he requested a bed to himself, Dudley told the man that he wanted them to "run away to California and get married," the report says.
Dudley is also accused of attempting to kiss the alleged victim at his home. The man said he had purchased a new bed, which Dudley wanted to see. Dudley then allegedly laid down on the bed and told the man to join him.
"And I get in, hesitantly, and then he kind of gets on top of me and he kisses me, and he's just holding me. At first, I'm putting up with it, and he's just kind of rubbing all over me and he takes off his shirt, takes off my shirt," he said.
Dudley is then said to have stormed out the house after the victim told him he wasn't going to have sex with him.
Another man described how Dudley apparently held his hand while the pair shared a single bed in another hotel room Dudley had booked while they attended a conference together.
The man said Dudley apologized but attempted to hold his hand again while they were traveling in an Uber together.
"When we get back to the hotel room, he [Dudley] starts making fun of me about that and how there's nothing weird about men holding hands," the man said.
He claimed Dudley then intensely grabbed his hand and placed it to his own chest while he breathed heavily.
"I just knew that he's been grooming me for who knows how many, how long he wanted to get to this point with me," the man said. "I was like, 'What am I doing, how did I get here?'"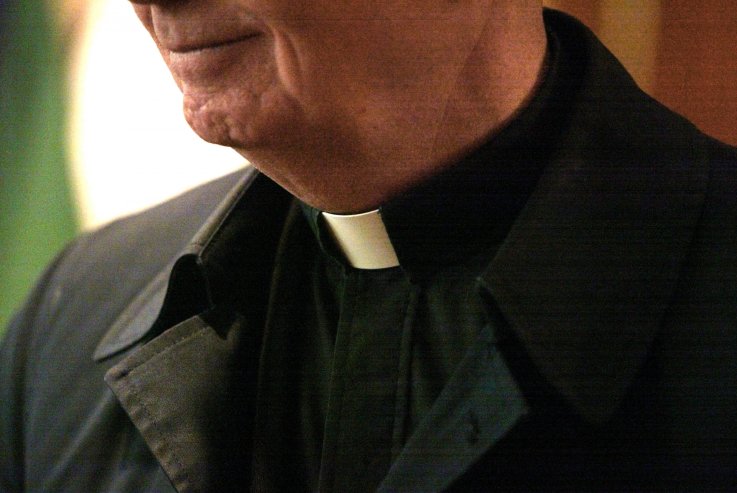 A third victim alleged he received around 137 "incessant" phone calls and texts from Dudley during 2011. The priest also would turn up at his home or work if he wasn't immediately responsive, the man said.
The report states Dudley's erratic behavior towards the man increased, including leaving notes on his front door and watching him from his car while parked outside the man's home.
The man eventually emailed another priest at the church for help. He copied Dudley in the email for transparency and to prove he was "seeking an amicable resolution."
He said that "within minutes" of sending the email, Dudley once again called his phone, which he didn't answer. Around 30 minutes later, Dudley allegedly went to the man's home and began "beating on the glass" of the back door demanding to be let in while screaming: "I know you're in there!"
When the man finally opened the door, he said an irate and upset Dudley yelled at him: "It's over. You screwed up. How dare you contact my employee?"
In his August 2018 resignation letter, Dudley said he had "struggled deeply with burnout" which caused him to drink heavily and prompted "unwarranted outbursts of anger." He admitted that he "became more affectionate than usual and overstepped boundaries" after drinking too much. He also asked for "forgiveness from those affected by my inappropriate actions."
The GRACE report accuses Dudley of failing to take full responsibility for his actions apart from the "vague apology" in his resignation letter.
"Aside from this, GRACE did not find any evidence where he has apologized to the reported victims," the report adds.
Rev. Robert Duncan, the current bishop in residence at St. Peter's, told the Tallahassee Democrat that Dudley was given one year's severance pay following his resignation on the basis he would help with the investigation.
"He did nothing of the sort," Duncan said, describing how Dudley refused to be interviewed.
"We are profoundly sorry for what happened to the victims and their families and faithful people who trusted their shepherd and the safety of their church," Duncan added. "We're profoundly sorry that a shepherd would hurt his sheep."
The reports alleges that some leaders of St. Peter's had at least some knowledge about Dudley's misconduct as far back as 2011 but failed to act until last year.
St Peter's said they are now providing counseling and financial support for the victims. The church added in a statement: "This has been a sad chapter in the history of this extraordinary Church.
"The report documents the profound pain suffered by the victims of this abuse, and we are deeply sorry for what happened and especially for any actions or inactions that the church and its members may have taken that increased their suffering."
Anti-Gay Priest Who Set up Church to Oppose Homosexuality Removed Over Sexual Harassment | U.S.