Las Vegas Shooter's Room in Mandalay Bay Hotel Blessed by Catholic Priest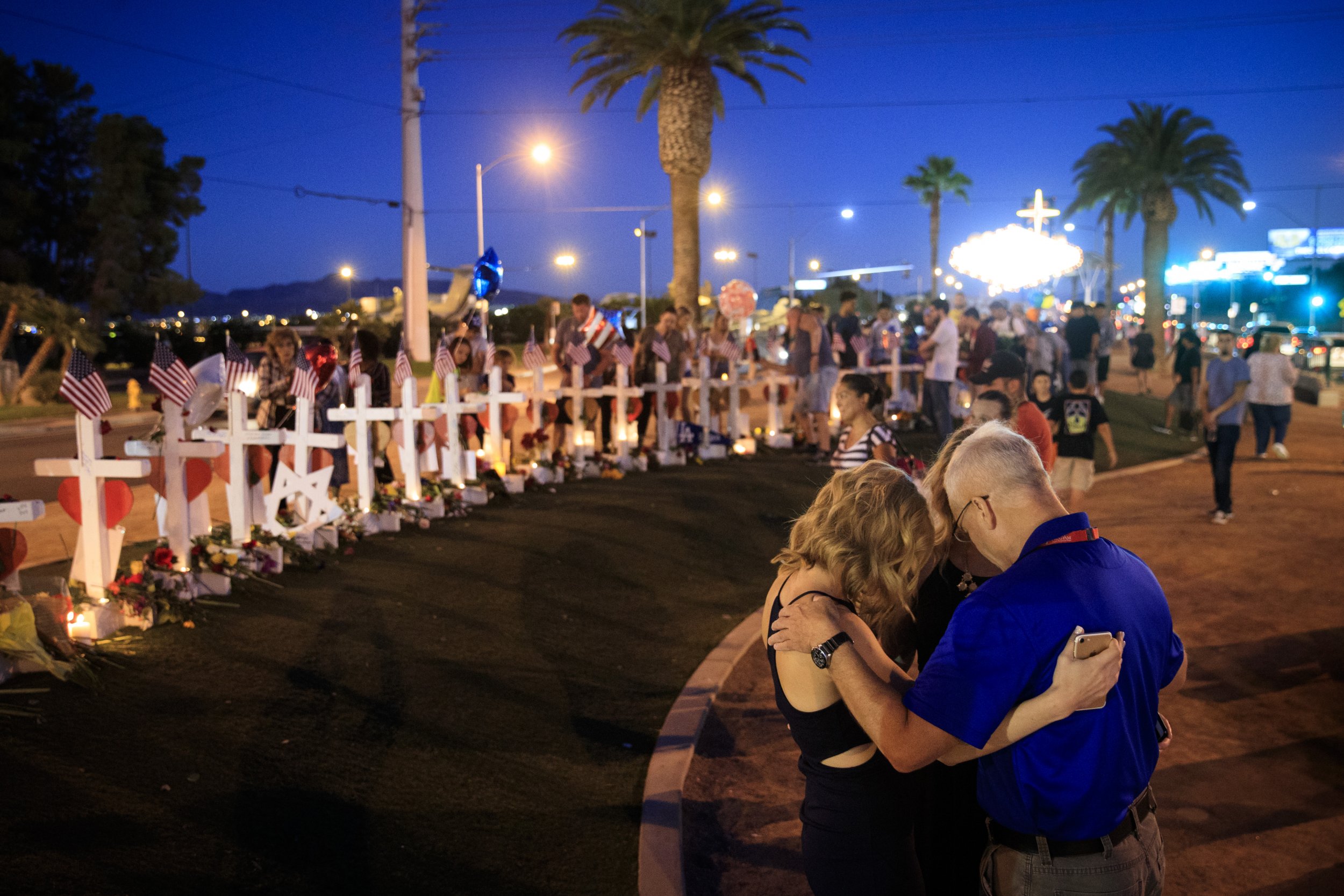 Chicago Reverend Clete Kiley felt something push him back as he stepped into the eerie hallway leading to the room at the Mandalay Bay Resort and Casino where Stephen Paddock fired off rounds of bullets—killing dozens of people and injuring hundreds who were enjoying a concert.
The Catholic priest had entered the hallway on the 32nd floor last week to reclaim the space from "where evil had been done," he told Newsweek.
It was an evil that shook him—the effects of the shooting rippled through the Las Vegas Strip and around the world after Paddock killed 58 people and injured more than 500 on October 1.
Kiley visited Las Vegas with UNITE HERE!, a union of hospitality workers, where he also works, on October 18 when he was called to visit the Mandalay Bay hotel to comfort the traumatized staff.
Kiley was praying with a few hundred staff members and consoling them as they cried when the hotel manager approached him. She asked the priest if he would perform a blessing because the FBI had just released Paddock's room back to the hotel.
"I really felt like I was being called upon to be a priest and be a spiritual leader," he said.
When the priest reached the hallway of the 32nd floor, he noticed a temporary door blocking the hallway. As he opened the door, he said he instantly felt something indescribable.
"I felt like I was being pushed back, like don't come in here," he said. "On the inside, I'm going, 'Oh no, you have to go.'"
Kiley saw bullet holes sprayed across the hall and plaster covering the floor. As he walked toward Paddock's room, feeling on edge, he began to say the Catholic prayer, "'St. Michael, the Archangel,' to defend us in battle."
"When I stepped in the room, I really felt a real profound silence," he said. "I immediately noticed the broken windows covered from outside. It was very powerful to see the physical damage."
Kiley could sense the evil in the room and what had happened there, he said.
Like the rest of the world, the priest could not comprehend what had taken place.
"This is what we call the mystery of evil," he said. "You cannot use reason to put the pieces of this together."
To bring light and peace into the room, the priest invoked the Holy Spirit with water and a palm branch he had collected from the lobby.
Kiley instantly felt comfort wash over him. As he headed back downstairs, the hotel staff also felt relieved by Kiley's blessing.
"You could see people go, 'Thank god, that's good,'" he said. "I really saw the whole thing as part of a healing process. A small part of a healing process."
Kiley said the hotel may ask more faith leaders to come forward and bless the space.