Priest Left Wedding to Chase Down and Hit Church Thief With Car: Video
A priest has been kicked out of his church after allegedly running over a thief in his car.
Metropoles reported that Father Gustavo Trindade dos Santos, 37, was officiating a wedding on Saturday in Santa Cruz do Rio Pardo, in the interior of São Paulo, Brazil.
Tatiane de Fátima and Alex Aparecido were getting married that evening, reported Brazilian news outlet G1. The bride-to-be was reportedly in good spirits when she first met the priest.
"I arrived at the church around 7:20 p.m. and also saw the priest arriving with the white car," she told Motropoles. "Until then, I didn't know him, but he was super attentive, laughed, joked with us before and during the ceremony.
"He told me to stay calm, that I was supposed to breathe, that everything was going to be alright," she continued. "He was super quiet."
But things took a turn for the worst. The Daily Mail reported that after the wedding ceremony a man named Angelo dos Santos allegedly broke into the parish house at São Sebastião Church and stole three hoodies and a t-shirt before fleeing the scene.
The priest reportedly took matters into his own hands, getting behind the wheel of a white car in pursuit of the thief. Video surveillance caught Father Trindade veering his vehicle and slamming into Angelo dos Santos before going in reverse and driving away.
Trindade then reportedly went into hiding for two days before turning himself in on Wednesday, appearing before a judge at the Santa Cruz Rio do Rio Pardo courthouse with two lawyers by his side.
The priest's charges included attempted murder and a failure to provide assistance for the alleged hit-and-run. Charges for theft were made against dos Santos.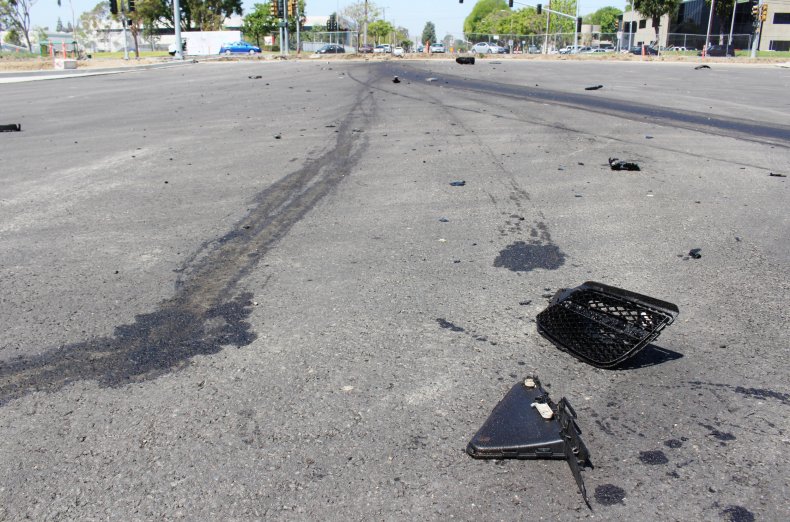 According to World Population Review, Brazil has the seventh-highest crime rate in the world and has high rates of violent crime due to organized crime.
The judge in the case, Judge Pedro de Castro, reportedly rejected a civil police request to keep the priest in pretrial detention due to the fact that he is not designated as a flight risk.
Dos Santos, meanwhile, was released from a hospital on Monday.
A majority of the wedding guests had already departed when the incident occurred, de Fátima said, adding that she was taking photos when she heard about it but was unaware her ceremony's priest had been involved.
"Most of the people had already left for the party," she said, according to Metropoles. "My husband and I rented a vintage car and stayed with some people taking pictures in front of the church. There was still people collecting the flowers. [T]he police entered the church and explained that they had run over a man nearby."
According to O Antagonista, Trindade had only been ordained one year ago. As a result of his actions, he was relieved of his duties at his parish.
His superiors at the church, Friar André Luís Tavares and Bishop Eduardo Vieira dos Santos, released a signed statement saying that due to the now-former priest's removal, he "is available to freely cooperate with justice."
"Father Gustavo is deeply dismayed and sorry for the tragic outcome and calls on all the faithful to pray for the life of Mr. Angelo Nogueira, who is recovering in the ICU of Santa Casa in the city," the statement read.
The pair added that "even he who guides his community by the Word of God and through the priesthood is not free from errors and sins."
It was an incident that will live on forever for one new bride.
"Whether you like it or not, this will end up marking the history of my wedding day," she told The Daily Mail. "There's no way around it."
Not all weddings go off without a hitch. In 2020 dozens of individuals were arrested in South Africa for violating the country's lockdown measures in the midst of the COVID-19 pandemic.
Last year a priest officiated a wedding ceremony that involved his ex-girlfriend. More recently, a bride ditched her own ceremony temporarily when she realized half her wedding attire was missing.