Man Dressed as Priest Is Caught on Video Starting a Fight for Not Wearing a Mask
In a video posted on Reddit early Wednesday morning, a man dressed like a Catholic priest can be seen kicking toward and pushing at a young man in a supermarket.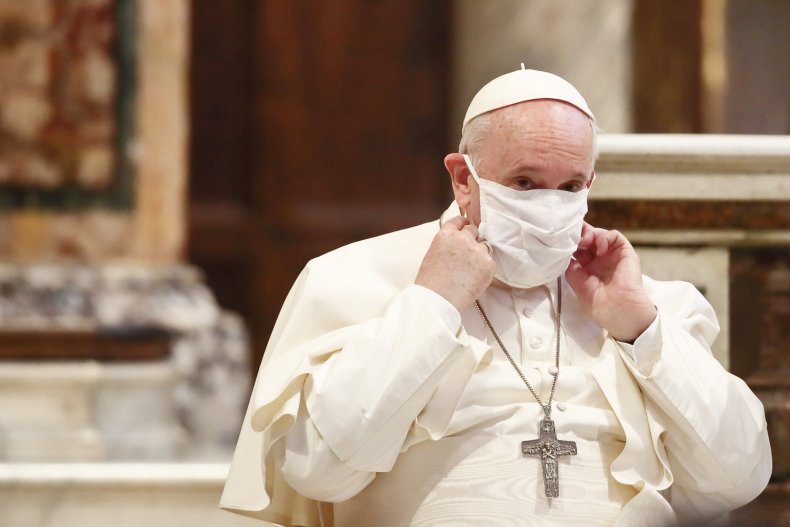 No other information is available about the clip, and Newsweek contacted the user who posted it but has not received a response as of press time. The clip runs for seven seconds and the country where it is taped is also unclear, although the language on a sign posted in the background of the store appears to be in Spanish.
The caption that accompanies the video reads (with typos): "Catholic priest starts a fight in a supermarket when asked to cover with mouth with a mask." Indeed, in the video, the man dressed as a priest is not wearing a mask, while the other man in the physical altercation is wearing one.
See the short video here. Be warned that the comments posted below could be deemed offensive by many people.
Of course, with the clip running only seven seconds, it could have been heavily edited. This makes it unclear what was said or if anything else physical transpired to provoke the priest into responding in the manner seen. Nevertheless, the video quickly racked up more than a hundred comments, many of which are too crude or suggestive to print here.
A few of the tamer comments remarked upon the priest's fighting abilities. One user wrote, "Classic boxing maneuver…"Rope-A-Pope." Another wrote, "Why do the most frail and weak looking dudes always try to get physical?"
Many people took the opportunity to post insults about the Catholic Church. One person wrote, "Surprised he didn't cover up. The Catholic Church is usually really good at that."
Others were surprised about the general strangeness of the situation. One person even jokingly compared it to Larry David's absurdist HBO comedy by writing, "What episode of Curb Your Enthusiasm is this?"
Another Reddit user tried to inject a surrealistic spin on the events captured in the clip: "If only the majority were able to see the entire thing. Try to find the clip where you can see the demons entering his body. Then, the Pope-Kung-Fu would make more sense."
As for the official Catholic Church stance on COVID-19 safety protocol, Pope Francis appointed a commission of Vatican experts to help the church navigate the various issues surrounding the pandemic. However, the Associated Press reported in late October that Francis had been criticized for not wearing his mask at times, including during some indoor services.