Monsignor in Charge of Handling Pedophile Priests Accused of Molesting Teen Boy
A popular Catholic priest has been named in two sex abuse lawsuits filed this week in New York City.
Monsignor Otto Garcia, a vicar at St. Teresa's Church in Woodside, Queens, is accused of sexually assaulting 61-year-old Tom Davis when Davis was a teenage alter boy in the 1970s.
"He was able to pick me as a prime victim because of my parents' involvement in the church," Davis said in a press conference Tuesday. "I just didn't think anyone would believe me. I said nothing until my parents passed."
The abuse allegedly occurred between 1971 and 1973, when Davis was an altar boy at St. Michael's Church in Flushing, Queens. His family was fully enmeshed in church life—his mother was a teacher in the parish school and his father was the parish basketball coach. Davis got a job answering phones in the rectory and Garcia would allegedly come by to visit alone.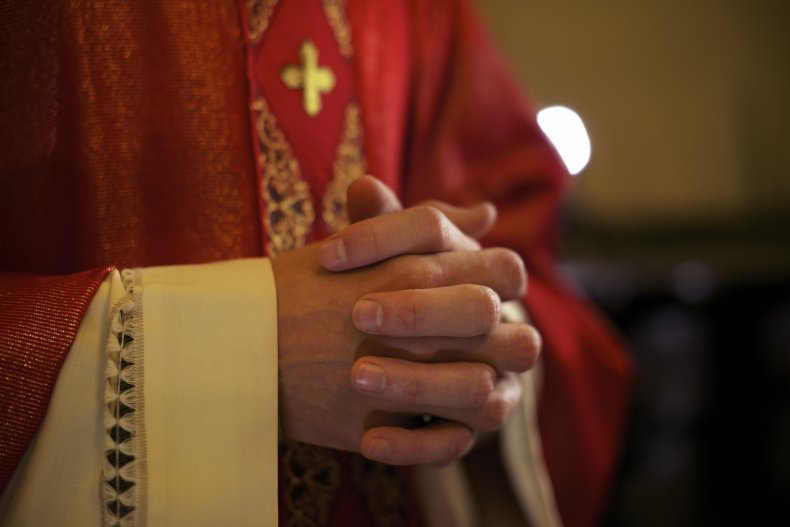 "He would start with, 'You look tense, let me rub your back.' Then he'd say, 'Let me rub lower, stand up,' Davis told the New York Daily News in February. "He'd make me stand up, he'd put his hands under my shirt and try to get under my pants. Then he would start grinding me from behind and rub my nipples. I was terrified."
Davis says he tried to push back, but "he was bigger than me—he'd use physical force to keep me trapped, rubbing his groin against me," he recounted. "He'd see how far he could go."
Getting a job at a local grocery store, Davis finally quit working at the rectory. But he still couldn't bring himself to come forward with the abuse because his parents—and his community—held Father Garcia in such high regard. Later, as an adult working as head plumber at Shea Stadium, he feared speaking out would damage his career.
Eventually Garcia was made monsignor, while Davis felt so ashamed he began abusing drugs and alcohol and sabotaging relationships. After years of soul searching and Alcoholics Anonymous meetings, he finally reported the abuse to the Diocese of Brooklyn's review board in 2017.
But the board determined there was "a lack of evidence" for his accusations.
"I reported [Garcia] to the diocese and even picked him out of a lineup, but after a two-day investigation, they just swept it under the rug," Davis at Tuesday's press briefing. "I'm not looking for a payday," he told the Daily News. "I'm just trying to get [Monsignor Garcia] out of the ministry."
A second suit against Monsignor Garcia was also filed by a John Doe on Tuesday, though details have not been made available.
Part of Garcia's past responsibilities as moderator of the Curia and vicar general involve investigating allegations of sexual abuse against clergy members. Davis's attorney, Jeff Anderson, describes the monsignor as "the Michael Cohen of the Diocese of Brooklyn."
"[He] is a top diocese official working under three different bishops," he told the Queens Courier. "As a vicar general, he was designated by the bishop to get the reports and investigate them," Anderson said. "He was the guy investigating other priests... the fixer."
This is the first time Garcia's been accused of abuse himself, but he's long been criticized for covering up for other priests: A 2003 lawsuit claimed Garcia "was part of the concerted effort to fraudulently conceal their acts from the plaintiffs and parishioners."
According to the Daily News, Garcia met with alleged victims in the early 2000s, when dozens of sex abuse cases were first uncovered, and "helped to wash the cases away."
He also made recommendations to Bishop Thomas Daily of Boston, whose failure to deal with pedophile priests was uncovered by the Boston Globe's "Spotlight" team in 2003.
While still denying any wrongdoing, Garcia has stepped down as a pastor at St. Joan of Arc in Jackson Heights. But Anderson has urged the current head of the Brooklyn diocese, Bishop Nicholas DiMarzio, to remove him from St. Teresa's, where he remains parochial vicar.
"Bishop, please, it is time to get him out and get him out now," Anderson said. "Do the right thing."
The cases against Garcia are just two of ten Anderson filed this week against Catholic dioceses in New York—and just a drop in the deluge of filings against religious institutions and youth organizations in the weeks since the state's new Child Victims Act (CVA) took effect.
Signed by Governor Cuomo earlier this year, the CVA temporarily lifts the statute of limitations on child sex abuse lawsuits, allowing victims to seek justice no matter how long they've waited. The cases filed by Anderson detail abuse that allegedly transpired decades ago, from 1952 to 1982. Among the accused are priests, brothers and a Catholic school teachers. More than half are deceased.
In a statement, the Diocese of Brooklyn, which serves 1.2 million Catholics in Brooklyn and Queens, said it has only just learned of the lawsuits and needs "to carefully review the allegations."
"Sexual abuse of a minor is a horrendous crime that has hurt children in our Church and in society as a whole," it added. "[We take] all allegations of sexual abuse seriously."
In the same statement, though, the diocese accused Anderson of trying the cases against Garcia "in the press" and "making sensational misrepresentations in order to garner media attention." It did note that four of the priests named by Anderson were previously included in its list of "credibly accused" priests.
"The Diocese of Brooklyn has apologized to victims who have suffered due to sexual abuse by clergy. And we have instituted the most aggressive policies when it comes to child protection," she said. "The Diocese conducts initial and ongoing background checks of all employees and volunteers and requires age-appropriate sexual abuse awareness training for children and any adults who work with children."
Correction: This article has been updated to indicate investigating priests accused of sexual abuse was part of Monsignor Garcia's previous responsibilities, not his current role.