Wagner Boss Laments 'Shell Hunger' as Photo Shows Bodies Piling Up
The financier of the Wagner Group of mercenaries fighting in Ukraine, Yevgeny Prigozhin, has again criticized the Russian defense ministry for not providing his troops with enough ammunition.
Prigozhin posted a picture of dozens of bodies on his Telegram channel, which he said belonged to his troops who were allegedly killed the previous day.
Next to the image was an audio interview he gave in which he railed at the Russian defense establishment for not providing his forces with the means to fight as they suffer heavy losses in the fierce combat outside Bakhmut, in the Donetsk Oblast.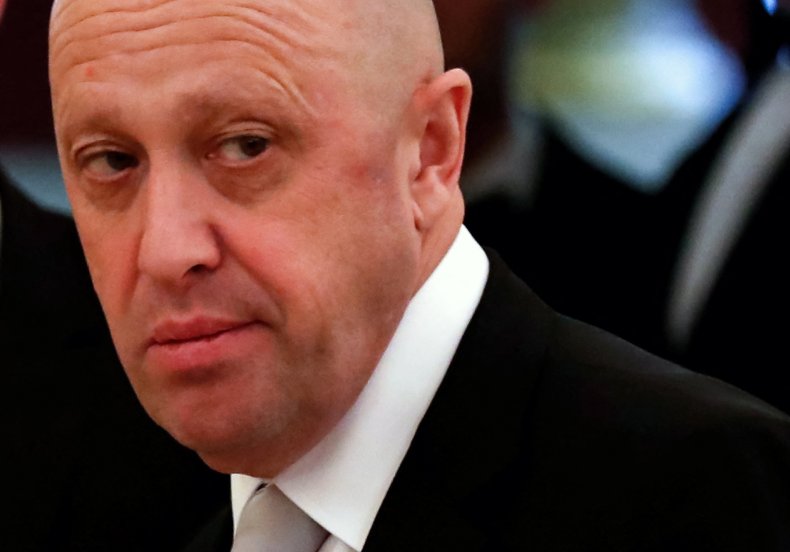 "I have placed a photograph below, it is one of the places for the bodies of those who were killed yesterday," he said in an audio clip shared on the Russian social media site VKontakte. "The reason was from so-called 'shell hunger.'"
"It should have been five times less," he said in reference to the death toll as he criticized the Russian Ministry of Defence for ignoring his calls for more ammunition. He urged Russians to put pressure on the MoD to provide the Wagner Group with the ammunition it needs as it fights a harsh battle in eastern Ukraine.
Prigozhin has publicly criticized generals and Kremlin officials over military failures in Ukraine since the start of the war, but he has stepped up his dispute with Russia's elite in recent times.
This week, Prigozhin accused Russia's defense minister Sergei Shoigu and other officials of "treason" for not providing Wagner with ammunition and said that those "who interfere with us trying to win this war are absolutely, directly working for the enemy."
Last week, the Wagner Group released a video of a stack of corpses to complain of ammunition shortages. Prigozhin said he would risk arrest to get his fighters more shells and bullets.
On Tuesday, the Russian defense ministry rejected Prigozhin's claims and listed the amounts of ammunition and fire cover provided to "volunteer storm units"—a reference to the paramilitary group.
It said "attempts to sow rifts" among the units of the Russian forces were counterproductive and are only aiding the enemy," according to The New York Times.
On Monday, the Institute for the Study of War (ISW) said that the Russian military command had cut off Prigozhin's access to artillery shells and heavy weaponry "as part of the effort to professionalize Russian conventional forces."
The Washington D.C.-based think tank said that Russian military command may have stripped Wagner's privileges to independently use its own artillery systems and Prigozhin is trying to portray this as a "disregard for Wagner servicemen's lives."
Newsweek has contacted the Russian defense ministry for comment.