Primary Election Day 2018: Results, Live Updates From PA, Idaho, Nebraska and Oregon
UPDATE: 12:35 a.m. ET—The AP has declared that the race between Eastman and Ashford is "too close to call."
UPDATE: 12:30 a.m. ET—Still no official winner in the battle between Eastman and Ashford, although the lead for Eastman is now over 500 votes. In Oregon, meanwhile, the race for governor in November will be between Democrat incumbent Kate Brown and Republican challenger Knute Buehler. Results so far harder to come by in Idaho.
UPDATE: 11:35 p.m. ET—With 100 percent of precincts now reporting, Kara Eastman has a 163-vote lead over Brad Ashford, with a recount now likely.
UPDATE: 11:10 p.m. ET—Some results that have come in: Jane Reybould is the Democratic nominee to take on Republican incumbent Deb Fischer for her Senate seat from Nebraska and Democrat Bob Krist will face off with Republican incumbent Pete Ricketts in the battle for Nebraska governor.
UPDATE: 11:00 p.m. ET—The final polls have now closed in both Idaho and Oregon. Meanwhile, there are still results to come in in Pennsylvania and Nebraska.
UPDATE: 10:45 p.m. ET—Incredibly, it's now even closer in the battle between Ashford and Eastman. With 98 percent of precincts reporting, just 68 votes separate the two Democratic candidates for Nebraska's 2nd District seat. Ashford still just narrowly ahead.
UPDATE: 10:30 p.m. ET—It's painfully close in the battle for the Democratic nomination for Nebraska's 2nd District seat. With 87 percent of precincts reporting, establishment pick Brad Ashford has a lead of less than 100 votes over first-time female candidate Kara Eastman.
UPDATE: 10:06 p.m. ET—The AP has called Scott Wagner as the victor in Pennsylvania's Republican gubernatorial primary. Wagner will take on Democratic incumbent Tom Wolf in November.
UPDATE: 9:52 p.m. ET— Lou Barletta has been called as the winner by the AP of the Republican primary for Democrat Bob Casey's Pennsylvania U.S. Senate seat. Barletta was an early Trump supporter and received the backing of the president via robocalls in the closing days of the race.
UPDATE: 9:45 p.m. ET—Incumbent Deb Fischer has won the Republican primary for her U.S. Senate seat in Nebraska, with the AP calling the result despite just 10 percent of precincts reporting.
UPDATE: 9:40 p.m. ET—There's a potential upset brewing in Nebraska, where, in the Democratic primary for the 2nd District, progressive newcomer Kara Eastman has a narrow lead over establishment former congressman Brad Ashford with 49 percent of precincts reporting.
UPDATE: 9:30 p.m. ET—The race is tightening in the Democratic primary for the House seat in Pennsylvania's 1st District, with veteran Rachel Reddick trailing self-funded millionaire Scott Wallace by five points.
UPDATE: 9:15 p.m. ET—In the Pennsylvania Republican primary for Bob Casey's Senate seat, Barletta is up 58 percent to 42 percent over Christiana with almost a quarter of precincts reporting.
UPDATE: 9:05 p.m. ET—A couple of races have already been called by the Associated Press in Pennsylvania, both in favor of incumbents on the Democratic side. In House District 2, Brendan Boyle has gotten the better of Michele Lawrence and in the 3rd District Dwight Evans has beaten Kevin Johnson.
UPDATE: 9:00 p.m. ET—Polls are now closed in Nebraska, where there are primaries on both the Democratic and Republican side for incumbent Deb Fischer's U.S. Senate seat as well as for three House seats. The race for state governor is also in play.
UPDATE: 8:43 p.m. ET—With two percent of precincts reporting, Barletta now has a narrow lead over Christiana. In the battle for the Republican nomination for Pennsylvania governor, Paul Mango has a slim early advantage over Scott Wagner.
UPDATE: 8:23 p.m. ET—The first precincts are starting to report results in Pennsylvania. In one of the most eagerly watched races, Jim Christiana has an early lead over the Trump-backed Lou Barletta in the battle to win the Republican nomination to take on Democratic Senator Bob Casey. Still very early at this point.
UPDATE: 8:00 p.m. ET—Polls have now closed in Pennsylvania, where there are 21 contested congressional primaries, so expect preliminary results to soon start dripping in.
UPDATE: 7:40 p.m. ET— Twenty minutes until the polls close in Pennsylvania and election officials are having to battle power outages in multiple polling places thanks to severe thunderstorms sweeping through the area. In some case, voting machines needed to rely on battery backup in order to keep running.
Original Story:
Key steps will be taken toward the 2018 midterms Tuesday when four more states, including the keenly watched state of Pennsylvania, will hold primary elections. Votes will be held in Idaho, Nebraska and Oregon, but it is in Pennsylvania, where Democrats are looking to make major inroads in November, where the attention will be focused.
Related: Will Democrats Flip the House? Primaries in Pennsylvania Could Foretell Party's Chances
President Donald Trump shocked most observers when narrowly winning the state in the 2016 election, becoming the first Republican to do so in nearly three decades and propelling himself to the White House. But Democrats are now pinning their hopes on the Rust Belt state being at the forefront of a blue revival later this year.
There are several reasons for that optimism. Notably, Trump's approval rating has sunk to just 39 percent in Pennsylvania, compared with 55 percent disapproving of the president's performance, according to an April Muhlenberg/Morning Call poll.
There is the matter, too, of this being the first election in which the state's congressional map recently redrawn by the Pennsylvania Supreme Court will be in effect. After the last map was found to be an unconstitutional gerrymander, the new version looks significantly more favorable for Democrats.
Finally, three sitting Republican congressmen including Representative Charlie Dent, have announced that they will not be seeking re-election, opening the door for Democrats who will face off Tuesday. The party will hope Pennsylvania yields several of the pickups en route to a 23-seat swing it needs to gain back control of the House of Representatives from the GOP.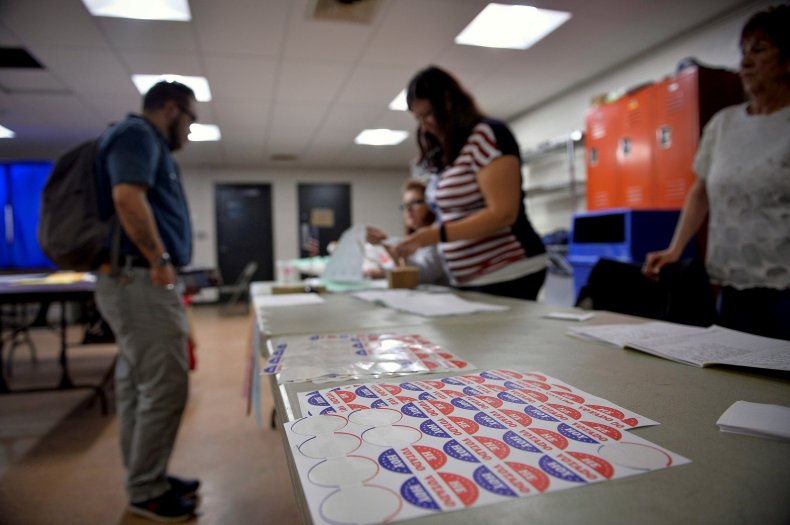 Before getting to that point, however, Democrats, in Pennsylvania as well as in Nebraska, must settle some internal division between its progressive and moderate wing.
The night will also provide a further indication of Trump's pulling power. The president has rallied behind one of his earliest supporters, Representative Lou Barletta, who is seeking to win the right to take on Democratic Senator Bob Casey in November.
The polls in Pennsylvania will close at 8 p.m. EDT, in Nebraska at 9 p.m. EDT, Idaho at 10 or 11 p.m. EDT and Oregon at 11 p.m. EDT. Check back for live updates and results as the night progresses.