Trump, Pence Continue Proxy Fight in Wisconsin, Omar Clings to House Seat
Voters in Wisconsin, Minnesota, Vermont and Connecticut cast their votes Tuesday as August primaries continued to set the stage for the 2022 midterm elections.
The Republican race for governor in Wisconsin will serve as another battle between former president Donald Trump and former Vice President Mike Pence. As of Tuesday evening, Trump's pick Tim Michele was leading over Pence-backed former Lt. Gov. Rebecca Kleefisch. The winner will take on Democratic Governor Tony Ever in the key battleground state.
Wisconsin Lieutenant Governor Mandela Barnes won the Democratic primary to take on incumbent Senator Ron Johnson. The race could be a pickup for Democrats in a tough midterm fight.
Congresswoman Ilhan Omar faced an unexpectedly tough primary challenge from Don Samuels in Minnesota who sought to topple the outspoken progressive for her stance on policing and other issues. A special election to fill the House seat after the death of Minnesota Republican Representative Jim Hagedorn remained unsettled.
In Vermont, legislator Rebecca Balint won the Democratic primary for the state's open House seat. The position was being vacated by Peter Welch, who won the Democratic nomination for Senate.
In Connecticut, Leora Levy won the Republican nomination for Senate after a last-minute endorsement by Trump who lost the state by 20 points in 2020.
Live updates for this blog have ended.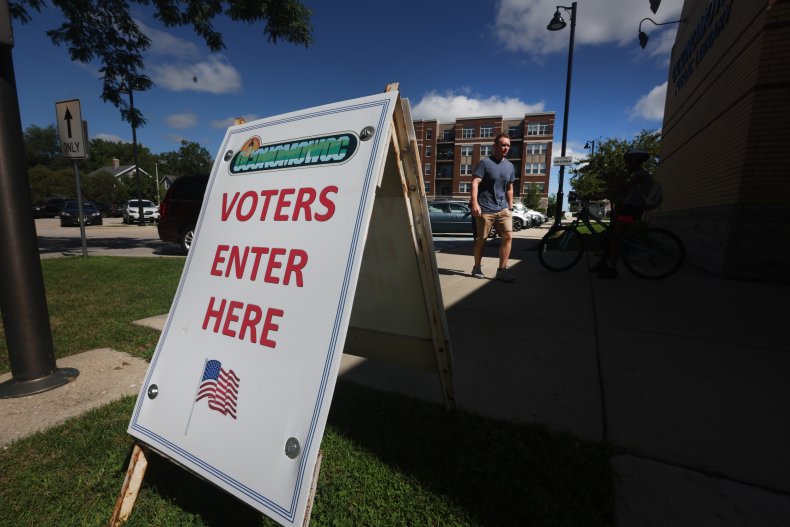 Finstad, Ettinger Win Primaries in Minnesota
A special election to fill a vacant Minnesota House seat remains unsettled Tuesday evening, but the groundwork for a rematch later this fall has already been laid.
The Associated Press projects that Brad Finstad, a former state lawmaker, won the Republican nomination in Minnesota's First House District and Jeff Ettinger, a corporate executive won the Democratic nomination for this November's midterm election.
Because of a quirk in state election law, both appeared on Tuesday's ballot for their respective party primaries and as candidates for a seat left vacant by the death of Republican Representative Jim Hagedorn.
The most recent results for the special election put Finstad with over half of the vote, with Ettinger about a thousand votes behind.
Regardless of who wins the special election both are now set to face-off again this November for a full term.
Levy Wins Connecticut GOP Senate Primary
Bolstered by a late endorsement by Donald Trump, Leora Levy has won the Republican nomination for Senate in Connecticut.
The Associated Press has called the race for Levy, a Republican Party activist over former Connecticut House Minority Leader Themis Klarides.
Although Klarides had the backing of the state party, Trump gave his endorsement to Levy last week.
The Republican National Committee trumpeted her victory in a tweet saying she "has demonstrated her conservative values within the Republican Party for years" and highlighting her work serving as a national committeewoman.
Levy will now face Democratic incumbent Richard Blumenthal who carried to state in 2016 with 63 percent of the vote.
Ilhan Omar Faces Tight Primary Race to Keep Her Seat
Representative llhan Omar is clinging to a narrow lead over a Democratic primary challenger Don Samuels, who has positioned himself as a more centrist alternative to the progressive firebrand.
Omar currently has just over half of all votes counted, according to the most recent vote count. Samuels, a former Minneapolis City Council member, is just under 3,000 votes behind Omar.
A win by Samuels would be a stunning upset. Elected in 2018, Omar was considered a member of "The Squad," an informal group of newly elected representatives known for being the most vocal in their progressive politics and willing to clash with party leadership.
But Samuels doesn't have much room left for an upset with 97 percent of precincts currently reporting results.
Wisconsin Gubernatorial Primary Another Trump-Pence Battle
Wisconsin's Republican primary for governor is seeing a tight race that's serving as another proxy fight between former President Donald Trump and Vice President Mike Pence.
Construction company executive Tim Michels currently has a narrow lead of 46.5 percent of the vote to former Lieutenant Governor Rebecca Kleefisch's 45 percent, according to initial results reported by Wisconsin Public Radio.
Since their falling out, Trump and Pence have backed opposing candidates in their rival efforts to shape the Republican Party. Trump is backing Michels in the race while Pence is supporting Kleefisch, who served with former Governor Scott Walker.
The eventual nominee will face incumbent Governor Tony Evers in a test of Republican strength in a key battleground state.
Mandela Barnes Wins Wisconsin Democratic Senate Primary
Wisconsin Lieutenant Governor Mandela Barnes has won the Democratic nomination for Senate.
The Associated Press called the race for Barnes after polls closed Tuesday evening. Barnes will now take on Republican Senator Ron Johnson, who also won his primary as he seeks a third term, in what's considered to be one of the more competitive midterm races.
The once competitive primary narrowed suddenly last week when three of the leading candidates dropped out, clearing a path for Barnes, reports Wisconsin Public Radio.
Trump-endorsed Leora Levy ahead in CT Senate Primary
Leora Levy currently holds a lead in the Connecticut Republican Senate primary after getting a last minute endorsement from former President Donald Trump.
Levy, a GOP activist, is currently in the lead with just over half of the votes counted, according to NBC affiliate WVIT. Former Connecticut House Minority Leader Themis Klarides trails behind her with 38 percent of the vote.
Trump last week gave his endorsement to Levy in a surprise phone call to a Republican gathering in Montville that was attended by Klarides and Peter Lumaj, another candidate running in the primary, reports the Hartford Courant.
If Levy prevails in the primary, she will face off against Democrat Richard Blumenthal in a state that Trump lost by 20 points in 2020.
Sanders-Backed Rebecca Balint Wins VT House Primary
Rebecca Balint has won the Democratic primary over Molly Gray for Vermont open House seat.
Balint, president pro tempore of the Vermont Senate, had 59 percent of the vote over Gray, the state's lieutenant governor, according to current returns. Both are running to succeed Representative Peter Welch who vacated the seat to run for Senate. Either would be Vermont's first female member of Congress.
Balint has the backing of Bernie Sanders, Vermont's independent Democratic socialist senator. Among Gray's more notable endorsements is former Governor Howard Dean, who unsuccessfully ran for president in 2004.
The winner has a good shot at prevailing in the general election where a Republican hasn't been elected to Vermont's at-large House seat since 1988.
Elsewhere on the ballot, Welch is projected by the Associated Press to win the Democratic primary for Senate after easily besting two lesser-known candidates.
Phil Scott, the state's incumbent Republican governor, is also projected to win his primary. Brenda Siegel was unopposed in the Democratic primary for governor.
'Defund the Police' Tested in MN Democratic Primary
Democratic Representative Ilhan Omar will face a primary challenge from a centrist candidate seeking to represent the Minneapolis-based seat.
Don Samuels, a former member of the state Board of Education and Minneapolis City Council, is hoping to oust Omar, who was first elected in 2018 and has established herself as one of the most progressive members of Congress.
Samuels told ABC affiliate KTSP that he's hoping to achieve an upset by presenting himself as an alternative to Omar, who has led calls to "defund the police."
"I knock on the door, first thing I say is 'hi, I'm Don Samuels, I'm running for Congress. What is your number one issue?' They say, 'public safety, public safety, public safety,'" Samuels told the station.
Previously, Omar supported a measure to replace the Minneapolis Police Department with a new Department of Public Safety, while Samuels, 73, helped organize the successful campaign against it, reports Star Tribune.
The first Somali-American elected to Congress, Omar, 39, defended her record to the paper, saying she has fought for more expansive action on climate change, abortion rights and student debts that she says voters demand.
"I have always been on the front lines advocating for our liberties and freedoms to be extended in this country," Omar said.
Minnesota's Special Election Has Two Ballots and Potential Twist
The winner of Minnesota's special House election could prevail in one race and lose another.
Voters in Minnesota's House District 1 will pick between Republican Brad Finstad and Democrat Jeff Ettinger to complete the term of Republican Representative Jim Hagedorn who died earlier this year.
Additionally, voters in the southern Minnesota-based district will vote in a primary elections to determine who will appear on the ballot in November.
Ettinger, the former CEO of Hormel Foods in Austin, is hoping to flip the seat for Democrats. But Republican Hagedorn held the seat since 2018, giving Finstad, a former legislator, a chance at narrowing Democrats' narrow margins in the House.
But even if Finstad wins the seat, he could potentially lose the primary. In Minnesota's May primary, he narrowly beat Jeremy Munson. Now, Finstad will square off with Munson again in Tuesday's primary.
Here's When Polls Close in Tuesday's Primaries
Vermont and Connecticut will both close their polls at 8 p.m. Eastern standard time, making them the first to wrap up among the four states holding Tuesday primary contests.
Connecticut voters had the chance to cast ballots beginning at 6 a.m., while in Vermont polls opened between 5 a.m. and 10 a.m., depending on which town they're located in the state. Absentee ballots must be turned in by 5 p.m. to the town clerk's office in Vermont to count. In Connecticut, absentee ballots must be returned before polls close.
Minnesota and Wisconsin will also each close polls at 8 p.m. Central standard time.
For state and federal elections, Minnesota towns with less than 500 registered voters don't have to open polls until 10 a.m., but most opt for an opening time of 7 a.m., according to the Secretary of State's Office. In Wisconsin, polls open at 7 a.m.
In Minnesota, absentee ballots must be received by Election Day to count. In Wisconsin, absentee ballots must be returned to the local clerk's office by 8 p.m.