Primary Update: Abortion Wins in Kansas, Trump Gets Challenger for Whitmer
Primary elections were held in five states Tuesday: Arizona, Kansas, Michigan, Missouri and Washington.
In Kansas, voters were the first to weigh in on abortion since the Supreme Court overturned Roe v. Wade earlier this summer. Voters opted for more abortion rights.
Former President Donald Trump's influence on the GOP was tested Tuesday, winning a governor's nomination in Michigan but losing a senatorial nomination in Missouri. Results in Arizona were still pending at close of this blog.
Live updates for this blog have ended.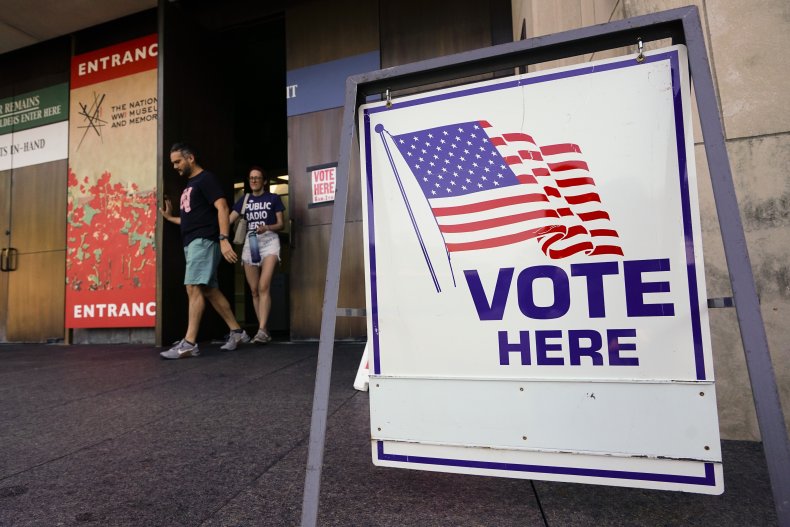 Abortion Wins in Kansas, Trump Gets Challenger for Whitmer
Voters went to the polls in five states Tuesday for primary elections to kickstart a busy month of primaries just before the November general election. Though former President Donald Trump wasn't officially on the ballot, his endorsements were. That could lead to a who's who of candidates in November, should Trump or his opponents win those races.
The headliner on Tuesday's ballots that was tallied before midnight ET was the Kansas abortion bill, which Jayhawkers passed at 61 percent, meaning a majority of residents prefer a referendum to vote on legalizing abortion just a few months after the U.S. Supreme Court overturned the historic Roe v Wade case.
Trump-endorsed candidate Tudor Dixon was projected to win the GOP gubernatorial candidacy in Michigan, where she would face Democratic incumbent Gretchen Whitmer.
Trump's endorsee for senator in Missouri, who was Gov. Eric Greitens, lost Tuesday night, as did Representative Vicky Hartzler, who was endorsed by Senator Josh Hawley.
The results of Arizona and Washington's primaries were still rolling in at the time of publishing.
Kansas Voters Back Abortions
Kansas voters cast their ballots in an historic vote Tuesday on abortion rights, the first since Roe v Wade was overturned earlier this summer. Kansans voted that it was a constitutional right to abortion.
More than 61 percent of the voters agreed it was the constitutional right to have an abortion in the state, according to the Associated Press.
The Roe v Wade case was overturned earlier this year, and Kansas was the first state to have residents casting votes for, or against, abortion since then.
Mark Kelly Projected as Dem winner in Arizona
Mark Kelly, the Democratic incumbent senator from Arizona, has been called the winner for his primary on Tuesday, according to multiple sources.
Kelly ran unopposed in his primary and is looking to fulfill his first full term after the general election this November.
Trump-backed Tudor Dixon to Face Gretchen Whitmer
Tudor Dixon has been projected to win the GOP nomination for governor in Michigan, which will put her against Democratic incumbent Gretchen Whitmer. Dixon was backed by former President Donald Trump, signaling another Trump win in this mid-term election.
Dixon has backed the claims of Trump's falsely-claimed wins in the 2020 presidential election.
Josh Hawley Says Trump Called to Discuss Primary
Missouri Republican Senator Josh Hawley said that former President Donald Trump called him Monday afternoon to talk about this week's primary in the Show Me State.
The call centered around the other Senate seat, Hawley said. Trump has endorsed Governor Eric Greitens for the nomination while Hawley had issues with that particular endorsement. Hawley tried to encourage Trump to endorse Representative Vicky Hartzler, who Trump said would be difficult to support.
"He called me and we talked about the race as we have many times. I gave him my view. We talked through different people," Hawley told CNN. "I told him I thought he should endorse Vicky ... That was my only recommendation.. He hadn't made up his mind when I talked to him."
Hawley said it's "highly unlikely" that the Trump-backed Greitens would win on Tuesday.
When Do Polls Close Tuesday night?
Voting on Tuesday stretches across time zones from Eastern to Pacific, but they have varying closing times. Here's when polls close across the country (all times Eastern):
8 p.m.
Michigan (local) and Missouri
(Michigan closes at 8 p.m. in its Eastern time zone and also 8 p.m. in its Central time zone)
9 p.m.
Final polls close in Kansas and Michigan
10 p.m.
Arizona
11 p.m.
Washington state
Arizona Candidate Tells Voters to Avoid Felt Tip Pens
The county attorney in Maricopa County, Arizona, sent a cease-and-desist letter to Gail Colec, a candidate for county supervisor, to stop telling voters to boycott felt tip pens for casting their ballots.
Colec tweeted Tuesday afternoon that felt tip pens "cause over votes" and leads to "cheating."
"Protect Your Vote! Share! Felt tip pens cause over votes, which cause adjudication where votes can be changed. Maricopa County allows for Artificial Intelligence to adjudicate. Do not buy their BS. The cheat is on! #UseBlueInk," Colec wrote.
Maricopa County Attorney Rachel Mitchell sent the letter on behalf of the elections department to Colec, advising the candidate to stop telling voters to "steal pens.
"As you well know, theft of any kind is unlawful; moreover encouraging theft of the fast-drying ink pens specifically recommended for election day is a deliberate attempt to interfere with election administration and will have the harmful effect of delaying the vote tabulation of election day ballots, as the wet ink harms the voter tabulation machines," Mitchell wrote in the letter.
"The Elections Department requests that you cease and desist from your call to steal the pens."
Mitchell urged Colec to issue a retraction tweet and advised the county could take legal action necessary.
Michigan GOP Says 'Death Threats' Made Against Staff
The Michigan Republican Party said there have been "death threats" made against their staff leading up to Tuesday's primary. Gustavo Portela, the deputy chief of staff and communications director for the state's GOP, released a statement Tuesday said that in addition to death threats, someone was planning on "shooting up the building and burning it down."
"This week, the Michigan GOP experienced several death threats which escalated earlier today when our building received several threats from a bystander who not only verbally assaulted a longtime female staffer but also indicated he was planning on shooting up the building and burning it down," Portela wrote.
Republican voters in Michigan headed to the polls today to nominate their gubernatorial candidate who will face Democratic incumbent Gretchen Whitmer in the general election this November.
Portela said it was "unfortunate" that those who oppose the GOP would act this way.
"It's unfortunate that members of the opposite party would seize on this and joke about the situation, but this is the type of politics they play now a days. Our party won't be deterred, and we will continue to work tirelessly for Republican policies despite ongoing threats.
"No type of violence against women should ever be tolerated."
A GOP watch party in Lansing for tonight has been canceled because of the threats, WXMI reported.
Gen Z Candidate Runs for Congress in Missouri
One of the first Generation Z candidates running for Congress is on the ballot today in Missouri.
Ray Reed is running as a Democratic candidate for Missouri's 2nd Congressional District. The 25-year-old told KSDK-TV that his platform is "healthcare, jobs and justice."
"When we started this campaign, no one believed that a 25-year-old progressive candidate could do this thing," Reed tweeted Tuesday. "Here we are at the finish line of this primary and I only have one more ask of you: VOTE! 🗳️"
"The cynics kind of say, oh, he's too young, he's too untried, maybe if he were to spend, a few terms in Jeff[erson] City, maybe then he'll be ready to run for Congress," Reed told NPR. "Which is really just political talk for let's get him in our system. Let's teach him how to play the game our way. And then if we say he's ready, he can run for a higher office."
"I think the real risk is to nominate the same type of Democratic candidates election after election after election and somehow expect a different result," he told the outlet.
Reed is among a small group of Gen Z candidates in the 2022 midterm elections. The Pew Research Center defines Gen Z as anyone born 1997 and 2012.
"Put simply, I'm running for Congress in this district I grew up in because I believe that we have the capacity to not only build a broader coalition in this district across divisions of race, region, religion, gender, income, and age group to flip this seat," Reed's official website says.
"It's because I believe we have the capacity to make government work a little bit better for the everyday, working-class folks who could just use a little bit of breathing room," he added.
Today, Reed tweeted that he had espresso, ate Chipotle, then continued with election-day duties.
Kansas to Vote on Abortion Amendment
Kansas will be the first state to put abortion rights on the ballot since the Supreme Court overruled Roe v. Wade.
Voters will decide whether the right to an abortion should be explicitly excluded from the state's constitution. This comes in response to a 2019 state Supreme Court ruling that found the state constitution does protect the right to an abortion.
The referendum will be a litmus test for how voters feel about reproductive rights across the country leading up to the midterm elections in November.
The "Value Them Both" amendment, as it is known by its supporters, has been backed by national anti-abortion groups. It states there is a non constitutional right to abortion or to require government funding for abortion.
The proposed amendment would not outlaw abortion in the state, but it would clear the pathway for lawmakers to propose legislation to restrict abortion access.
"Because Kansans value both women and children, the constitution of the state of Kansas does not require government funding of abortion and does not create or secure a right to abortion," the proposed amendment states.
A "yes" vote would remove the right to abortion from the state constitution while a "no" vote would keep the right as is.
There were reports that a text message from an anonymous group went out of Kansas voters telling them to "vote yes" to protect choice. The group was suspended from the Twilio messaging platform, disabling its ability to send new messages, Twilio spokesman Cris Paden told the Associated Press. The message violated the platform's policy against the spread of disinformation.
Kansans for Constitutional Freedom, the main "vote no" campaign, called the text an example of "desperate and deceitful tactics."
The Kansas Governmental Ethics Commission said on Twitter that text message advocacy about constitutional ballot initiatives does not require attribution.
Republicans Who Impeached Trump on Ballot
Three House Republicans who voted to impeach former President Donald Trump face primary challengers Tuesday.
Peter Meijer of Michigan voted to impeach Trump just days after he was sworn into office for his first term. Trump has endorsed his opponent John Gibbs, a businessman who worked for Trump's Housing Secretary Ben Carson.
Meijer is a member of the Army Reserve, he served in Iraq and has been critical of the Biden administration's handling of the withdrawal from Afghanistan and the economy. He is accused by his opponent of not being a true Republican for his impeachment vote.
In Washington, two Republicans, Jaime Herrera Beutler and Dan Newhouse, have been criticized by their state party since the impeachment vote.
The two candidates with the most votes in each primary, regardless of party, will move on to the general election in November.
Beutler is a six-term congresswoman and now faces eight challengers, including four Republicans in the state's third Congressional District. Trump has endorsed Joe Kent, a former Green Beret who promoted 2020 election fraud lies.
In an interview with ABC News, Beutler said he "did what I felt I needed to do," during Trump's impeachment trial.
"I felt like it was a constitutional duty," she said. "When you read your oath of office, it says you're going to protect it and you're going to defend it. And for me, irrespective of party, it was incredibly important to make sure I'd hold the same standard to a Republican as I would a Democrat."
Newhouse is a four-term congressman from the state's fourth Congressional District. He is facing seven challengers, including six Republicans.
One of his challengers is Loren Culp, a Trump-backed police chief who refused to concede the governor's race in 2020.
These primaries will be a test for non-Trump Republicans, after the former president vowed to get revenge against those GOP lawmakers who sided with Democrats during the impeachment trial.
In a Truth Social post, Trump called on voters to "knock out impeachment slime" Tuesday.
Ten Republicans voted to impeach Trump in Jan. 2021, following the events of the Jan. 6 Capitol riot to stop the election certification.
Of those, four chose not the run for reelection in this year's midterm. One Republican, Tom Rice of South Carolina, lost his primary to a Trump-backed candidate. David Valadao of California beat his challenger to advance to the general election in the fall. Representative Liz Cheney of Wyoming will face a Trump-back candidate in her state's primary on Aug. 16.
Robson Says Opponent Kari Lake 'Won't Concede'
Arizona Republican gubernatorial candidate Karrin Taylor Robson slammed her opponent Kari Lake over claims of voter fraud in the primary election.
During an interview with ABC News, Robson said Lake was "already claiming fraud."
"She's already said she won't concede," Robson told ABC News. "She's already claiming fraud, of course, with no evidence of that. But she knows that this is slipping away from her."
Robson has been backed by former Vice President Mike Pence. Kari Lake, her opponent and a former TV anchor, has been backed by former President Donald Trump. Lake has supported Trump's claims that the 2020 presidental election was rigged.
"She's [Lake] already seting up a narrative that if I win, it will only [be] because of fraud," Robson said to ABC News. "And that is wrong. I think that in and of itself should disqualify her from being the governor of this great state. She is already attempting to undermine the vote, before the votes are even counted."