Prime Minister Says Jews Are 'Hook-Nosed,' Claims That Number of Those Killed in Holocaust Is Inaccurate
Malaysia's prime minister said during an interview on Tuesday that Jews are "hook-nosed" and claimed that the number of Jews killed in the Holocaust is wrong.
"They are hook-nosed. Many people called the Malays fat-nosed. We didn't object, we didn't go to war for that," Mahathir Mohamad said during Tuesday's interview on BBC's Hard Talk when asked why he used the term in his 1970 book, The Malay Dilemma, according to Reuters.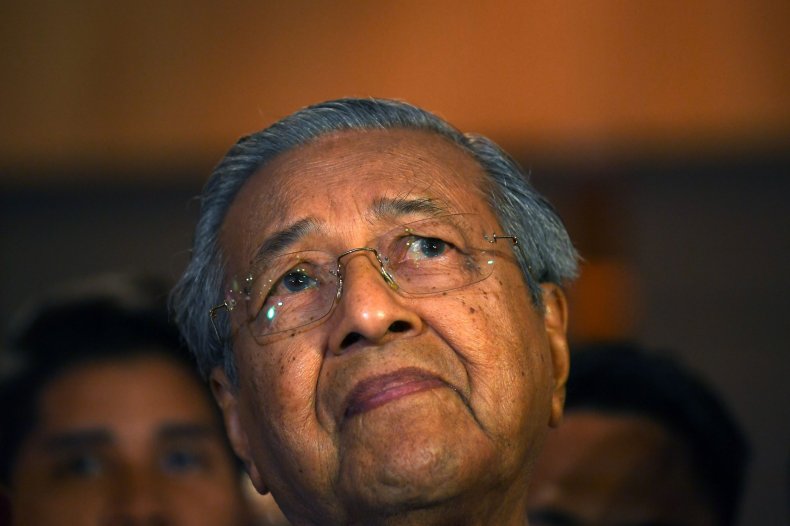 "If you are going to be truthful, the problem in the Middle East began with the creation of Israel. That is the truth. But I cannot say that," the 93-year-old said, adding that 4 million Jews died during the Holocaust rather than the historically agreed upon 6 million.
Mahathir further criticized Israel while speaking at the United Nations General Assembly last week. He said that terrorism's root causes stem from 1948, when "Palestinian land was seized to form the state of Israel. The Palestinians were massacred and forced to leave their land. Their houses and farms were seized."
According to Channel News Asia, the prime minister added: "The Palestinians initially tried to fight with catapults and stones. They were shot with live bullets and arrested. Thousands are incarcerated. Frustrated and angry, unable to fight a conventional war, the Palestinians resort to what we call terrorism,"
The leader, known for making anti-Semitic comments in the past, said in a 2003 speech that Jews, who ruled the world "by proxy," would not be able to defeat the world's 1.3 billion Muslims.
"We are actually very strong, 1.3 billion people cannot be simply wiped out. The Europeans killed 6 million Jews out of 12 million. But today the Jews rule the world by proxy. They get others to fights and die for them," Mahathir said at the time.
Mahathir became the world's oldest prime minister in May. The physician turned politician, who previously served as Malaysia's prime minister from 1981 to 2003, beat the incumbent prime minister, Najib Razak.
Authorities arrested Najib and charged him in September for transferring over $681 million from an investment fund into his personal account in 2013. He set up the investment fund 1Malaysia Development Berhad in 2009, saying that the money was intended to promote economic development.
The 65-year-old was previously charged with criminal breach of trust and corruption in July. Despite the new allegations, he insists that he is innocent.