FIFA Election Race in Turmoil as Prince Ali Takes Voting Grievances to CAS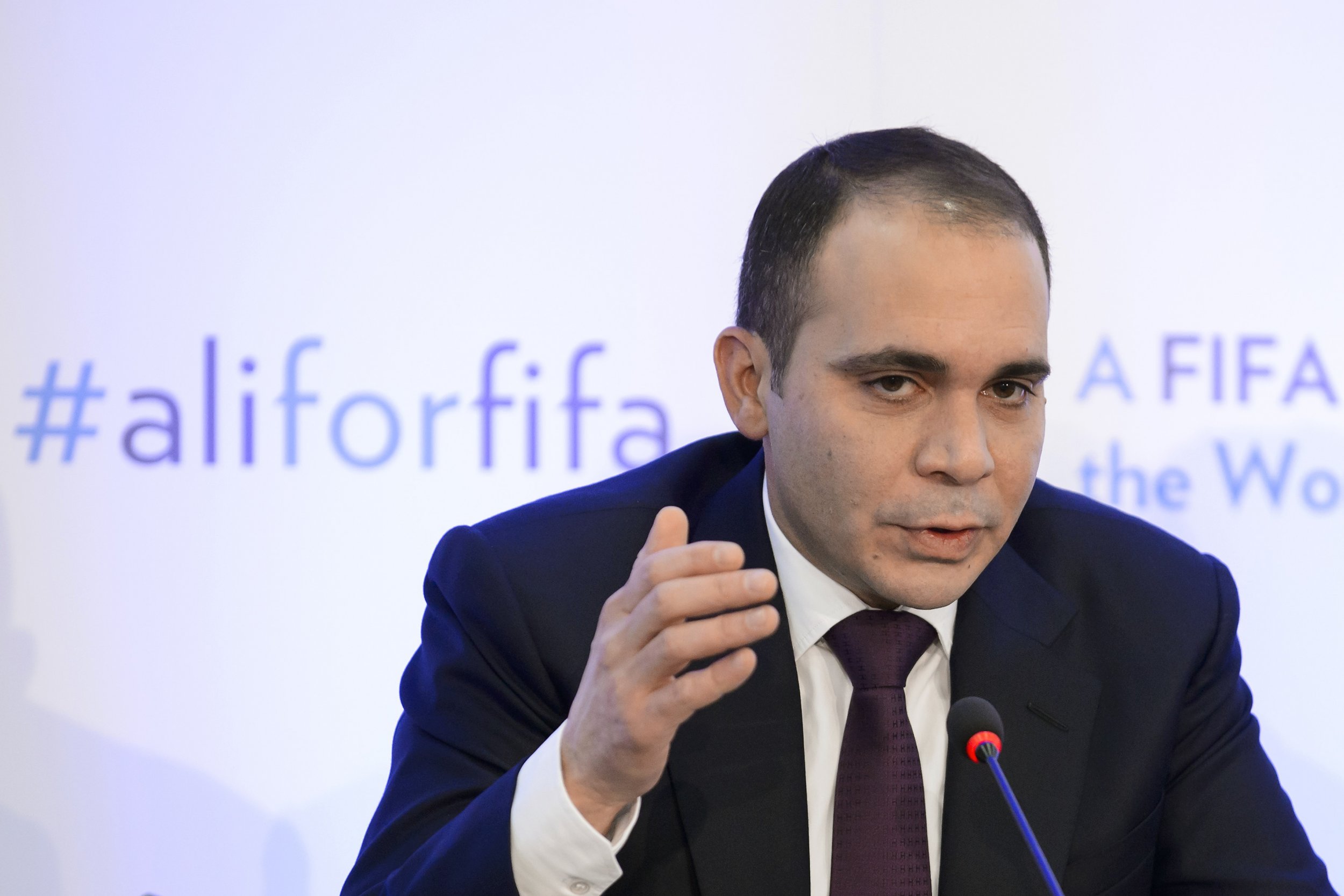 The race to find a successor to Sepp Blatter as FIFA president was thrown into fresh turmoil on Tuesday as Prince Ali bin-al Hussein, the Jordanian candidate, took his grievances over voting protocol to the Court of Arbitration for Sport (CAS).
A source close to Prince Ali, who ran against Blatter for the presidency in May 2015 and lost, tells Newsweek that CAS, the quasi-judicial body set up to handle sports-based disputes, has agreed to hear the 40-year-old member of the Jordanian royal family's complaint over FIFA's rejection of transparent voting booths at the election in Zurich on Friday.
CAS confirmed on Tuesday in a statement that it would rule on the matter no later than Thursday.
Prince Ali's team is worried about the potential for voting fraud in the Hallenstadion in Zurich and has also asked for a ban on telephones and cameras in the voting booths, which it says FIFA has agreed to.
Newsweek subscription offers >
However, the request by the team to bring along its own transparent voting booths to the election was rejected by FIFA's ad-hoc electoral committee on February 15, Reuters reported on Saturday, leading Prince Ali's lawyers to take their case to CAS.
"We said we would like to provide you with transparent voting booths but they [FIFA] rejected that, saying we don't need transparent voting booths," the source tells Newsweek.
"We went to CAS yesterday [Monday]. They said they would need a week or two to make a decision, so we requested an expedited hearing. This morning [Tuesday] CAS came back and said, 'We will have a hearing today and will make our decision today.'
"We want a fair and open election, that's why we want transparent voting booths so that people can't take pictures of who they voted for."
Newsweek subscription offers >
The source tells Newsweek that Prince Ali is not seeking to have the election suspended by CAS, a statement backed up by the organization's press release that states he is seeking "urgent provisional measures" against the Electoral Committee's decision to reject his desire for transparent booths.
A decision in Prince Ali's favor has the potential to provide further embarrassment for FIFA as it seeks to prove it can move on from the tarnished reign of Blatter, who has been president since 1998.
Pressed on whether Prince Ali would continue as a candidate were CAS to rule against him, the source said: "Prince Ali will then have to make a decision. In the past, he has said that he will continue to the end. He is still adamant about that."
Prince Ali surprised many observers in May 2015 by taking Blatter to a second round of voting, but this time around the share of the UEFA vote he won is expected to be taken by Gianni Infantino, the UEFA general secretary, who is the frontrunner along with Sheikh Salman Bin Ibrahim al-Khalifa, the president of the Asian Football Confederation (AFC).
FIFA Election Race in Turmoil as Prince Ali Takes Voting Grievances to CAS | Sports