Prince Andrew—Backed Into a Corner—Attacks Law That Gave Sex Abuse Victims Hope
Prince Andrew's lawyers have attacked a New York law that gave 9,200 alleged child sex abuse victims the right to sue their abusers years later.
Queen Elizabeth II's son previously claimed to "deeply sympathize" with Jeffrey Epstein's victims who want "some form of closure."
However, having been sued by Virginia Giuffre on rape allegations, his attorneys have now claimed a law that gave hope to child abuse survivors is "unconstitutional."
Victims were previously required to file any civil claim by the age of 23—leaving abusers free from liability after that point.
New York used the Child Victims Act (CVA) to create a temporary window in which historic claims could be brought. During the two years it ran, 9,200 claims were filed.
Steven Cowen, for example, used the law to accuse a Catholic priest of sexually abusing him when he was a 9-year-old altar boy, claims the priest denies.
However, Andrew's lawyers stated that the law was unconstitutional and have served a copy of their motion to the New York Attorney General's Office, according to a court filing seen by Newsweek.
The move is their latest attempt to have Giuffre's lawsuit thrown out after she accused him of sexually assaulting her in London, New York and the U.S. Virgin Islands.
She says she was trafficked to Britain in 2001 aged 17 to have sex with Prince Andrew on the orders of Epstein and his former lover Ghislaine Maxwell, a friend of the royal, and feared physical injury or death if she refused.
Andrew's lawyers acknowledge Giuffre may be an Epstein victim but also launched a full-scale assault on her credibility.
Their court filing, seen by Newsweek, states: "For over a decade, Giuffre has profited from her allegations against Epstein and others by selling stories and photographs to the press and entering into secret agreements to resolve her claims against her alleged abusers, including Epstein and his ex-girlfriend, Ghislaine Maxwell.
"Most people could only dream of obtaining the sums of money that Giuffre has
secured for herself over the years.
"This presents a compelling motive for Giuffre to continue filing frivolous lawsuits against individuals such as Prince Andrew, whose sullied reputation is only the latest collateral damage of the Epstein scandal."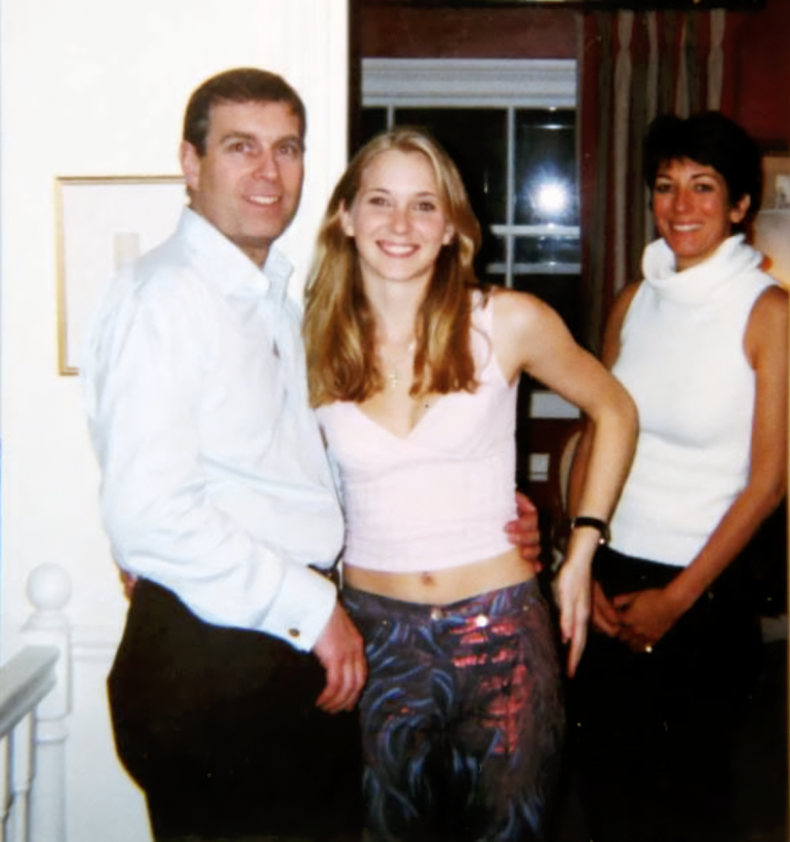 However, they did not stop there as their official response also accuses her of recruiting new victims for Epstein.
The Duke of York's court filing quotes an interview the sister of Giuffre's ex-boyfriend gave to the New York Daily News.
Crystal Figueroa told the newspaper: "She [Giuffre] would say to me, 'Do you know any girls who are kind of slutty?'"
Philip Guderyon, Giuffre's ex-boyfriend, is also quoted in court documents saying: "She was like the head b***h. She'd have like nine or 10 girls she used to bring to him. She never looked like she was being held captive."
The filing states: "It is a striking feature of this case that while lurid allegations are made against Prince Andrew by Giuffre, the only party to this claim whose conduct has involved the willful recruitment and trafficking of young girls for sexual abuse is Giuffre herself, including while she was an adult."
However, Giuffre's attorney, Sigrid McCawley, hit back at the allegations, accusing Prince Andrew of using money to his advantage.
In a statement released to Newsweek, she said: "If Virginia Giuffre had stood silent in the face of the outrageous statements like those Prince Andrew routinely churns out—his motion to dismiss the litigation being no exception—the decades long sex trafficking ring his friend Jeffrey Epstein operated and he participated in would have never been exposed. We are humbled by Virginia's bravery.
"On the subject of money, let's be clear: the only party to this litigation using money to his benefit is Prince Andrew."
David Boies, also on Giuffre's legal team, added: "The law is well settled that the legislature can revive claims that would otherwise be barred by statutes of limitations."
The notice of Andrew's constitutional challenge states: "The question raised by Defendant's constitutional challenge is whether the CVA violates defendants' rights of due process under the New York State Constitution on the grounds that the CVA impermissibly revives the statute of limitations on otherwise time-barred claims without substantial justification or a showing of exceptional circumstances."
His team added in their filing: "Virginia Giuffre may well be a victim of sexual abuse at the hands of Jeffrey Epstein, and nothing can excuse, nor fully capture, the abhorrence and gravity of Epstein's monstrous behavior against Giuffre, if so.
"However, and without diminishing the harm suffered as a results of Epstein's alleged misconduct, Prince Andrew never sexually abused or assaulted Giuffre.
"He unequivocally denies Giuffre's false allegations against him."
Newsweek has contacted Prince Andrew's representatives for comment.