Prince Andrew Comforts Eugenie as Royals Gather to Pay Respects to Queen
Prince Andrew comforted Princess Eugenie, his youngest daughter, as she wiped away tears whilst inspecting tributes to her grandmother outside Balmoral in Scotland.
Since the queen's death at Balmoral Castle was announced on Thursday, mourners have been leaving flowers and cards outside the Aberdeenshire estate.
On Saturday a royal party, including three of the Queen's four children, attended a remembrance service at nearby Crathie Kirk.
Princess Anne, Prince Andrew and Prince Edward all made the trip along with their children; Princesses Beatrice and Eugenie, Lady Louise Windsor and Zara Tindall and Peter Phillips.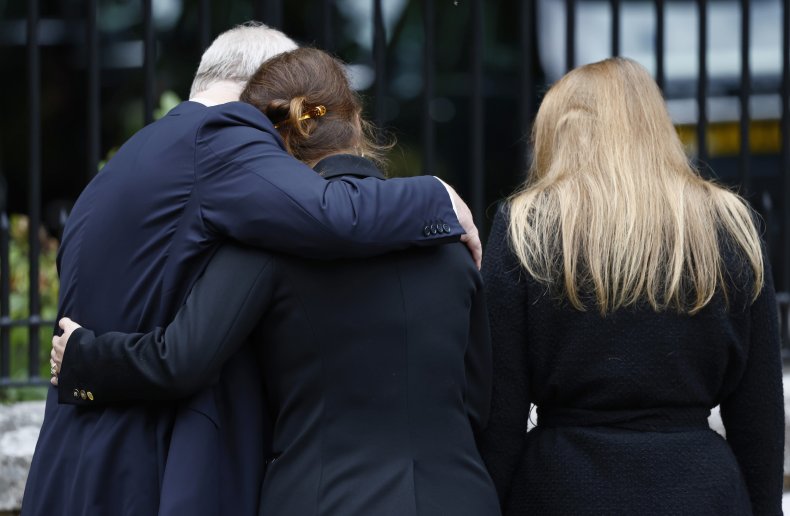 Sophie, the Countess of Wessex, and Vice Admiral Sir Tim Laurence, partners to Prince Edward and Princess Anne respectively, also attended.
After the service the group went to view the floral tributes and read some of the messages, in what was clearly an emotional moment.
Prince Andrew leaned in to hug Eugenie, patting her on the back, after the princess's eyes began to well up. In another moment he embraced his younger brother, Prince Edward and the Countess of Wessex.
The royal party waved to, and were then applauded by, members of the public who had gathered to mourn.
According to The Daily Mail, Andrew spoke to well-wishers saying: "We've been allowed one day, now we start the process of handing her on."
The Queen's second son stepped down from royal duties in 2019, following controversy over his involvement with the Jeffrey Epstein scandal.
Speaking to the Mail, Euan and Emma Masson, who were among the public mourners outside Balmoral, said: "We've come to pay our respects to a wonderful woman and thank her for her 76 years of service."
King Charles III wasn't in Balmoral as he was in London to be formally named sovereign by the Accession Council at St. James's Palace.
For the first time in history, broadcast cameras were allowed to record the ceremony, which has its roots in the early Middle Ages.
The king said: "My lords, ladies and gentlemen, it is my most sorrowful duty to announce to you the death of my beloved mother the Queen. I know how deeply you, the entire nation, and I think I may say the whole world, sympathize with me in the irreparable loss we've all suffered.
"It is the greatest consolation to me to know the sympathy expressed by so many to my sister and brothers. And that such overwhelming affection and support should be extended to our whole family in our loss."
He continued: "In taking up these responsibilities, I shall strive to follow the inspiring example I have been set in upholding constitutional government and to seek the peace, harmony and prosperity of the peoples of these islands, and of the Commonwealth realms and territories throughout the world."
New British Prime Minister Liz Truss was amongst the dignitaries attending along with all six of her living predecessors, and around 250 other dignitaries.
On Friday, Charles III delivered his first address as king to the British public, and those of the other 14 Commonwealth countries of which he is head of state.
Paying tribute to his late mother, he said: "To my darling Mama, as you begin your last great journey to join my dear late Papa, I want simply to say this: thank you.
"Thank you for your love and devotion to our family and to the family of nations you have served so diligently all these years. May 'flights of Angels sing thee to thy rest.'"