Prince Andrew Evidence Seen in 'Whole New Light' After Ghislaine Maxwell Verdict—Author
Ghislaine Maxwell being found guilty on Jeffrey Epstein-related sex-trafficking charges will prevent Prince Andrew from calling her as a witness, a royal author told Newsweek.
The British socialite's conviction also affects the evidence in the Duke of York's own civil lawsuit, in which he is accused of rape, according to biographer Nigel Cawthorne.
Virginia Giuffre says she was forced to have sex with Queen Elizabeth II's son by Maxwell and Epstein, fearing death if she refused.
Within her complaint, she submitted a now famous photograph of the prince with his arm around her, which she says was taken in Maxwell's London townhouse on the night she first met the duke in 2001.
Standing and smiling in the background is Maxwell herself, a long-standing friend of the prince.
Cawthorne told Newsweek: "The verdict does not help Prince Andrew at all in the court of public opinion. The famous picture is now seen in a whole new light.
"Now we have Ghislaine Maxwell, sex trafficker, standing there next to a woman who says she was trafficked, next to Prince Andrew who says he wasn't there.
"If Maxwell was acquitted that would have helped him, indeed they could have called her as a defense witness.
"Things are looking a bit more bleak for him now."
Prince Andrew is currently attempting to get the case thrown out, including by arguing that the court doesn't have jurisdiction because Giuffre is a resident in Australia, not America.
However, if the case does go ahead, Giuffre's lawyers have indicated they may call on his ex-wife, Sarah Ferguson, or even a member of the royal family, for depositions.
David Boies, her attorney, told The Daily Beast that Meghan Markle and Prince Charles were both possible targets to be deposed.
He said: "She [Meghan] is somebody we can count on to tell the truth."
He added: "We would likely take one or two depositions of people close to Andrew who would have knowledge of his actions.
"That might include his ex-wife. It could possibly be his brother."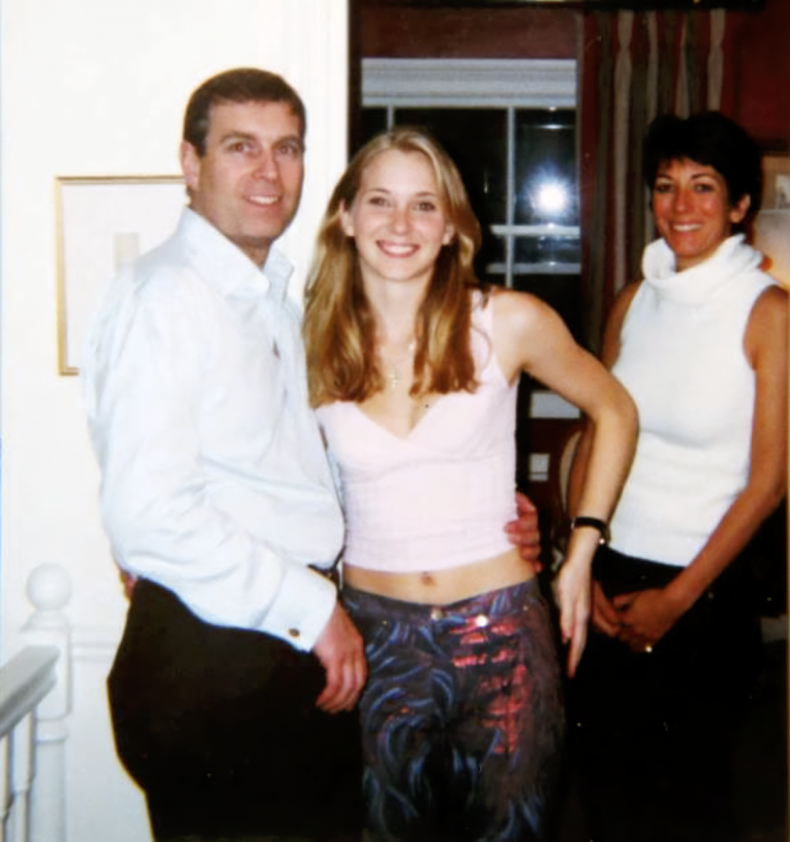 Cawthorne told Newsweek the Maxwell verdict would also heap extra pressure on Queen Elizabeth II, who has reportedly been paying Andrew's legal costs.
He said: "It must be a worry for his mother who is looking forward to her Platinum Jubilee next year.
"This certainly isn't helpful. If the case isn't thrown out on January 4, there's talk of deposition being requested from Prince Charles, which would be interesting."
Joseph Kotrie-Monson, a U.K. criminal lawyer of Mary Monson Solicitors, recently told LBC members of the royal family were unlikely to have meaningful evidence to offer.
He said: "The real question here, is if there is no strategic legal advantage to it then what on earth are the plaintiff's lawyers playing at? I'm afraid I'm reluctantly but inexorably drawn to the conclusion that this is simply on the basis of the mayhem factor.
"Embarrassment, intimidation threat of shame, increased publicity. These are all things in the arsenal of the stereotypical litigation lawyer which have no legal baring but can be tactically effective in the obtaining of large settlements."
U.K. political interviewer Andrew Neil told his 1.1 million Twitter followers: "Will Maxwell now start to name names in Epstein's evil work to reduce sentence? Some wonder why she hasn't done this already as plea bargain with feds.
"So are we to believe that Maxwell pimped only for Epstein? That some of powerful people who flew on Lolita Express, stayed on his island, visited his various homes etc did not also behave illegally with young girls the way he did?"