Prince Andrew is expected to attend a memorial to his father, Prince Philip—but he could be an "embarrassing" addition to the guest list, a royal author told Newsweek.
The Duke of York is likely to attend when friends and family gather to remember the Duke of Edinburgh at Westminster Abbey on March 29, multiple sources told Newsweek.
There has so far been no official announcement of his intention to make what would be his first official appearance in public in almost a year, since Philip's funeral last April.
He has been photographed riding in Windsor and arriving at Balmoral, in Scotland, to see Queen Elizabeth II since then, but not at any formal public events.
Nigel Cawthorne, the author of Prince Andrew: Epstein, Maxwell and the Palace, told Newsweek: "It would be mean to prevent him going. It was his father after all.
"I imagine it's going to be pretty embarrassing, the small talk with the other guests.
"There's some bad blood with Charles but it's been reported that Charles is going to help him out with the settlement. So they must get on in some way.
"It's quite a formal thing in Westminster Abbey so there's not going to be too much opportunity to be chatting.
"If they have words, they will have words in private."
He added: "He has always imagined that he could somehow miraculously make a comeback—and he may see it as an opportunity to do that—but I can't imagine that it really is."
Prince Andrew first retreated from public life in November, 2019, after a car crash interview with the BBC that led to him being ridiculed.
Once the queen's favorite son, he was cast further out in January when he was stripped of his honorary military titles and patronages.
Buckingham Palace said at the time: "The Duke of York will continue not to undertake any public duties and is defending this case as a private citizen."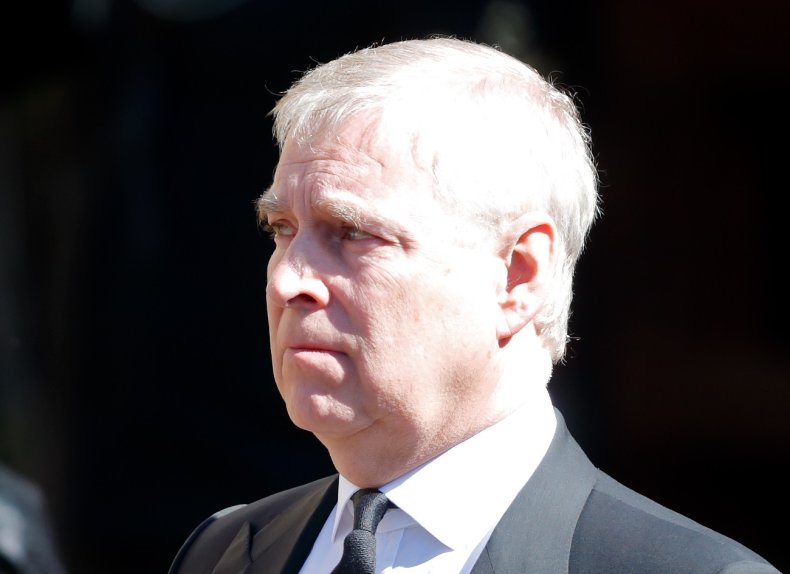 However, Prince Andrew then settled the lawsuit, in which he was accused of rape, paying his accuser Virginia Giuffre undisclosed damages in February.
There have since been questions over whether the royals contributed, with no definitive official confirmation either way from the palace.
Peter Hunt, a former BBC royal correspondent, wrote on Twitter: "The payment of millions of Windsor pounds cleared the way. Andrew's attendance would've been untenable if the Giuffre case was still ongoing.
"The justification is the right of a son to attend his father's memorial service. The risk is Andrew's presence proves to be a distraction."
A court filing, seen by Newsweek, confirmed the sides were settling out of court for an undisclosed sum in February.
It read: "Prince Andrew has never intended to malign Ms Giuffre's character, and he accepts that she has suffered both as an established victim of abuse and as a result of unfair public attacks.
"It is known that Jeffrey Epstein trafficked countless young girls over many years. Prince Andrew regrets his association with Epstein, and commends the bravery of Ms Giuffre and other survivors in standing up for themselves and others.
"He pledges to demonstrate his regret for his association with Epstein by supporting the fight against the evils of sex trafficking, and by supporting its victims."
For more royal news and commentary check out Newsweek's The Royal Report podcast: