Prince Andrew Faces New Jeffrey Epstein Claims Amid Duke's Planned Comeback
Prince Andrew stayed overnight at Jeffrey Epstein's New York mansion and had several hours of "private time," new reports claim.
The Duke of York is facing a fresh onslaught following an investigation by the Daily Mail into the account he gave during a sitdown interview with the BBC last year.
Virginia Giuffre claims she was forced to have sex with the prince when she was a 17-year-old trafficking victim under the control of Epstein, including at the financier's house in New York in 2001.
Andrew told BBC Newsnight journalist Emily Maitlis: "I wasn't staying there. I may have visited but no, definitely didn't, definitely, definitely no, no, no activity."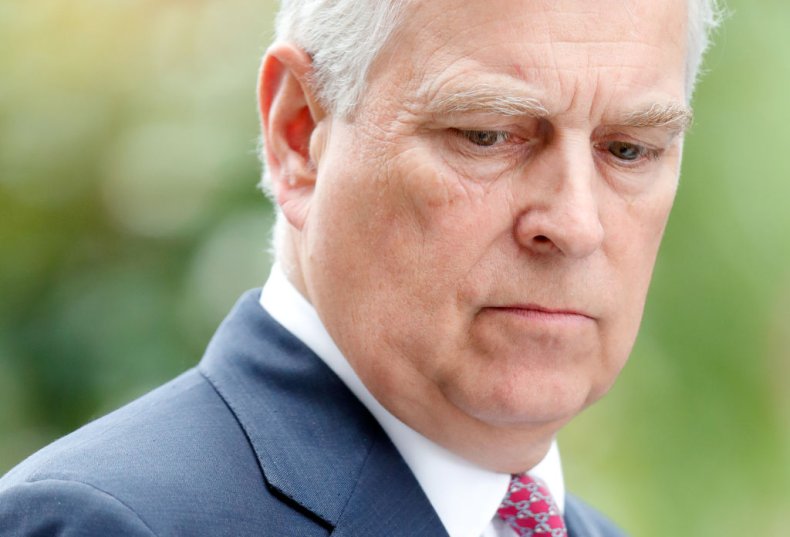 However, the newspaper claims to have seen a travel itinerary showing Andrew had several hours of private time after touching down in America.
Its report—published on today's front page—comes less than two months after a source told Newsweek and other publications Andrew intends to mount a comeback in Britain.
The Daily Mail reported the unearthed document, faxed to the British consul general by Prince Andrew's team in London days before his arrival, records he was due to stay "at a private address" on the third night of his trip to America.
Royal diary the Court Circular records Andrew leaving Britain by plane for New York on April 9, 2001.
The Daily Mail claims he had three hours of "private time" after his arrival, from 2.30 p.m. to 5.30 p.m., before an engagement in the evening.
The Court Circular states Andrew then flew to Boston on April 10, where he visited Willauer School, on Thompson Island, before flying back to New York on April 11.
There, the newspaper claims he stayed overnight at Epstein's house, while the pedophile and Giuffre were away.
A source close to the prince's legal team told Newsweek in October: "It is his intention to return to public duties but none of this can seriously progress until the legal process in the US has been resolved and the Duke's side of the story has been properly explained."
The source added: "He's very sensitive to the public mood and acutely conscious that the public are the prime consideration.
"All this still needs to be discussed with his family and then with other stakeholders—the government and Palace officials."
The New York visit is the same one when it is claimed Ghislaine Maxwell gave the prince a puppet version of himself from 90s U.K. TV show Spitting Image.
That claim was among those used to piece together that Andrew's name had been redacted from Maxwell's 2016 deposition during a libel case brought by Guiffre.
The deposition was released as part of the new trafficking and perjury case against Maxwell which is due for trial in July.
In the deposition, Maxwell was asked: "Do you recall ever giving [REDACTED] a gift of a puppet that was in the same—that looked like him?"
She replied: "I never gave him a gift of a puppet."