Prince Andrew first met pedophile Jeffrey Epstein long before 1999, according to a letter from a Buckingham Palace aide.
The Duke of York has long been embroiled in a scandal over his ties to the disgraced financier. In a television interview with BBC's Newsnight that aired on Saturday he discussed his friendship with Epstein for the first time as well as the allegations that he had sex with a teenage girl Epstein had groomed.
Andrew told interviewer Emily Maitlis that he met Epstein through Epstein's girlfriend Ghislaine Maxwell, who Andrew met at university, in 1999. But that contradicts an earlier claim from a former senior aide in 2011 that the pair actually met in the "early 1990s."
Alastair Watson, who was Andrew's private secretary at the time, wrote to The Times of London newspaper to counter reports about Andrew being friends with Saif Gaddafi, the son of Libyan dictator Muammar Gaddafi.
At the end of the letter, published on March 5, 2011, Watson addressed Andrew's connection to Epstein. "Finally, there has been widespread comment on the duke's relationship with Jeffrey Epstein," he wrote.
"The duke has known Mr Epstein since being introduced to him in the early 1990s. The insinuations and innuendos that have been made in relation to the duke are without foundation."
When asked about the letter contradicting Andrew's claim that he met Epstein in 1990, a Buckingham Palace spokesperson told Newsweek: "The Duke's words in his interview speak for themselves."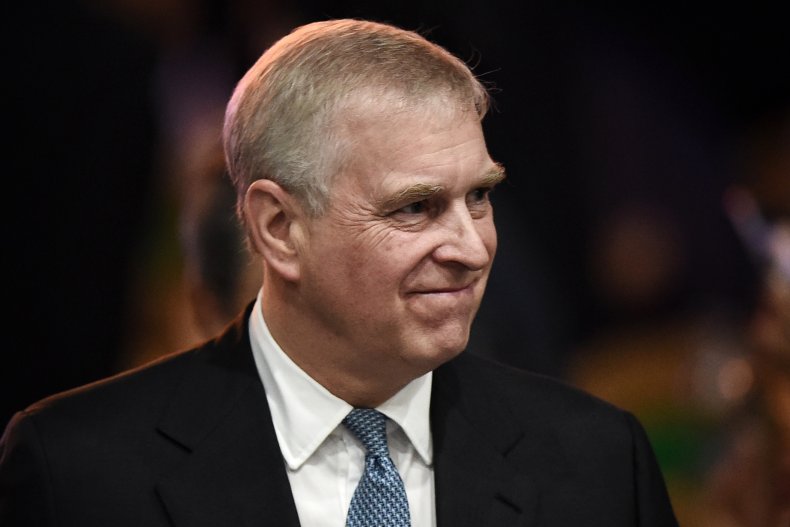 The 2011 letter was published after The Times reported on the existence of a photo of Andrew with 17 year old Virginia Roberts, now known as Virginia Giuffre, according to the BBC. It shows Andrew with her in Maxwell's London home in 2001.
Giuffre later claimed she was forced to have sex with Andrew on numerous occasions. Andrew has denied having any form of sexual contact with her.
In the Newsnight interview, Andrew said he had no memory of meeting her. "I can absolutely, categorically tell you it never happened," he said. "I have no recollection of ever meeting this lady, none whatsoever."
Andrew expressed regret for staying at Epstein's home in New York in 2010 after the 66 year old was released from prison for soliciting soliciting an underage girl for prostitution. But many have criticized him for the lack of remorse he showed for the friendship.
During the interview, Andrew twice said that his friendship had some "seriously beneficial outcomes," including giving him the opportunity to meet influential people.
Epstein was found dead in his jail cell in August while awaiting trial on sex trafficking charges. A medical examiner ruled that he had taken his own life. His death at the age of 66 came just over a month after he was arrested and charged with trafficking dozens of underage girls as young as 14.
The graphic below, provided by Statista, illustrates the unpopularity of Prince Andrew.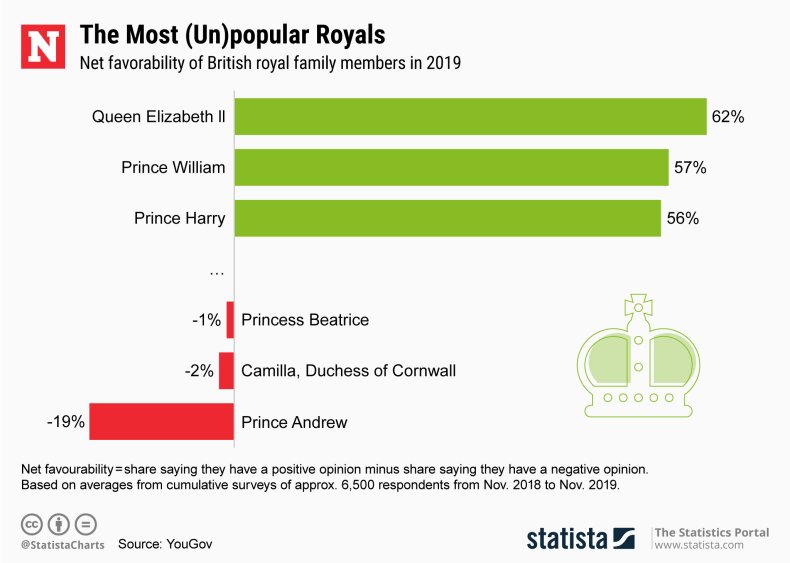 This article was updated to include an infographic.