Prince Andrew joined Queen Elizabeth II as they attended Prince Philip's memorial together—in his first public appearance since settling his Jeffrey Epstein lawsuit.
The Duke of York was photographed in the same car as mother and son shared the journey from Windsor to Westminster Abbey.
Prince Andrew was seen walking his mother towards her seat in Westminster Abbey in footage screened live on British television.
Royals, including Andrew's daughters Princess Beatrice and Princess Eugenie, gathered alongside U.K. Prime Minister Boris Johnson to pay their respects to the late Duke of Edinburgh.
The service is Andrew's first appearance at an official, public event since Philip's scaled-down, COVID-19 compliant funeral on April 17, 2021.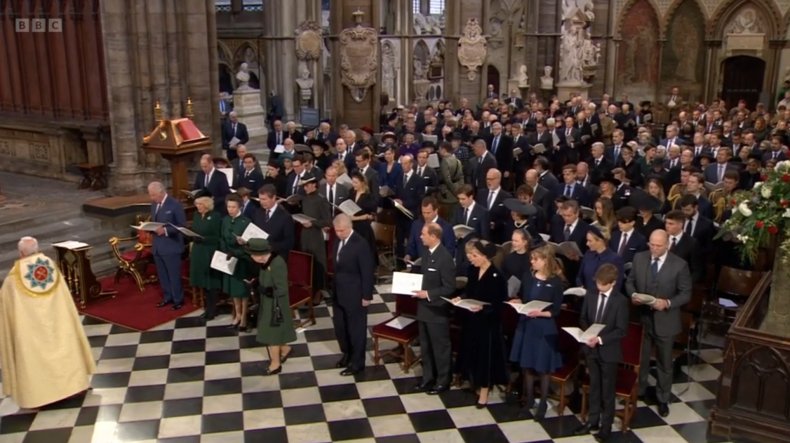 Queen Elizabeth II famously sat alone during her husband's official send-off at St. George's Chapel, Windsor Castle, eight days after his death.
The current service of thanksgiving gave the royals an opportunity to invite a broader range of international figures, including overseas royalty and representatives of his charities.
Crowds of royal watchers gathered outside the Abbey on the morning on March 29, 2022, and members of Prince Philip's extended family were among some of the first to arrive, the BBC reported.
Prince Andrew first stepped back from public life in November 2019 after a car-crash interview with the BBC in which he failed to say he regretted his friendship with Epstein.
New York financier Epstein was convicted of soliciting a minor for prostitution in 2008 and was facing new allegations when he was found dead in his prison cell in 2019.
Andrew was sued by Virginia Giuffre in a New York court in August 2021, with her complaint accusing him of raping her when she says she was a 17-year-old sex trafficking victim of Epstein and Ghislaine Maxwell.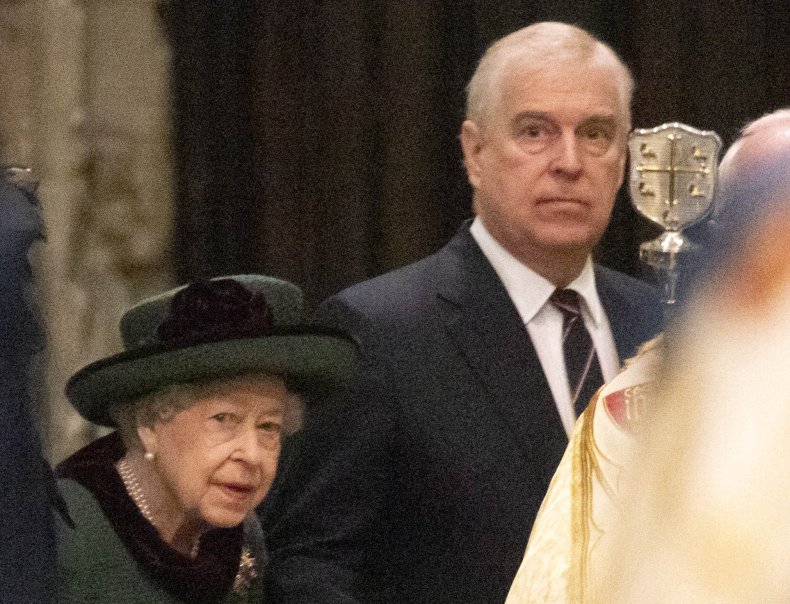 Giuffre's lawyers struggled initially with service and Andrew subsequently attempted to get the lawsuit thrown out.
It was only after Judge Lewis Kaplan ordered a trial in January 2022, that he announced he was settling out of court in February 2022, when he issued a groveling statement through the federal court in New York.
He did not admit liability and has always maintained he is innocent of the allegations against him.
A court filing at the time, seen by Newsweek, read: "The parties will file a stipulated dismissal upon Ms Giuffre's receipt of the settlement (the sum of which is not being disclosed).
"Prince Andrew intends to make a substantial donation to Ms. Giuffre's charity in support of victims' rights.
"Prince Andrew has never intended to malign Ms Giuffre's character, and he accepts that she has suffered both as an established victim of abuse and as a result of unfair public attacks.
"It is known that Jeffrey Epstein trafficked countless young girls over many years. Prince Andrew regrets his association with Epstein, and commends the bravery of Ms Giuffre and other survivors in standing up for themselves and others.
"He pledges to demonstrate his regret for his association with Epstein by supporting the fight against the evils of sex trafficking, and by supporting its victims."
The disgraced prince's bombshell lawsuit was formally wrapped up earlier in March 2022 after the court received confirmation the agreed sum had been paid.
For more royal news and commentary check out Newsweek's The Royal Report podcast:
Update 03/29/22, 7:01 a.m. ET: This article was updated to include a new picture.