Prince Andrew Accuser 'Feared Death' If She Defied Him and Epstein: Court Filing
Prince Andrew's accuser feared for her life if she did not have sex with him on the late financier Jeffrey Epstein's orders, according to a civil lawsuit filed on Monday.
Virginia Giuffre filed a bombshell civil claim against Queen Elizabeth II's son on the eve of the two-year anniversary of Jeffrey Epstein's death on August 10, 2019.
Her lawyers accused the royal of "sexual assault and battery" when she was 17 years old in a court filing alleging abuse in London, New York and the U.S. Virgin Islands.
The case was brought in New York under civil law, meaning Prince Andrew faces no risk of extradition or imprisonment through this particular action.
Giuffre could be awarded damages—threatening the Duke of York's already precarious finances.
The court filing by attorney David Boies reads: "During each of the aforementioned incidents, [Giuffre] was compelled by express or implied threats by Epstein, Maxwell, and/or Prince Andrew to engage in sexual acts with Prince Andrew, and feared death or physical injury to herself or another and other repercussions for disobeying Epstein, Maxwell, and Prince Andrew due to their powerful connections, wealth, and authority."
Giuffre has past experience of civil lawsuits having settled one over defamation with British socialite Ghislaine Maxwell, named in the court filing as Andrew's friend and convicted sex offender Epstein's accomplice.
She had previously complained to the Metropolitan Police about Prince Andrew's conduct but Britain's biggest police force had dropped the investigation.
Now, she could for the first time try to force accountability on Prince Andrew through the U.S. legal system.
The court filing reads: "In this country no person, whether President or Prince, is above the law, and no person, no matter how powerless or vulnerable, can be deprived of the law's protection.
"Twenty years ago Prince Andrew's wealth, power, position, and connections enabled him to abuse a frightened, vulnerable child with no one there to protect her. It is long past the time for him to be held to account."
The court filing identifies three incidents involving Prince Andrew and asserts that during each he knew her age "based on communications from Epstein and Maxwell."
The first allegedly took place in London at Ghislaine Maxwell's townhouse after a night at a members-only club called Tramp in 2001.
The filing reads: "On one occasion, Prince Andrew sexually abused [Giuffre] in London at Maxwell's home. During this encounter, Epstein, Maxwell, and Prince Andrew forced [Giuffre], a child, to have sexual intercourse with Prince Andrew against her will."
A now famous picture of the prince with his arm around Giuffre is attached to the lawsuit and described as having been taken on the night, prior to the alleged abuse.
The filing adds: "On another occasion, Prince Andrew sexually abused [Giuffre] in Epstein's New York mansion in this District.
"During this encounter, Maxwell forced [Giuffre], a child, and another victim to sit on Prince Andrew's lap as Prince Andrew touched her. During his visit to New York, Prince Andrew forced [Giuffre] to engage in sex acts against her will.
"On another occasion, Prince Andrew sexually abused [Giuffre] on Epstein's private island in the U.S. Virgin Islands, Little St. James."
Giuffre's story became public for the first time in 2015 after she filed a defamation civil lawsuit against Maxwell, who had accused her of lying over allegations that Epstein and the British socialite had sexually abused and exploited her.
Epstein's former lover settled the case out of court but not before she and Giuffre had both been deposed in 2016.
That year, British tabloid the Mail on Sunday published the picture of Andrew with his arm around Giuffre.
Prince Andrew has always denied the allegations and told the BBC her account could not be accurate because she described him as sweating profusely.
He told interviewer Emily Maitlis in November 2019: "There's a slight problem with the sweating because I have a peculiar medical condition which is that I don't sweat or I didn't sweat at the time and that was... was it... yes, I didn't sweat at the time because I had suffered what I would describe as an overdose of adrenalin in the Falklands War when I was shot at and I simply... it was almost impossible for me to sweat."
He added: "I can tell you categorically I don't remember meeting her at all. I do not remember a photograph being taken and I've said consistently and frequently that we never had any sort of sexual contact whatever."
The filing adds: "As a direct and proximate result of Prince Andrew's criminal acts, [Giuffre] has in the past and will in the future continue to suffer substantial damages, including extreme emotional distress, humiliation, fear, psychological trauma, loss of dignity and self-esteem, and invasion of her privacy."
Ghislaine Maxwell is awaiting trial on Epstein-related trafficking and perjury offenses, which she denies.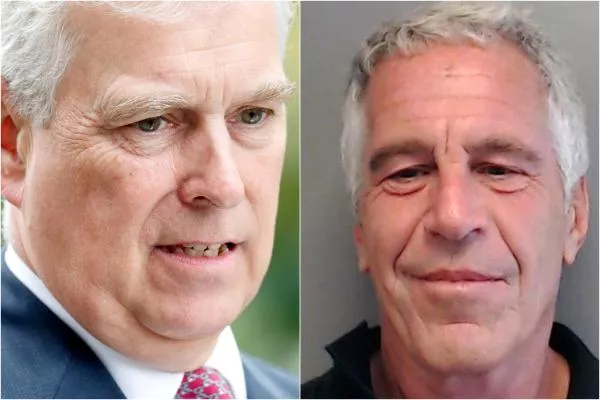 {{#isDisplay}} {{/isDisplay}}