Prince Andrew's 'Gobsmacking' Role at Queen's Side Sparks Backlash
Queen Elizabeth II triggered a backlash after she allowed Prince Andrew to walk her towards her seat during a memorial service to Prince Philip.
The Duke of York made his first public appearance since settling a sexual abuse lawsuit at Westminster Abbey where Prime Minister Boris Johnson and overseas royalty were among those paying tribute to his father.
Andrew appeared to have been given a star role as he accompanied the queen during her highly anticipated entrance, which followed months of canceled public visits due to her health.
Charlie Proctor, editor of Royal Central, wrote: "This is honestly gobsmacking. Nobody has done more damage to the Royal Family in recent times than Prince Andrew.
"Giving him the main role of 'consort to his mother' is quite ridiculous. How much has he cost Mummy again in legal fees?"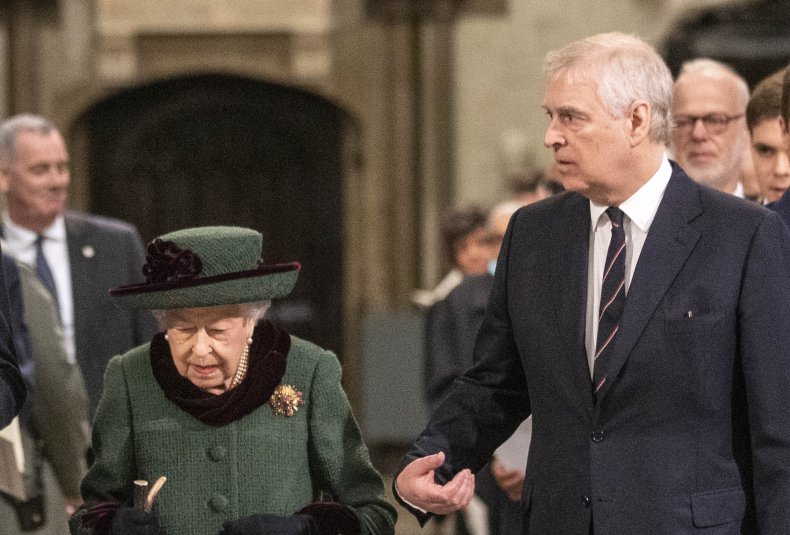 The duke, who denied raping Virginia Giuffre when she was 17 years old, walked his 95-year-old mother towards her seat on arrival and out of the abbey at the end of the service.
Andrew admitted no liability but paid an undisclosed sum to end the case without a trial. He has always said he is innocent and does not recall meeting Giuffre.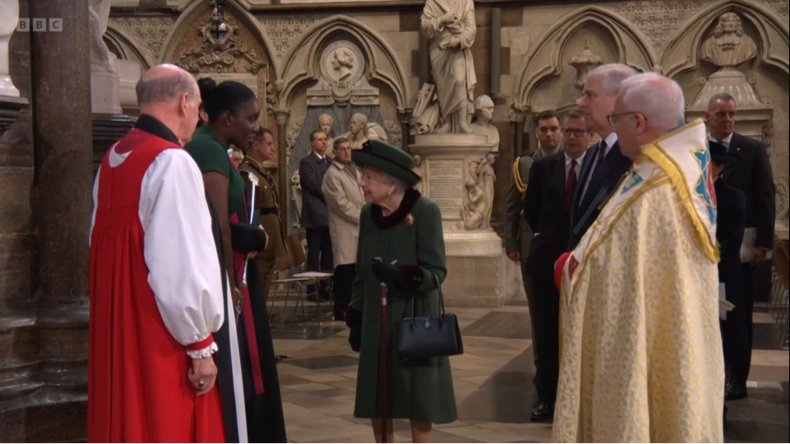 Nigel Cawthorne, author of Prince Andrew: Epstein, Maxwell and the Palace, told Newsweek: "Prince Andrew's attendance was rather more high profile than we were expecting.
"Clearly, this has been done in a real effort that must come from the queen herself in some sort of attempt to rehabilitate him.
"Obviously it doesn't do her much good does it? This isn't really going to go away for some time but she's an old lady, maybe she doesn't really care anymore.
"He should really be facing at least criminal investigation if not actual charges so I think it is a bit suspect here."
Criticism of the decision mounted on social media after the first pictures emerged of Elizabeth and Andrew sharing a car together from Windsor to London.
Nazir Afzal, former chief crown prosecutor for North West England, wrote: "I see Prince Andrew is travelling with Her Majesty to Prince Philip's memorial.
"I'm all for rehabilitation but it starts with facing justice, accepting responsibility & working to rebuild victims' confidence. None of that is present here, so far."
The queen did not go through the main entrance where the world's media gathered, arriving by a side door, which reduces the walking time against the backdrop of concerns about her mobility.
BBC cameras inside Westminster Abbey picked up the monarch being walked down the aisle by Andrew to the front row where they then parted company and took seats on separate sides.
Andrew was given a spot on the front row next to his brother, Prince Edward, for the service which appeared to leave the queen tearful.
The event was broadcast live and also showed Andrew standing behind the queen as she met Doyin Sonibare, a recipient of the Duke of Edinburgh's Gold Award who had given a reading during the service.
Peter Hunt, a former BBC royal correspondent, wrote on Twitter: "This was the Queen endorsing Andrew after he paid millions to a woman he says he has no recollection of ever meeting.
"Either Charles and William didn't intervene—or they did and failed to stop the prince performing such a high profile role at his father's memorial service."
Giuffre's complaint said she was forced to have sex with Andrew in London, New York and the U.S. Virgin Islands by Jeffrey Epstein and Ghislaine Maxwell in the early 2000s.
New York financier Epstein was convicted of solicitation offenses in 2008 and was awaiting further prosecution when he was found dead in his jail cell in August 2019.