Prince Andrew's Jeffrey Epstein Denials Are 'Indicative of Guilt'—Lawyer
Prince Andrew's Jeffrey Epstein denials are so "at odds" with evidence that they indicate guilt, according to a court filing by his accuser's lawyers.
Virginia Giuffre is suing the Duke of York on allegations he sexually abused her while she was a 17-year-old trafficking victim.
However, Queen Elizabeth II's son told the BBC in November 2019 he had no recollection of meeting her—despite a picture of the pair at the house of his friend, Ghislaine Maxwell.
A court filing by Giuffre's lawyers reads: "In November 2019, after Epstein's second arrest and death in federal custody, Prince Andrew voluntarily sat for an interview with the BBC.
"During that interview, Prince Andrew said that he could not recall ever meeting Ms. Giuffre, a denial so at odds with photographs and other evidence that it is itself indicative of guilt."
The court filing, seen by Newsweek, argues the prince did not express surprise in an email sent shortly after Giuffre's allegations first came to light.
Andrew says he was introduced to Epstein by the New York financier's former lover Ghislaine Maxwell, currently on trial on sex trafficking charges—which she denies.
The duke emailed Maxwell at the end of 2014 after Giuffre, known before her marriage as Virginia Roberts, had filed a complaint at a court in Florida.
The filing reads: "Prince Andrew did not express surprise, and he did not ask Maxwell who the woman accusing him of sexual abuse was.
"Rather, Prince Andrew said to Maxwell: 'Let me know when we can talk. Got some specific questions to ask you about Virginia Roberts'."
Andrew told BBC Newsnight's Emily Maitlis: "I don't know if I've met her but no, I have no recollection of meeting her."
Asked about a now-famous photo of him with his arm around Giuffre, he replied: "I'm terribly sorry but if I, as a member of the royal family, and I have a photograph taken and I take very, very few photographs, I am not one to, as it were, hug and public displays of affection are not something that I do.
"So that's the best explanation I can give you and I'm afraid to say that I don't believe that photograph was taken in the way that has been suggested."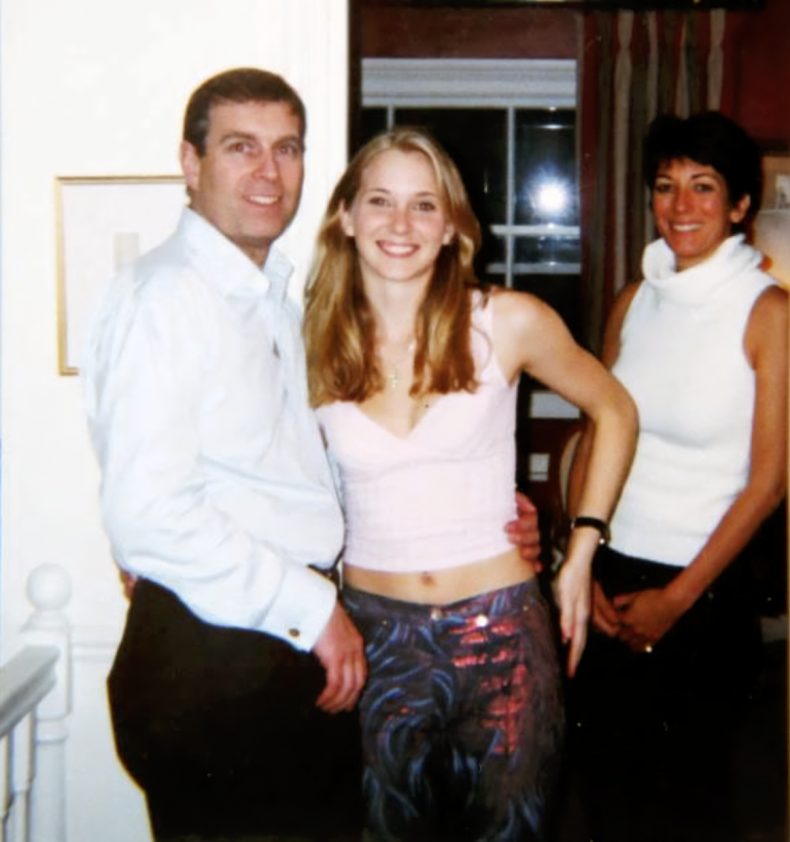 Giuffre says the image was taken by Epstein on her disposable camera on the night she was first made to have sex with Andrew in 2001 at Maxwell's London townhouse.
The royal applied to have the allegations against him dismissed in a hearing scheduled for January 2022.
The filing is her response to the application and accused Andrew of trying to "blame and shame" his victim.
The court document reads: "The remainder of [Prince Andrew's] motion is an attack on [Giuffre's] credibility, character, and motives that lacks foundation in fact and continues [Prince Andrew's] efforts to avoid confronting his own misconduct by attempting to blame and shame his victim.
"[Prince Andrew's] motion was intended to be, and was extensively used as, a press release to attack Ms. Giuffre in the media.
"[Prince Andrew] dared to make his baseless, defamatory attacks on Ms. Giuffre in his motion only because doing so in a court filing insulated him from the libel lawsuit that would otherwise result."
At the same time, her legal team highlighted that the royal was comfortable around Epstein to the point he was invited to the 18th birthday party of Andrew's daughter Princess Beatrice.
The filing reads: "In 2006, only one month after Epstein was charged with procuring a minor for prostitution in Florida, Prince Andrew invited Epstein to his daughter's 18th birthday party, unconcerned by the public revelation of Epstein's sex trafficking and abuse of underage girls.
"Prince Andrew also continued to visit and stay with Epstein at his New York mansion as late as 2010."
The new document repeats allegations that Giuffre feared death if she refused to have sex with Andrew and says he "intended to compel her into submission to gratify his own sexual desires."
It reads: "Prince Andrew sexually abused Ms. Giuffre on a number of occasions when she was under the age of 18 including at Epstein's New York mansion, where Prince Andrew touched Ms. Giuffre while Ghislaine Maxwell forced Ms. Giuffre and another victim to sit on his lap, and then forced Ms. Giuffre to engage in sex acts with him.
"During each incident, Ms. Giuffre did not consent to engaging in any sexual activity with Prince Andrew, but she feared she would be harmed, and even killed, if she disobeyed Epstein, Maxwell, and Prince Andrew.
"During each incident, Prince Andrew knew that Plaintiff was a victim of sex
trafficking, and intended to compel her into submission to gratify his own sexual desires."