Prince Andrew Labeled 'Pig' Over Epstein by Woman His Staff Asked for Help
A Twitter campaigner approached by Prince Andrew's aides to discredit his Jeffrey Epstein accuser has told Newsweek the duke is "a pig."
Molly Skye Brown was contacted by Antonia Marshall, who works for Andrew's ex-wife Sarah Ferguson, after Brown accused Virginia Giuffre of faking a key piece of evidence.
Giuffre claims she was trafficked to have sex with the Duke of York in London, New York and the U.S. Virgin Islands.
She has a now famous photograph of Andrew with his arm around her waist, which she says was taken at Ghislaine Maxwell's London townhouse the night they had sex. Maxwell denies charges of sex trafficking.
Brown had posted on Twitter that she believed the image to have been faked, leading first Marshall and later Andrew's PR consultant Mark Gallagher to approach her.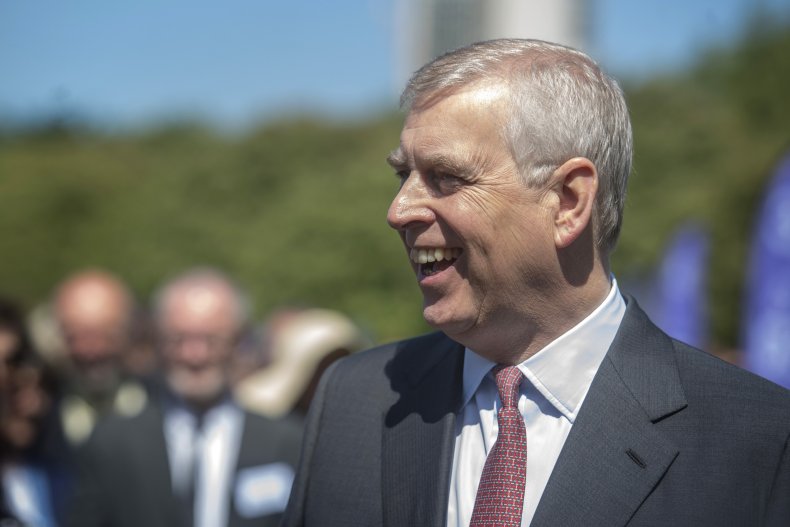 However, Brown—who says she narrowly avoided falling into Epstein's trap after turning down modelling work from Maxwell—handed the messages to the FBI.
Now she has given her own blunt assessment of Andrew and his friendship with the convicted pedophile who died in 2019.
Brown told Newsweek: "I know Andrew is a fun-time friend of Epstein knowing full well what he was all about."
She added: "Antonia was so gaslighting on the phone about how picture perfect this family is and how they have done no wrong.
"I was not interested in speaking any further with Mark G because I didn't think we were going to get to the truth.
"I know Andrew is a pig."
The prince maintained contact with Epstein after his conviction on sex offences in 2008. Andrew visited Epstein's New York home in 2010, which he previously told the BBC "was the wrong decision."
The attempt by Andrew's team to reach out to Brown comes after a source close to his legal team told Newsweek in October that he intends to mount a comeback.
The U.S. Attorney for the Southern District of New York submitted a formal request for Andrew's testimony to the U.K. Home Office last year. However, there has so far been no public indication that he has given evidence.
The source on the duke's team said in October that "none of this can seriously progress until the legal process in the U.S. has been resolved and the duke's side of the story has been properly explained."
Brown told Newsweek: "Andrew is not some clean perfect prince. I believe [Andrew's team] very much want that to be portrayed and were reaching out to me to hopefully work with them in doing so.
"The reason I was unable to do so was the reason I told Antonia on the phone and told Mark in text message that this is much deeper and darker than some photo scandal."
In a December message seen by Newsweek, Antonia Marshall wrote: "Hi Molly, I work for the Duchess of York and I wondered if you had time at some point for a quick chat re your tweet about the photo of the Duke being edited/doctored.
"Thank you so much for your online support!"
Marshall later had a WhatsApp exchange with Gallagher, who handles the prince's PR through firm Riverside Advisory.
Gallagher wrote: "Our mutual friend briefed me about your amazing conversation yesterday and I wondered if I could bother you for ten minutes of your time today?"
Another message read: "Feel zero pressure from this side of the pond. Your mental and physical wellbeing—together with the other survivors—remains the TOP priority for us all.
"Our pursuit of the truth cannot come at your or anyone else's distress."
He added: "I'd like to talk to you in the round about the important distinction you have drawn between survivors and—in effect—enablers. That gets to the heart of this."
Prince Andrew has denied having sex with Giuffre and offered to give a statement to the Department of Justice.
Newsweek has approached his representatives for comment.