Prince Andrew Lawyers Dismissive of Trump-Linked Lobby Firm Claims
Prince Andrew's legal team say they have had "no engagements" with a controversial lobby firm linked to Donald Trump following claims the royal was rebuffed, a source tells Newsweek.
The New York Times reported that Blackfords, a law firm representing the Duke of York, held discussions with lobbyist Robert Stryk about the possibility of hiring him to represent the duke.
The newspaper cited a source claiming talks took place in recent weeks, but said Stryk "expressed discomfort" and ultimately negotiations "fizzled" out.
Washington-based lobbyist Stryk is well connected within Donald Trump's foreign policy circles, the Times reported.
The paper also detailed international clients Stryk has previously agreed to represent, including Venezuelan President Nicolas Maduro and former president of the Congo, Joseph Kabila, both of whom stand accused of numerous human rights violations.
A source close to Prince Andrew's law firm Blackfords says his lawyers are dismissive of the claims.
They told Newsweek: "This looks like a lobby firm advertising. No engagements have been made or sought."
The Duke of York's lawyers are involved in transatlantic discussions with prosecutors over whether and how he should testify to the investigation into alleged sex trafficking and other crimes carried out by disgraced financier Jeffrey Epstein and his associates.
Virginia Giuffre has alleged that Prince Andrew had sex with her when she was 17, after she was trafficked by Epstein. The duke has not been charged in the case.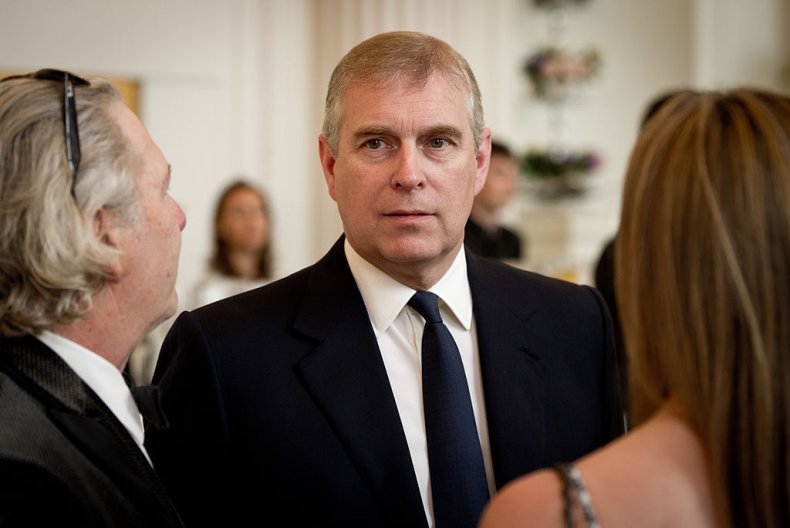 The DOJ has submitted to the U.K. Government a formal request for Mutual Legal Assistance, a process only used to seek witness testimony, not extradition or criminal prosecution.
Andrew's lawyers say they have made repeated offers to provide a statement, however experts have told Newsweek prosecutors may be able to force him to submit to a full interview.
U.S. Attorney for the Southern District of New York Geoffrey Berman was fired by the Trump administration last month.
The move created a cloud of uncertainty over Andrew's position and whether he would still be required to testify.
The Epstein investigation was shown to be back on course on Thursday, when Epstein's girlfriend Ghislaine Maxwell was arrested.
Berman's successor, Audrey Strauss, then reiterated the desire for Andrew's cooperation in a press conference last week.
She said: "We would welcome Prince Andrew coming in to talk to us, we would like to have the benefit of his statement."
After her comments, a source on Andrew's side told Newsweek: "The Duke's team remains bewildered given that we have twice communicated with the DOJ in the last month, and to date, we have had no response."
New York Times reporter Kenneth Vogel tweeted: "Prince Andrew's lawyers recently consulted a Trump-linked lobbyist about assisting with Jeffrey Epstein fallout.
"The lobbyist, Robert Stryk, has represented embattled regimes in Venezuela & the DRC.
"But he expressed discomfort about @TheDukeOfYork."