Prince Andrew Should 'Look At His Approval Rating' Before Planning Comeback
Before Prince Andrew makes any plans for a public comeback in the wake of a recent defense from convicted sex trafficker Ghislaine Maxwell in an interview from her prison cell, he should first consider his approval ratings with the British public, a new episode of Newsweek's The Royal Report podcast has heard.
In recent weeks, unnamed sources in the British tabloids have hinted that the prince could soon reveal a new plan to rehabilitate his public image against allegations of sexual abuse connected to his friendship with sex offender Jeffrey Epstein, publicly highlighted by a lawsuit filed by Virginia Giuffre in 2021.
Following a car-crash interview in 2019 intended to set the record straight about his friendship with Epstein and to deny any recollection of having met Giuffre, Andrew stepped down from his public roles—effectively retiring from public life.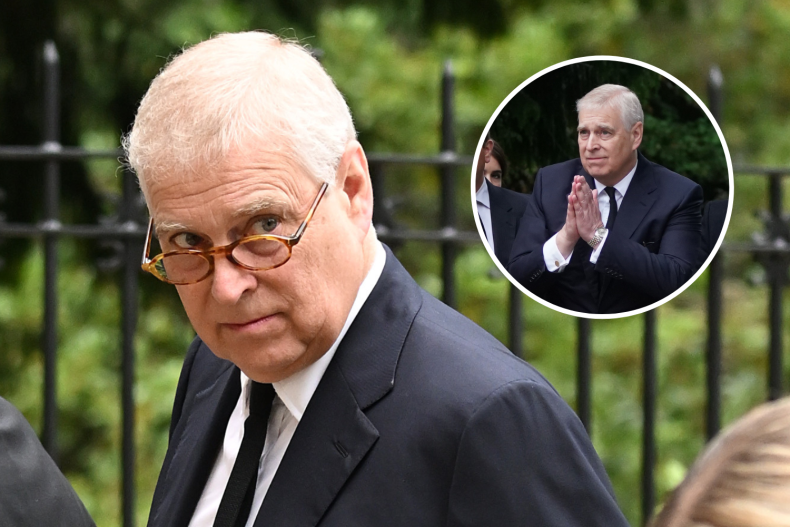 In January 2022, amid the lawsuit, it was announced by Buckingham Palace that Queen Elizabeth II had stripped her son of his honorary military patronages and that he would no longer publicly style himself as an HRH (His Royal Highness). Soon after, Andrew publicly settled Giuffre's lawsuit for an undisclosed sum, maintaining his denials of the accusations brought against him.
In January 2023, Ghislaine Maxwell, Jeffrey Epstein's former girlfriend who is serving a 20-year prison sentence for sex trafficking, claimed that a photograph of Andrew and Giuffre together was not genuine.
"I don't believe it is real for a second, in fact, I'm sure it's not," she told Britain's TalkTV. "There has never been an original. I don't believe it happened and certainly, the way it's described would have been impossible."
Newsweek's chief royal correspondent, Jack Royston, discussed Andrew's comeback possibilities and his relationship with Giuffre in the latest episode of The Royal Report.
"Ghislaine Maxwell has done an interview from prison in which she says the famous photograph of Prince Andrew with his arm around Virginia Giuffre, who was a 17-year-old, allegedly, sex trafficking victim of Jeffrey Epstein, was in fact a fake," he said.
"Now, this is not necessarily the first time this claim has been made—Andrew has certainly hinted at that possibility in the past and other people have said similar things. But what is quite interesting is that at the exact time she has done this there are also stories appearing in the press in Britain, attributed to anonymous sources, intimating that Prince Andrew might try to reactivate or file a new lawsuit against Virginia Giuffre in order to try to get back some of the money that he paid when he settled the case that she brought against him."
The sum of the settlement paid to Giuffre is reported to have been in excess of $10 million.
"Now, [Maxwell] too, it is suggested, kind of wants to clear her name and appeal her conviction and sentencing but lawyers have also suggested in both cases that both Ghislaine Maxwell and Prince Andrew might actually be barking up the wrong tree and have no chance of success. So, they are definitely both fighting uphill battles," Royston continued.
"From Prince Andrew's point of view, if he were to be somehow successful then the question would inevitably emerge whether he would try to make a return to public life in Britain, maybe try to become a working member of the royal family again.
"I think in all honesty that Prince Andrew should probably take a look at where his own approval rating stands in Britain, because he is by a country mile Britain's most hated member of the royal family."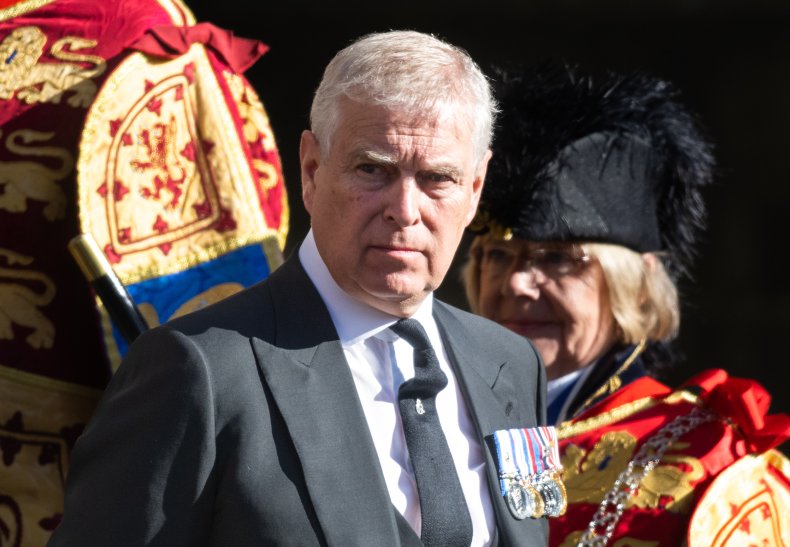 According to YouGov, Andrew remains the most unpopular royal in Britain, with a net approval rating of -79.
"Very few people would still stick their head above the parapet to say that they liked him," Royston offered. "Recent polling by YouGov suggested that about 12 percent of Britain likes him compare to seventy percent who don't, so, that is really pretty stark and it's very difficult to see that problem going away anytime soon."
Newsweek approached representatives of Prince Andrew for comment.
James Crawford-Smith is Newsweek's royal reporter based in London. You can find him on Twitter at @jrcrawfordsmith and read his stories on Newsweek's The Royals Facebook page.
Do you have a question about King Charles III, William and Kate, Meghan and Harry, or their family that you would like our experienced royal correspondents to answer? Email royals@newsweek.com. We'd love to hear from you.