Prince Andrew Could Receive Medal From Queen Elizabeth II Despite Rape Lawsuit
Prince Andrew could be among royals to receive a medal from Queen Elizabeth II next year—even if a rape lawsuit is still hanging over him.
The queen celebrates 70 years on the throne in 2022 when hundreds of thousands of medals will be given out, including to emergency services personnel and members of the armed forces.
The royal family will also get medals and, if the precedent set on previous jubilees is followed, Prince Andrew will be among them.
A palace source told Newsweek the final list has not yet been agreed, but acknowledged Andrew could be on it despite having stepped back from public life.
They said: "Family members get the medal for commemoration, not for service. If precedent is followed then he will get one."
Prince Harry and Meghan Markle would too, even though they quit royal duties and despite their attacks on the royal family during their Oprah Winfrey interview in March.
When details of the medal were announced on Saturday, U.K. Culture Secretary Nadine Dorries said: "Her Majesty The Queen's Platinum Jubilee is a wonderful opportunity to recognise the dedication and service of those who, like the Queen, tirelessly serve our country.
"From the troops who serve overseas to the emergency services workers at home who run towards danger when others would flee, we are honoured to have such dedicated and professional public servants who keep us safe."
However, recipients now face the prospect of Prince Andrew being included in the honor despite the cloud of Epstein allegations.
Andrew has medals for the queen's silver, golden and diamond jubilees, while Harry was decorated for her golden and diamond jubilees.
The medals are not the same as a title or a knighthood but are worn in the same way as a military service medal.
The system has been criticised before as it has seen royals with little to no military service decorated as though they were war heroes.
Prince Edward, the queen's fourth child, was in 2017 mocked by U.K. tabloid The Sun for wearing seven medals despite having dropped out of Royal Marines training after four months.
Among them were three for Elizabeth's silver, golden and diamond jubilees, though the newspaper captioned his medals with joke names such as the "Dolittle Award" and the "Bare-Faced Cheek Award."
Prince Andrew has been accused of sexual assault and battery of a 17-year-old Jeffrey Epstein victim. He has repeatedly denied the claims.
Virginia Giuffre filed a civil lawsuit against him in New York and the prince has until October 29 to respond to her complaint.
Giuffre's attorney previously said he believes the case will come to court in the middle of next year, setting it on a potential collision course with the center piece of the queen's Platinum Jubilee.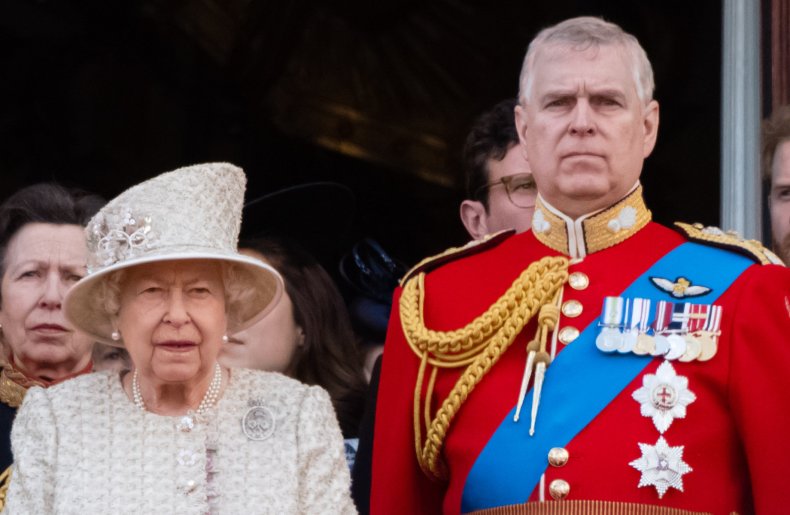 While there will be small events throughout the year, the most high profile celebrations will take place over a four day weekend from June 2 to June 5.
Any reputational damage suffered by Elizabeth from the Epstein case will likely be magnified if the man widely viewed as her favorite son is handed a new medal for his chest despite stepping back from public life in November 2019.
Andrew quit his royal duties after a car crash BBC interview in which he did not apologise to Epstein's victims.
At the time, he released a statement: "It has become clear to me over the last few days that the circumstances relating to my former association with Jeffrey Epstein has become a major disruption to my family's work and the valuable work going on in the many organisations and charities that I am proud to support.
"Therefore, I have asked Her Majesty if I may step back from public duties for the foreseeable future, and she has given her permission.
"I continue to unequivocally regret my ill-judged association with Jeffrey Epstein."