Prince Andrew 'Treated With Kid Gloves' Compared to Prince Harry and Meghan Markle, Biographer Says
Prince Andrew has been "treated with kid gloves" compared to Prince Harry and Meghan Markle, the Duke of York's biographer says.
The prince denies having sex with Virginia Giuffre while she was a 17-year-old Jeffrey Epstein trafficking victim and was forced to step back from public life.
The Duke and Duchess of Sussex quit as senior working royals, agreeing not to take public money and were told they could not trade off their royal status.
They were attacked today for speaking out about the U.S. election, with critics claiming they flouted convention which says royals should not interfere in politics.
Former CNN host Piers Morgan wrote on Twitter today: "Prince Harry poking his woke nose into the US election & effectively telling Americans to vote against President Trump is completely unacceptable behaviour for a member of the Royal Family."
And when Meghan called on Americans to vote for change in August, he said: "The Queen must strip the Sussexes of their titles.
"They can't remain as royals & spout off about foreign elections in such a brazenly partisan way."
However, biographer Nigel Cawthorne claimed during Andrew's 10 years as trade envoy a litany of gaffes and breaches of protocol were covered up.
His book, Prince Andrew, Epstein and the Palace, claims diplomats were told not to put concerns in writing even though he was rude to the point he was nicknamed HBH, "His Buffoon Highness."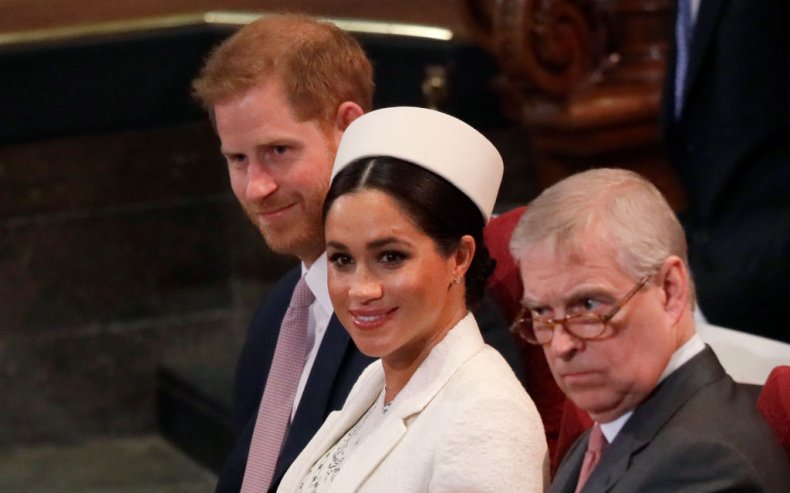 And it describes how he went to Phuket, Thailand, in January 2001 where he was seen on a yacht with Epstein and a number of topless women.
In Patong, he went to the red light district, including a bar called "Patong's hottest girls, Number one for adult entertainment," Cawthorne writes.
At another point, Andrew called Britain's Serious Fraud Office "idiots" for "investigating bribery claims around an arms deal in Saudi Arabia" at a business event, the book says.
Cawthorne told Newsweek: "If anyone else was behaving in that way, running up expenses at the taxpayer's expense there would have been action against them.
"When the Sussexes stepped down and agreed not to use their HRH titles anymore and weren't going to get anymore public money, what's he being paid for?
"He has been treated with kid gloves throughout this. It's the culture of privilege.
"He's privileged because of his heritage and for some reason nobody dares say that the emperor has no clothes.
"If you are born and brought up in his circumstances where from the moment you can walk and talk people are bowing and calling you your royal highness, how are you going to turn out?"
Harry and Meghan were told by Queen Elizabeth II they could not style themselves as HRH, his or her royal highness.
However, Prince Andrew was given a prestigious royal honor just weeks after Virginia Giuffre's allegations first came to light through an article in British tabloid the Mail on Sunday.
The following month, in March 2011, the queen made him a Knight Grand Cross of the Royal Victorian Order for personal service to her.
Cawthorne said: "He only lost his role as trade envoy after a decade.
"What the queen should have done was tell the government not to give him such a sensitive position.
"She could have prevented the government from legitimizing him with such a role.
"If it had been anyone else who was trade envoy there would be that paper trail and proper complaints procedures going on and the guy would have got sacked."