Prince Andrew's Rape Lawsuit Will Be Axed Over Past Settlement, Alan Dershowitz Says
Prince Andrew's Jeffrey Epstein-related rape lawsuit could be torpedoed by a past settlement agreement signed by his accuser, Alan Dershowitz says.
The two high-profile men have both been accused of sexual abuse by Virginia Giuffre. Giuffre says she was 17 and an Epstein slave when the Duke of York allegedly raped her in New York, London and the U.S. Virgin Islands.
However, she dropped similar allegations against Dershowitz over a past settlement she signed after suing Epstein in the civil courts in Florida in 2009. There is no suggestion the sealed agreement undermines the factual allegations Giuffre has made, however, it was intended to rule out further lawsuits against other people connected to Epstein.
Andrew's legal team have now been handed the same document as they prepare their response to the case against him, with a court imposed deadline of October 29.
Dershowitz told The Sunday Telegraph: "I cannot imagine how the case against the Prince will not be dismissed based on the dismissal of the case against me."
Dershowitz requested the document be released to Andrew in September, after it was included in evidence in his own lawsuit with Giuffre.
A filing by his lawyer in September read: "Ms. Giuffre's 2009 lawsuit against Epstein included an express allegation that she had been sexually trafficked to royalty, an allegation which she later admitted referred to HRH Prince Andrew, Duke of York."
It added: "As this Court is aware, after Professor Dershowitz invoked this very same Release [settlement agreement], Ms. Giuffre voluntarily dismissed her claim for battery against Professor Dershowitz on August 12, 2021.
"Yet, on August 9, 2021, nearly two weeks after Professor Dershowitz had invoked the Release via letter to Ms. Giuffre's counsel in this action, Ms. Giuffre, through separate counsel, filed her complaint against Prince Andrew."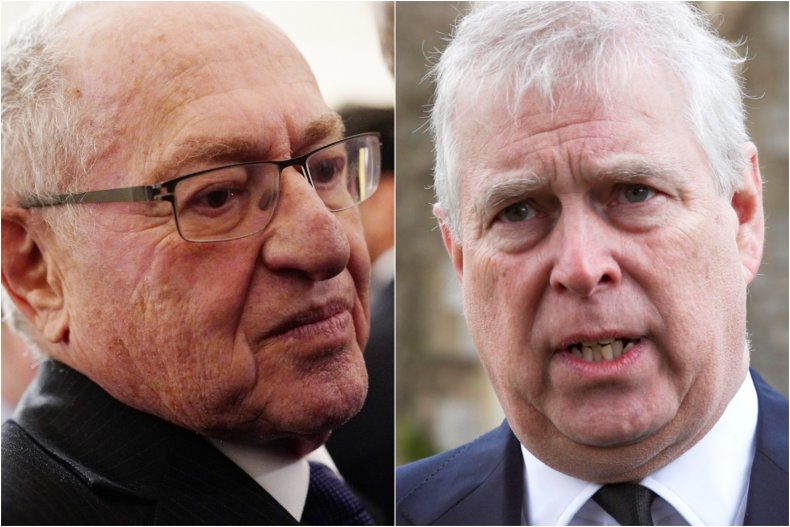 Her attorney, David Boies, acknowledged the existence of the agreement but said it does not apply to Andrew.
A court filing, seen by Newsweek, read: "There is no evidence from any of the parties to the release, or Prince Andrew, that the release was ever intended to include Prince Andrew, and we believe the evidence will be that it wasn't.
"Indeed, the only two parties to the release (Mr. Giuffre and Mr. Epstein) by their conduct have made clear that they did not intend to release Prince Andrew."
He added: "The release on its face at most covers persons who could have been defendants in the Florida case in connection with which the release was prepared.
"Unlike Mr. Dershowitz (who abused Ms. Giuffre in Florida), there was not jurisdiction in Florida for the claims being asserted against Prince Andrew in the case before Judge Kaplan."
Dershowitz denies the allegations of abuse.