Prince Andrew Intends 'Return to Public Duties' Despite Jeffrey Epstein Scandal
Prince Andrew is planning "to return to public duties" a source close to the prince's team has told Newsweek—just days after allegations he had sex with one of Jeffrey Epstein's victims were included in court papers.
The Duke of York accepts he "can't just go back to the way things were" before the scandal surrounding his friendship with the convicted pedophile, the source said.
However, they added, that the prince has been "thinking very hard about how best he can serve his country" almost a year after he stepped back from public life in disgrace.
It comes days after the duke's name appeared to have been redacted in court documents that show Ghislaine Maxwell, an alleged Epstein accomplice, was asked by lawyers about claims the royal had sex with Virginia Giuffre when she was a 17-year-old trafficking victim. Prince Andrew denies having any sexual contact with her.
"He's very sensitive to the public mood and acutely conscious that the public are the prime consideration," the source continued. "All this still needs to be discussed with his family and then with other stakeholders - the government and Palace officials."
"It is his intention to return to public duties but none of this can seriously progress until the legal process in the US has been resolved and the Duke's side of the story has been properly explained."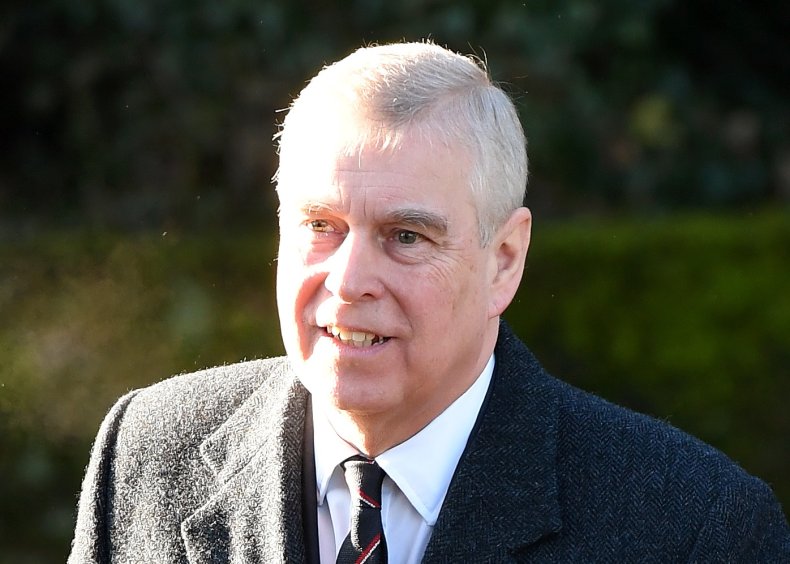 Earlier this year, the DOJ said it had submitted a formal request to the U.K. Home Office asking for the prince's testimony. That stand-off is yet to be resolved.
A palace source told Newsweek no formal discussions have taken place among palace aides about a possible return for Andrew.
However, the Sunday Times reported there have been informal conversation with other members of the royal family on the subject of a comeback.
The palace insider told Newsweek: "Everyone is quite clear that the duke stepped down because of the distraction that his association with Epstein had.
"There would be a number of hurdles to overcome before that could be resolved and they are still yet to be overcome.
"They're pretty substantial hurdles."
Andrew's close friend Ghislaine Maxwell has denied trafficking charges and perjury and is due to stand trial in July next year.
Last week, a deposition she gave in 2016 to a libel case brought by Giuffre, who was formerly known as Virginia Roberts, was unsealed.
In her deposition, Maxwell said the allegations against the duke were lies.
"Just for the record, I have never at any time, at anyplace, in any moment ever asked Virginia Roberts or whatever she is called now to have sex with anybody," she said.
She added: "Her tissue of lies is extremely hard to pick apart what is true and what isn't.
"Actually I wouldn't recollect her at all but for her tissue stories about this situation."
The source close to the duke's working group said: "Any future public role for the Duke would - and should - be different.
"He can't just go back to the way things were and nor does he want to.
"He's thinking very hard about how best he can serve his country, and a public reframing of the role of the Duke of York is critical."
Buckingham Palace said the situation had not changed since November last year when the prince resigned, citing "the major disruption to my family's work."
At the time, Andrew said: "It has become clear to me over the last few days that the circumstances relating to my former association with Jeffrey Epstein has become a major disruption to my family's work and the valuable work going on in the many organisations and charities that I am proud to support.
"Therefore, I have asked Her Majesty if I may step back from public duties for the foreseeable future, and she has given her permission.
"I continue to unequivocally regret my ill-judged association with Jeffrey Epstein."