Prince Andrew's Biggest Scandals: Jeffrey Epstein, Divorce, Philandering and More Unlikely Friends
Prince Andrew came under fire after he was named in a newly released deposition regarding Jeffrey Epstein's sex-trafficking case. The document, which cited Andrew among several other notable figures, was released two days before Epstein was discovered dead by suicide at a federal prison on Sunday.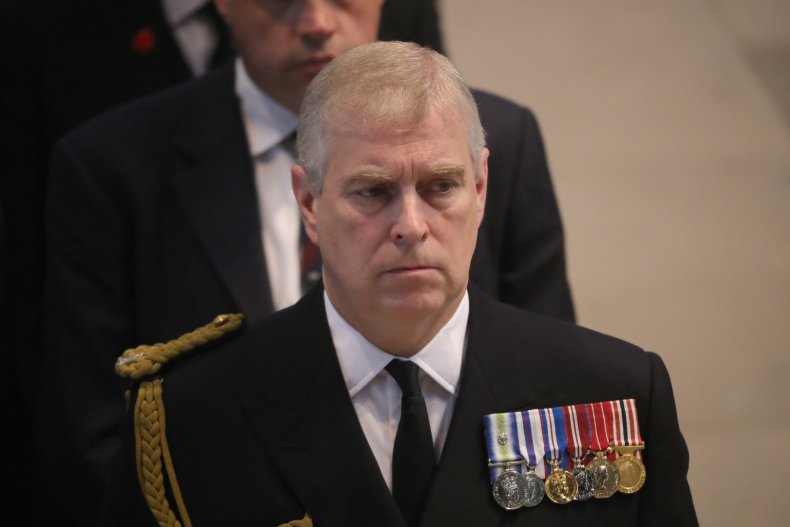 Andrew, the third child and second son of Queen Elizabeth II, was listed in a court document released on Friday. It pertained to a 2015 defamation lawsuit that Virginia Roberts Giuffre, a woman who accused Epstein of forcing her to have sex with various powerful men, filed against the late financier's friend, British socialite Ghislaine Maxwell, according to NBC News. Giuffre claimed Maxwell coerced her into sex, naming Andrew in the lawsuit.
The documents additionally included a 2016 deposition in which another woman, named Johanna Sjoberg, who claimed Maxwell lured her into sex with Epstein, alleged Andrew groped her breast at Epstein's apartment in Manhattan in 2001.
Buckingham Palace denied the accusations, just as it did twice back in 2015, when allegations regarding his rumored involvement in Epstein's underage sex ring first emerged.
"This relates to proceedings in the United States, to which The Duke of York is not a party. Any suggestion of impropriety with underage minors is categorically untrue," the Palace said in a statement to NBC News.
Andrew's alleged link to Epstein's legal drama is far from the prince's first scandal. His name has been dragged in British tabloids for years, starting with his philandering behavior related to short-lived marriage to Sarah Ferguson.
Perhaps some of his more questionable scandals pertain to his relationship with the son of former Libyan dictator Muammar Qaddafi. Andrew reportedly met with the now-imprisoned Saif al-Islam for the first time in 2007, according to the Telegraph, and was said to have met with him on four separate occasions thereafter—although Buckingham Palace claimed Andrew and Saif only met twice. Andrew was slated to have met with Qaddafi on at least one occasion in 2008, according to The Washington Post, while he served as Britain's unpaid special representative for international trade and investment.
He also reportedly spent a four-day holiday in Tunisia, paid for by convicted Libyan gun smuggler Tarek Kaituni, just ahead of his 2008 meeting with Qaddafi. Andrew later hosted the son of Tunisia's controversial former President Zine al-Abidine Ben Ali at Buckingham Palace in 2010.
Andrew's handling of money has also been under British scrutiny since he sold his Sunninghill Park home in Berkshire to Kazakh billionaire Timur Kulibayev for £3 million—$3.6 million in U.S. currency—more than the home's original listing price.
His affinity for high-class traveling landed him the nickname Airmiles Andy in 2010 after he claimed an additional £620,000 (about $750,000) more than his £249,000 (about $300,000) royal duty stipend citing traveling expenses. He stepped down from his special representative role 10 years after receiving the position in 2011.
The Palace has largely denied any foul play on Andrew's behalf.