Prince Andrew's New Bid for the Limelight Recreates War Hero 'Propaganda'
Prince Andrew is trying to recreate his "great war hero" image of the Falklands War with a recent Instagram posting, as the royal's gradual exclusion from public life continues following the settlement of the Virginia Giuffre sexual abuse case.
Prince Andrew—in a now-deleted post—said the conflict in Ukraine gave him "a full weep" in a long message on his ex-wife's Instagram account, in what is seen as a new push back against his exile from public life.
The Duke of York said he came back from the 1982 Falklands War, between Britain and Argentina, a "changed man" in a more than 700-word online comment.
It came just days after he unexpectedly appeared as Queen Elizabeth II's chaperone during a thanksgiving service for the life of his father, Prince Philip, on Tuesday, March 29.
Biographer Nigel Cawthorne, author of Prince Andrew: Epstein, Maxwell and the Palace, told Newsweek: "He's trying to recreate the great war hero of the Falklands War image.
"Of course, although that was the propaganda at the time it's notable that aside from the campaign medal he got, which everybody else did, he didn't actually get any other sort distinguished silverware.
"He's trying to cast people's minds back to the time he was seen as a bit of a hero. If he wants to do that he should be on the front line in Ukraine.
"Yes, we may see more attempts, although in both cases the reaction has been pretty bad. People are seeing what he's doing and they're not liking it."
Royal biographer Omid Scobie, co-author of Finding Freedom, wrote on Twitter: "Andrew was forced to shut down his social media accounts in January after the palace announced he would lose his honorary military titles and no longer use his HRH.
"But, despite efforts to keep him in the background, it is clear that this prince still wants to be seen and heard."
He added: "Less than two hours after posting, the three posts have now been deleted."
Prince Andrew's Falkland's War Post
Sarah Ferguson, who divorced Andrew in 1996 but remains close to her ex-husband, wrote on Instagram: "I asked Andrew this morning for his reflections on the anniversary of his sailing from Portsmouth to the Falklands Islands 40 years ago."
She then included a lengthy message spread across a series of photographs which ended with the words "Written by The Duke of York." The BBC reported that the sign-off initially included the prefix HRH, standing for His Royal Highness, before it was subsequently edited out.
Andrew began in literary style, writing "as I sit here at my desk on this cold crisp spring morning" before sharing his memories of sailing out of Portsmouth, England, to serve as a Sea King helicopter pilot during Britain's efforts to retake an overseas territory from Argentina in 1982.
The prince said he had not expected it to be a "shooting war" but was permanently changed by his experience.
He wrote: "I was flying and saw a chaff shell fired from one of our ships that passed not that far in front of us. For a moment it was on a steady bearing before it began to cross to our left.
"The terror that that was going to be that, just for a moment, has had a lasting and permanent effect on me.
"We then had to put that to one side and get on with the search and rescue mission to recover and find men in the water after [British merchant ship Atlantic] Conveyor was hit and burning."
He added: "But this morning whilst I think back, what has truly brought a full weep is the current thought that others in Ukraine are facing a more deadly threat and we can't seem to learn from our history of conflict that it is the human being that suffers, it is the family's that are torn apart by the indiscriminate bombardments, it is the bravery and courage of the few to defend the many that has really caught me as I reflect."
He appeared to hint at possible criticism of the decision by Margaret Thatcher's government to go to war after Argentina invaded the islands, which are situated just over 400 miles off its coast.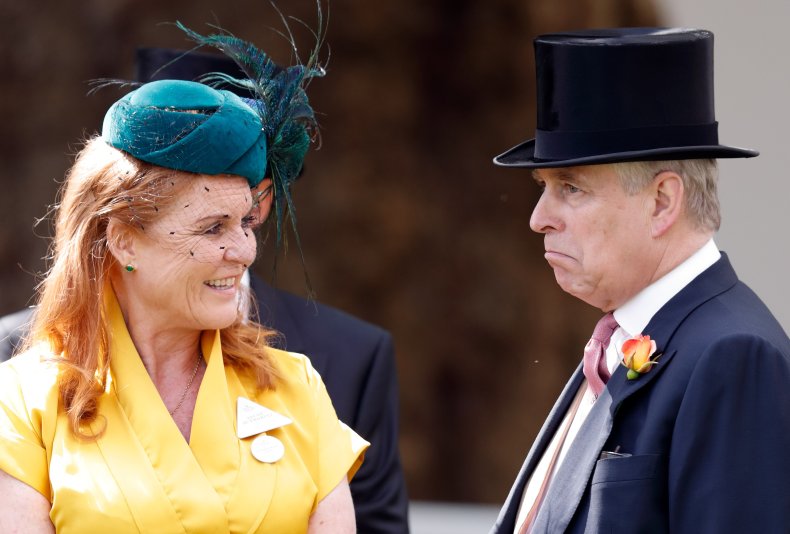 Andrew wrote: "Equally I can sympathise with those fighting today in the knowledge that we thought we were going to do the right thing in 1982—eject an invader—but only those who experience war can tell you, whatever those sitting in warm cosy television studios tell you, war is a dreadful thing and EVERY effort should be made to avoid it, however 'just' someone on either side thinks it is."
He finished: "So whilst I think back to a day when a young man went to war, full of bravado, I returned a changed man."
Prince Andrew's Attempted Come Back
Andrew first retired from public life after a car crash interview in November 2019 before being stripped of his military titles and royal patronages in January after a judge gave the green light for a trial in his civil sexual abuse case, brought by Virginia Giuffre.
The prince always denied the claims made against him.
It had been known in advance he would attend the memorial to Prince Philip at Westminster Abbey—but not that he would play a starring role at his mother's side on March 29.
A palace insider told Newsweek before the service that Andrew would be attending as it was a family event. However, when he walked side by side with his mother live on BBC One it triggered front page news and a public backlash.
It was his first public appearance since Prince Philip's funeral on April 17, 2021, and his first since settling with Giuffre. Their out-of-court agreement for an undisclosed sum was announced in February and wrapped up in early March.
The Instagram post about his experiences of war echoes a previous attempt to include him in a charity event in April, 2020.
Andrew and Ferguson were pictured packing cupcakes for Thames Hospice in Windsor, England, during the early days of the coronavirus pandemic.
The photos were posted on Instagram by his ex-wife's assistant, Antonia Marshall, prompting a public outcry.
For more royal news and commentary check out Newsweek's The Royal Report podcast: