Prince Andrew Stayed in Jeffrey Epstein's NYC Party Mansion Despite Sex Offender Conviction Because It Was 'Convenient'
Prince Andrew stayed at Jeffrey Epstein's infamous New York party mansion despite knowing he was a registered sex offender because "it was a convenient place to stay," the Duke of York claimed in an explosive interview.
The assertion was one of several denials of any wrongdoing made by the 59-year-old British royal in an exclusive interview with BBC's Newsnight when asked to speak publicly about his links to the disgraced financier for the first time.
Andrew said he visited Epstein in New York five months after the convicted sex offender was released from prison on child prostitution charges because he wanted to do the "honorable thing" and break up their friendship face-to-face. His four-day visit coincided with numerous pictures showing young women going in and out of Epstein's Upper East Side property.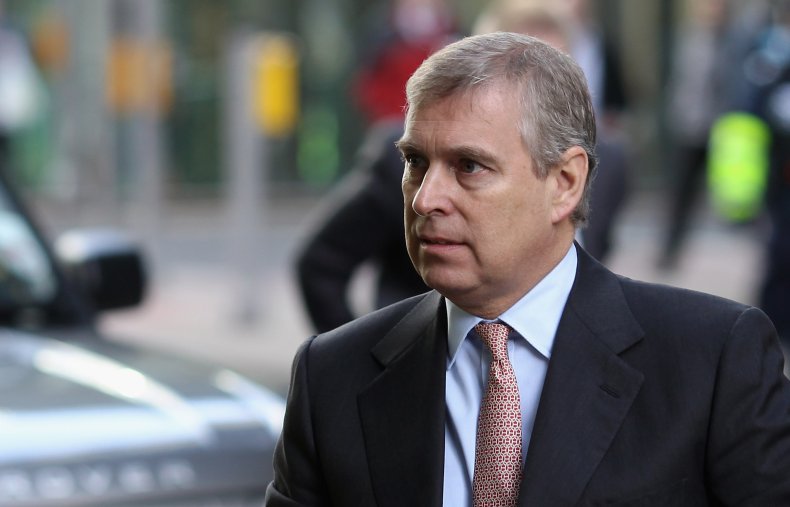 "I went there with the sole purpose of saying to him that because he had been convicted, it was inappropriate for us to be seen together," the prince said.
"And I had a number of people counsel me in both directions, either to go and see him or not to go and see him and I took the judgement call that because this was serious and I felt that doing it over the telephone was the chicken's way of doing it. I had to go and see him and talk to him."
That visit in December 2010 resulted in the photo that showed Andrew and Epstein walking together in Central Park and the pair, according to the prince, had the conversation where Andrew advised Epstein of his intention to not see him again.
A day later, on December 6, 2010, photos captured by the Mail on Sunday showed Andrew waving off a "pretty brunette" from the doorway as she left the $56 million mansion. An hour earlier, Epstein was seen leaving the property with a young blonde female, whose age is not known, but did not reach Epstein's shoulder-level as they walked side by side.
Following the publication of the pictures, Buckingham Palace released a strongly worded statement denying any wrongdoing by the prince. "Any suggestion of impropriety with underage minors is categorically untrue," it said.
When Andrew's presence at Epstein's house was questioned by the BBC's Emily Matlis in the Saturday-night broadcast of the interview, the prince said: "It was a convenient place to stay.
"I mean, I've gone through this in my mind so many times. At the end of the day, with benefit of all the hindsight that one can have, it was definitely the wrong thing to do.
"But at the time I felt it was the honourable and right thing to do and I admit fully that my judgement was probably coloured by my tendency to be too honourable but that's just the way it is."
Andrew denied that there was a party at the residence or that he spent much time with Epstein away from their Central Park stroll.
He also said he was not aware of the presence of underage girls at the house, stating that Epstein's house was like a "railway station," so he could not comment about who was coming in and out.
That came despite a 2013 email exchange between literary agent John Brockman and writer Evgeny Morozov, where Brockman wrote: "Last time I visited his [Epstein's] house, I walked in to find him in a sweatsuit and a British guy [who is later identified as "Andy"] in a suit with suspenders [braces], getting foot massages from two young well-dressed Russian women."
Andrew said the email exchange is not true and denied ever seeing Brockman in Epstein's house. "I don't know Mr. Brockman so I don't know what he's talking about," he said in the interview.
The denial came alongside a number of others as Matlis continued to confront Andrew with evidence that points to alleged wrongdoing.
Among them was a claim that he "had no recollection" of meeting Virgina Roberts, one of Epstein's accusers, who says she was sex trafficked and forced to have sex with Andrew on three separate occasions.
Andrew said that one of the occasions Roberts claimed to have sex with him in a London property belonging to British socialite Ghislaine Maxwell was not possible because he was at a Pizza Express with his daughter in Woking on the alleged day. Newsweek could not immediately confirm that statement.
He also said statements where Roberts described him as sweaty while they were dancing were not possible because he claimed to have a "peculiar medical condition" that prevented him from sweating.
"I didn't sweat at the time because I had suffered what I would describe as an overdose of adrenaline in the Falkland's War when I was shot at and I simply… it was almost impossible for me to sweat," Andrew said.
In response to this statement, professor John Hawk, a dermatology expert at London's King's College and St. Thomas' Hospital, told the Daily Express: "It is certainly possible to have problems with sweating but an overdose of adrenaline would be more likely to make a person sweat more, not less.
"Most cases are inherited, which does not seem to be the case here. Other causes include heat stroke—which seems unlikely in the Falklands—severe dehydration, and certain medications including morphine could also cause it, but these are not likely."