Prince Andrew Will Not 'Distract' From Prince Philip's Funeral, Source Says
Prince Andrew "has neither wish nor intention to distract from" Queen Elizabeth II mourning Prince Philip at his funeral after reports he intended to go in Admiral's uniform, a source close to Andrew has told Newsweek.
The Duke of York stepped back from public life in disgrace amid a public backlash to an interview he did with the BBC about his friendship with Jeffrey Epstein in 2019.
However, he will be at his father's funeral at St George's Chapel on Saturday, a rare public appearance.
The Daily Mail reported that he planned to wear an Admiral's uniform to the Windsor Castle ceremony, despite the fact his promotion to the rank was deferred due to the Epstein scandal.
A source told Newsweek: "The Duke of York is very keenly aware of Saturday's funeral being a moment for the Duke of Edinburgh, HM [her majesty, the queen] and the nation. He has neither wish nor intention to distract from that.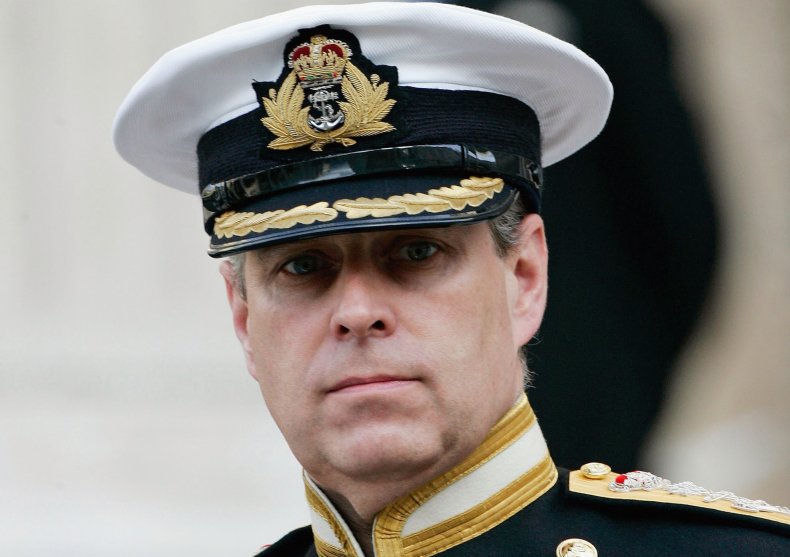 "Speculation on what he may or may not wear is just that, speculation, and no matters of this nature have yet been decided upon.
"The Duke of York will do what is appropriate to the circumstances—he remains stepped back from royal duties."
A source told the Daily Mail he had asked his mother, the queen, for permission to wear the admiral's uniform.
If he did, it would create complications for Buckingham Palace as Prince Harry, despite having served on the front line in Afghanistan, is only allowed to wear a suit with medals, the newspaper reported.
Andrew was made an hororary vice-admiral for his 55th birthday in 2015 and was due to be made admiral on turning 60 last year.
However, after he stepped back from royal duties he deferred the promotion, the Daily Mail reported.
Buckingham Palace said in a statement: "Funeral arrangements are being finalised and we will announce them accordingly."
Virginia Giuffre says she was made to have sex with Prince Andrew when she was 17 by Jeffrey Epstein and Ghislaine Maxwell three times, in London, New York and the U.S. Virgin Islands.
The duke denies the allegations, saying he cannot recall meeting her, but was forced to step back from public life after a car crash interview.
He told the BBC's Emily Maitlis Giuffre's account could not be true because she described him sweating when, he claims, he had a medical condition at the time which prevented him sweating.
He also would not say he regeretted his friendship with Epstein and did not express sympathy for the victims.
Asked whether Giuffre was lying, the prince told the BBC: "That's a very difficult thing to answer because I'm not in a position to know what she's trying to achieve but I can tell you categorically I don't remember meeting her at all.
"I do not remember a photograph being taken and I've said consistently and frequently that we never had any sort of sexual contact whatever."
He said of Epstein: "As far as my association with him was concerned, it had some seriously beneficial outcomes in areas that have nothing and have nothing to do with what I would describe as what we're talking about today."
Prince Philip's funeral is on Saturday at St George's Chapel, Windsor Castle.