How Prince Charles Made 90s Visit to Meghan Markle's Part of L.A. Amid Crisis
Prince Charles dealt with the fallout from his own bombshell claims about the damage of his royal upbringing during a visit to Los Angeles—not far from where Meghan Markle grew up.
The next in line to the throne gave interviews and access to journalist Jonathan Dimbleby for his 1994 book The Prince of Wales: A Biography.
And the 620-page tome described how Prince Philip reduced the young royal to tears with "banter" during childhood while Queen Elizabeth II was emotionally distant.
The broadside against his parents echoes some of his son Prince Harry's—and to a lesser extent Meghan's—own criticisms of the royal family.
And the biography is being discussed once again some 27 years later, as comparisons have been made between Prince Harry's criticisms of his family now and Prince Charles's then.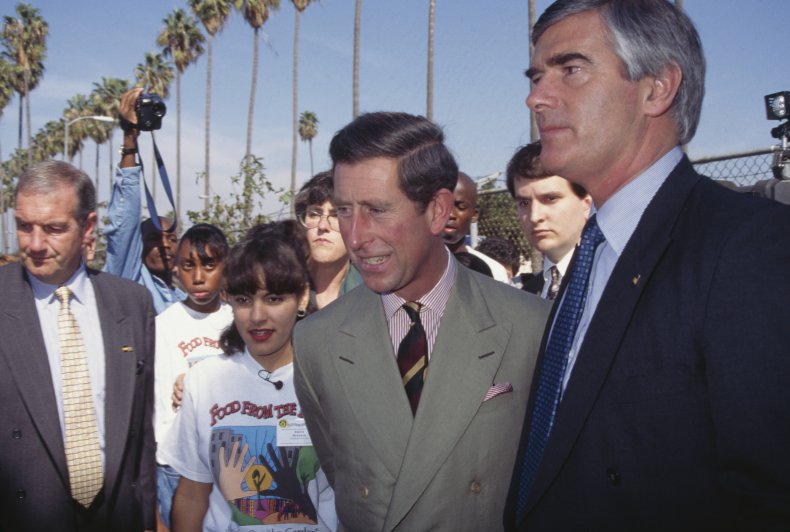 In coincidental symbolism worthy of The Crown—Charles used a November 1994 tour of his future daughter-in-law's home city to show he was getting back to work amid the media storm.
Race riots sparked by the acquittal of police officers over the beating of Rodney King had set Los Angeles alight two years earlier, in 1992, and he visited a community enterprise, which had been launched at a school in Crenshaw in the aftermath.
While Meghan was not from Crenshaw, the BBC reported she grew up in the affluent View Park-Windsor Hills area, just a few miles away, and later also in South Central.
And Meghan went to private Sacred Heart High School at the time, which is around 12 miles away from the venue of Charles's royal visit to the school.
A report by Reuters at the time read: "A busy day allowed the Prince to put behind him his woes at home where his broken marriage to Princess Diana and the alleged infidelities of both parties have created a scandal that is daily fare for Britain's tabloid press."
However, he did not entirely get an easy ride because then, as now, the royals faced racism allegations.
Reuters added: "About 50 black adults held three different demonstrations outside Crenshaw High School.
"One group bore a placard saying 'England brought slaves to America,' while another group held a sign saying 'Windsors kill blacks in Rwanda.'
'Windsor' is the British royal family's rarely used surname, but the reference to Rwanda was not clear.
"The third group held a blown-up photo of Charles accompanied by a sign saying, 'The Queen does push dope'."
However, Prince Charles got a warm reception inside the school where he learned about its "Food from the 'Hood" program, started by students after the 1992 riots.
Reports from the time describe how students would "grow produce in a reclaimed school garden and market it themselves, providing jobs."
Reuters reported: "Putting behind him, at least temporarily, his broken marriage to Princess Diana, Charles, a self-confessed Hollywood star gazer, was to be joined at the lunch by actor Edward James Olmos and film director John Singleton.
"The prince's obvious enjoyment of Hollywood was shown in excerpts from The Prince of Wales, by Jonathan Dimbleby, which has stirred controversy in Britain by revealing Charles's intimate thoughts.
"The book, released on Tuesday, says Charles wrote in his diary of his excitement about meeting singer/actress Barbra Streisand, 'my only pinup.'
"He said she was 'devastatingly attractive with a great deal of sex appeal'."
Prince Harry's relationship with his father has been under strain recently after he accused Charles of cutting him off financially and not taking his calls.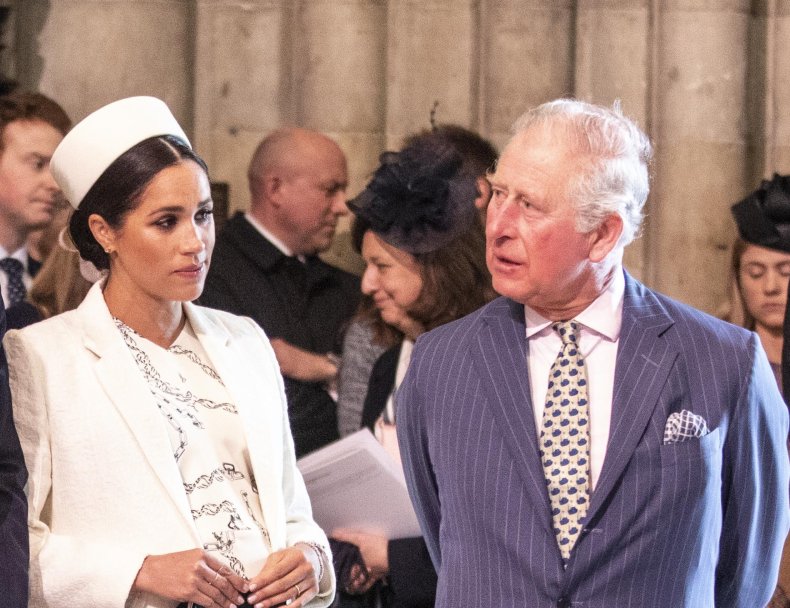 The Duke of Sussex also told the Armchair Expert podcast he experienced "genetic pain" from his upbringing.
And on his Apple TV mental health series, The Me You Can't See, he accused the royals of "total neglect" when he asked for help dealing with the media treatment of Meghan.
Dimbleby wrote in his book about Charles: "Indeed, he [Prince Philip] often seemed intent not merely on correcting the prince but even mocking him as well, so that he seemed to be foolish and tongue-tied in front of friends as well as family.
"To their distress and embarrassment, the small boy was frequently brought to tears by the banter to which he was subjected and to which he could find no retort.
"On occasion, even his closest friends found the Duke's behaviour inexplicably harsh.
"One remembers that after a paternal reprimand at lunch, 'the tears welled into his eyes with a whole table full of people staying there.... And I thought how could you do that?'"
The book did not quote Charles directly but was openly written based on interviews with the future king.