Charles' 2002 Letter Shows Palace Staff Disasters Pre-Date Harry, Meghan
A letter in which Prince Charles said the royals were "treated as mere pawns in a terrifying and ongoing media circulation war" has been put up for auction.
The Prince of Wales denounced royal staff who "exercise their pathetic jealousies and vendettas in public" in the 2002 handwritten note, which has echoes of Prince Harry and Meghan Markle's own attitudes to both courtiers and the media.
The future king's words were crafted under somewhat different circumstances but have implications for multiple aspects of Harry and Meghan's narrative as outlined to Oprah Winfrey and offer a rare glimpse into his perspective.
The historic document is being sold by Chiswick Auctions, in West London, and is expected to fetch around £2,000 ($2,375).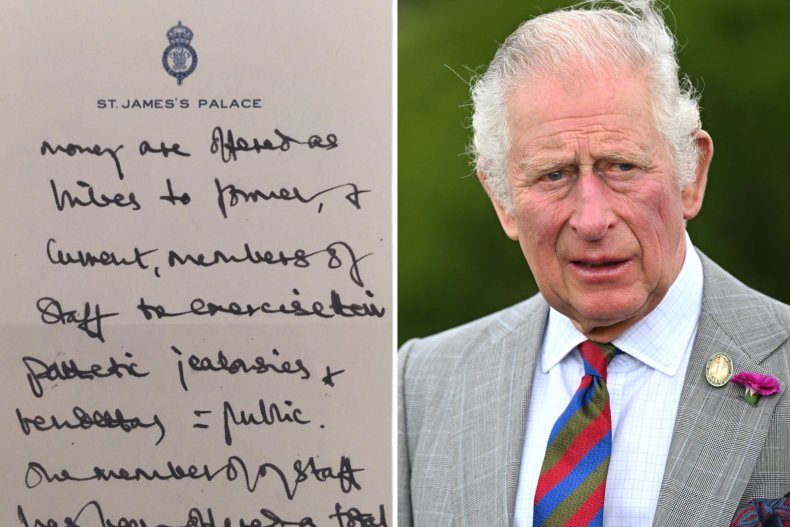 Prince Charles' Letter and a Royal Butler Put on Trial
Prince Charles sent the handwritten note weeks after Princess Diana's former butler Paul Burrell was acquitted on three theft charges relating to 310 of her possessions which were mostly found at his home, The Guardian reported at the time.
Burrell—once Diana's trusted ally—was cleared after a shock eleventh-hour intervention from Queen Elizabeth II, who supported his account and contradicted the prosecution's in November 2002.
Charles' note was written to a maid to Princess Alexandra, one of the queen's cousins, on official St. James Palace stationary and dated November 29, 2002, several weeks after Burrell was cleared.
Charles wrote: "Bless you for taking the trouble to write as you did in the wake of all the ghastliness that has been going on!
"I find it utterly incredible, as I have done nothing but show people like Paul Burrell every consideration over the years," Charles said. Unfortunately, we are now to be treated as mere pawns in a terrifying and ongoing media circulation war where the actual facts are totally disregarded and vast sums of money are offered as bribes to former and current members of staff to exercise their pathetic jealousies and vendettas in public.
"One member of staff has been offered a total of £5 million by the newspapers in recent weeks.
"The thought of what the future holds fills me with complete dread."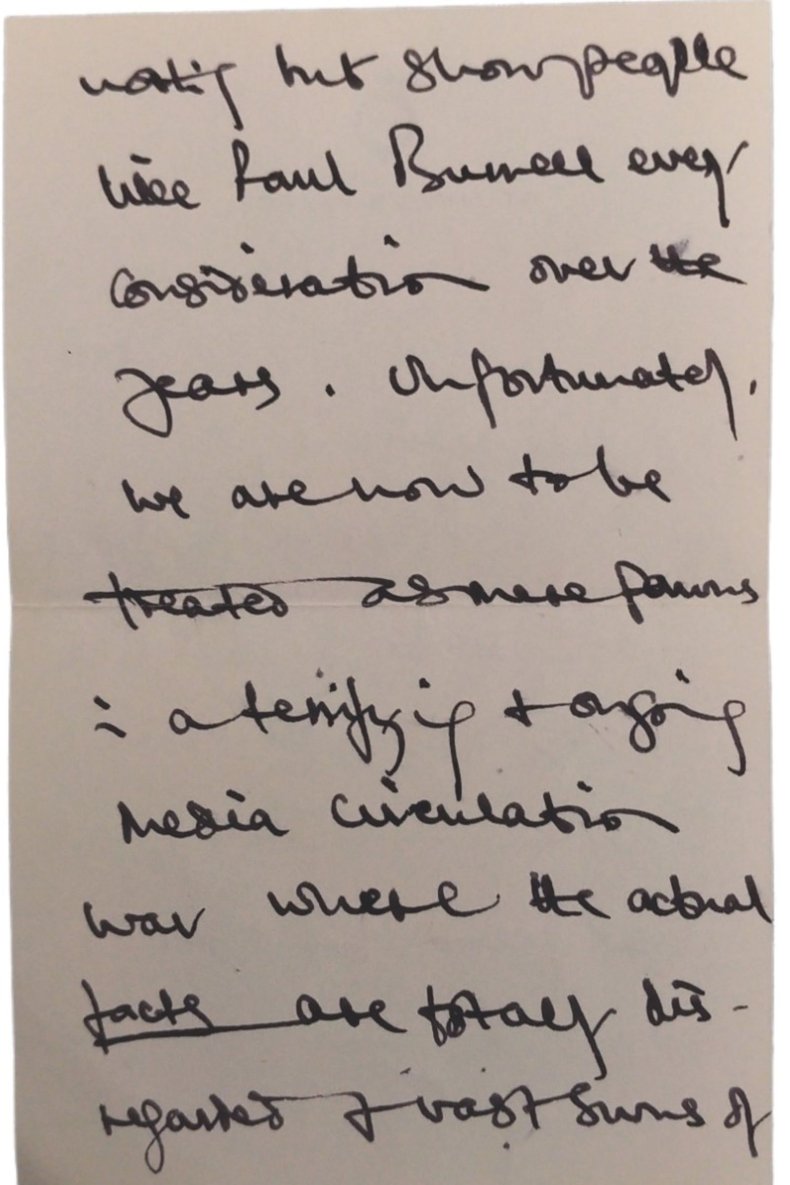 Prince Harry and Meghan Markle's Comments on Palace Staff and Media
The surrounding circumstance of Charles' letter was in many ways different to Harry and Meghan's experiences, but the content itself bears striking similarities and potentially re-enforces aspects of their Oprah Winfrey interview.
The Duke and Duchess of Sussex have both sued the British press, who they accused of playing games with real people's lives.
While Charles referenced newspaper circulation, Meghan attacked The Mail on Sunday's pursuit of profit after winning a privacy action against the tabloid.
In a December 2021 statement, she said: "While this win is precedent-setting, what matters most is that we are now collectively brave enough to reshape a tabloid industry that conditions people to be cruel, and profits from the lies and pain that they create."
When Meghan filed the lawsuit over a letter she sent her father, Harry said in a statement: "I've seen what happens when someone I love is commoditized to the point that they are no longer treated or seen as a real person.
"I lost my mother and now I watch my wife falling victim to the same powerful forces."
Harry and Meghan have also accused palace officials of working with the media to undermine them, including in relation to the most high-profile staff dispute they have been involved in.
Days before their Oprah interview aired in March 2021, a historic 2018 email accusing Meghan of bullying two PAs out of the royal household was leaked to U.K. broadsheet The Times. Meghan has denied the allegations.
Harry later told his Apple TV docuseries The Me You Can't See: "Before the Oprah interview had aired, because of [the media's] headlines, and that combined effort of the firm and the media to smear her, I was woken up in the middle of the night to her crying in her pillow because she doesn't want to wake me up because I'm already carrying too much.
"That's heartbreaking. I held her, we talked, she cried, and she cried, and she cried."
Charles' comments appeared to focus more on personal betrayals while Harry and Meghan suggested the institution of monarchy itself was seeking to undermine them.
A recent lawsuit also highlighted what Harry's lawyers described as "significant tensions" with the queen's closest aide, Sir Edward Young, her private secretary.
Burrell was comparatively some way down the palace food chain by comparison.
However, there is a broader point of comparison which holds perhaps the letter's strongest relevance to Harry and Meghan's narrative.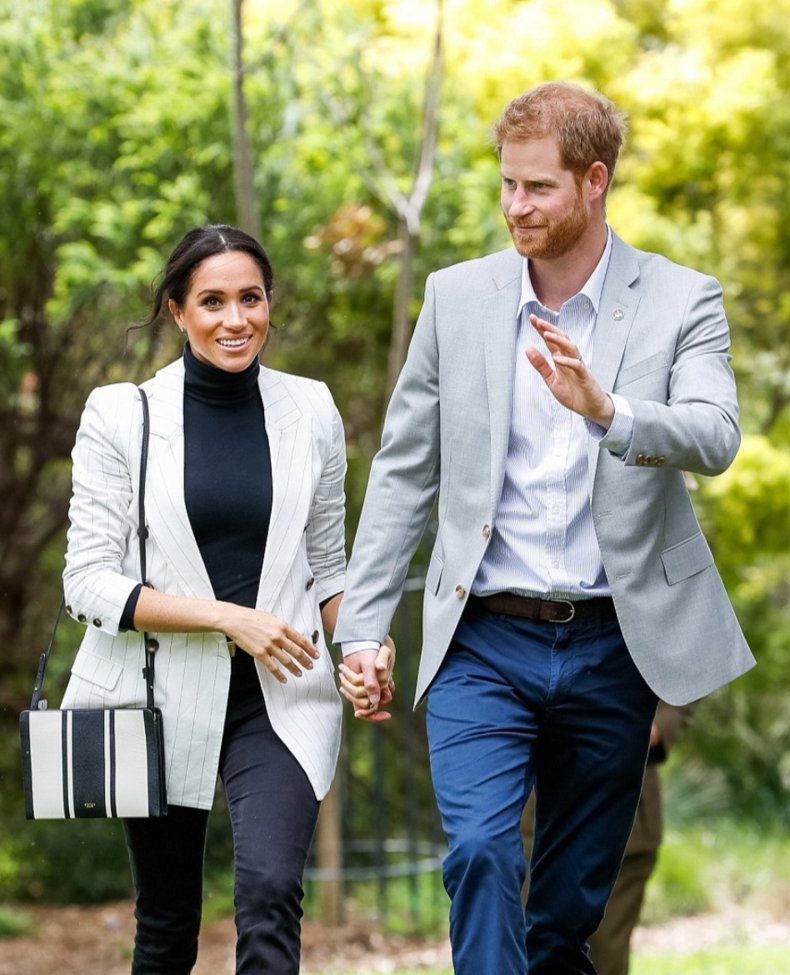 Prince Harry and the 'Invisible Contract'
What is perhaps most significant about Charles' letter is how strikingly different his tone was compared to his mild-mannered public self.
The strong comments, not only about the betrayal of staff but also about the media, suggest Charles may—at points at least—have harbored opinions, not unlike his second son's, but simply chosen not to share them with the world.
Valentina Borghi, head of autographs and memorabilia sales at Chiswick Auctions, told Newsweek: "The letter shows a different side of Prince Charles, far from the calm and quiet one we are used to seeing.
"The letter was written at a time when national and international papers were desperate to get some gossip on the British Royal Family and they were willing to pay huge sums of money to achieve that goal.
"Prince Charles was deeply hurt as that generated a spiral of mistrust and suspicion affecting the relationship with the people that were working for the royal household."
Prince Harry told Oprah he believes his family avoids confrontations with the media for fear of receiving negative publicity in return and described how politicians did more to speak up for Meghan in the face of critical media coverage than his own relatives.
"No one from my family ever said anything over those three years," Harry said. "And that hurts. But I also am acutely aware of where my family stand and how scared they are of the tabloids turning on them."
He added: "There is this invisible—what's termed or referred to as—the 'invisible contract' behind closed doors between the institution and the tabloids, the U.K. tabloids."
Burrell's ultimate betrayal—for which he is now better known than the failed court case about Diana's possessions—came with the publication of a book about deeply personal aspects of her life.
Among the bombshell claims in A Royal Duty, he said Diana's mother Frances Shand Kydd, called her a "who**" and accused her of "who**** around town with Muslim men."
Two royals did have some strongly worded criticism for Paul Burrell after the revelations in his 2003 book, however, when the statement came it was from William and Harry, not their father.
Quoted at the time by The Guardian, the royal brothers said: "We cannot believe that Paul, who was entrusted with so much, could abuse his position in such a cold and overt betrayal.
"It was not only deeply painful for the two of us but also for everyone else affected and it would mortify our mother if she were alive today and, if we might say so, we feel we are more able to speak for our mother than Paul.
"We ask Paul please to bring these revelations to an end."
While Charles may be included in the reference to "everyone else affected" the statement gave no explicit account of the anger it is now clear he felt towards Burrell at the time.
The letter highlights that there may in reality be much we do not know about the future king's attitude to the media and the monarchy.
For more royal news and commentary check out Newsweek's The Royal Report podcast: