Prince Charles Got PR Advice From Celebrity Later Outed as Serial Pedophile
Prince Charles unknowingly asked a notorious British pedophile for PR advice that was passed on to Queen Elizabeth II, according to letters revealed in a Netflix documentary.
The Prince of Wales wrote to children's TV presenter Jimmy Savile around the time of the Lockerbie bombing, which killed 270 people, including 190 Americans, in December 1988.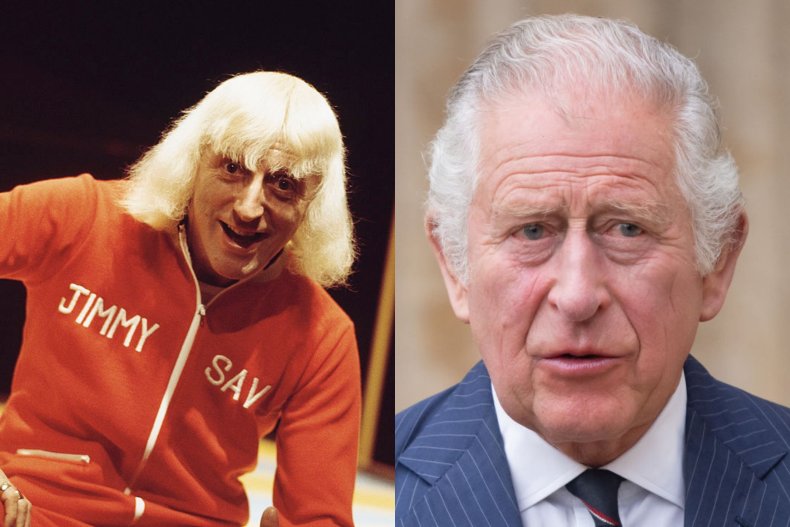 Prince Andrew had at the time been criticized for his response to the tragedy and Charles asked Savile for PR.
Charles wrote to the now-disgraced children's entertainer before the truth surfaced that Savile had abused 450 victims and engaged in necrophilia.
The correspondence is being made public through new documentary, Jimmy Savile: A British Horror Story, released on Netflix on April 6, which maps out the deep foundations the abuser laid within British society, including through the royals.
The letters not only show how close to monarchy prolific child abuser Savile managed to get but also expose Charles' concerns about his brother, Prince Andrew, and sister-in-law Sarah Ferguson, Andrew's wife at the time.
The prince asked Savile—who died in 2011—for advice on reaching the British public after Andrew botched a visit to Lockerbie following the bombing, which Libya years later accepted responsibility for.
On January 14, 1989, Charles wrote: "Perhaps I am wrong, but you are the bloke who knows what's going on. What I really need, is a list of suggestions from you. I so want to get to parts of the country that others don't get to reach."
Savile, who wormed his way into the highest echelons of British society using his extensive contacts, replied with an action plan to help respond to future disasters, including having a special co-ordinator.
The predator added: "There must be an 'incident room' with several independent phone lines, etc. The Queen should be informed in advance of any proposed action by Family members."
Charles replied on January 27, 1989: "I attach a copy of my memo on disasters which incorporates your points and which I showed to my Father. He showed it to H.M. [the queen]."
It came after Andrew made insensitive comments on a visit to Lockerbie Scotland, where passenger plane Pan Am Flight 103 was brought down.
In archive footage included in the documentary, the Duke of York said: "I suppose that statistically something like this has got to happen at some stage."
He added: "Of course it only affects the community in a very small way."
Biography Prince Andrew: Epstein, Maxwell and the Palace quoted the duke saying the disaster was "much worse" for Americans.
Charles' letters were shown to the documentary by Savile's authorized biographer Alison Bellamy.
She told the show: "This is Jimmy giving PR advice to the royal family about how to react publicly when there's a major incident in Britain."
She added: "Jimmy's advising them how to do it. What they should do, how they should act, what they should say, should they say anything."
Later, on December 22, 1989, Charles wrote to Savile: "I wonder if you would ever be prepared to meet my sister-in-law, the Duchess of York?
"I can't help feeling that it would be extremely useful to her if you could. I feel she could do with some of your straight-forward common sense."
Bellamy said: "Jimmy seems to be a kind of unofficial chief adviser to the Prince of Wales."
Clarence House, which represents Charles, declined to comment.
For more royal news and commentary check out Newsweek's The Royal Report podcast: