Prince Charles Faces Apology Calls Over Visit to Church Accused of Homophobia
Prince Charles should apologize for visiting a church where the pastor has "disturbing views about gay rights," anti-monarchy campaigners have told Newsweek.
Queen Elizabeth II's son toured Jesus House, in West London, two days after Prince Harry and Meghan Markle's bombshell Oprah Winfrey interview.
At the time, he discussed the impact of coronavirus on people of color, positioning him as close to Britain's Black community even as the world debated royal racism allegations.
However, after Sir Keir Starmer, leader of the opposition Labour Party, visited on Friday Pastor Agu Irukwu's views on gay rights were put under the spotlight.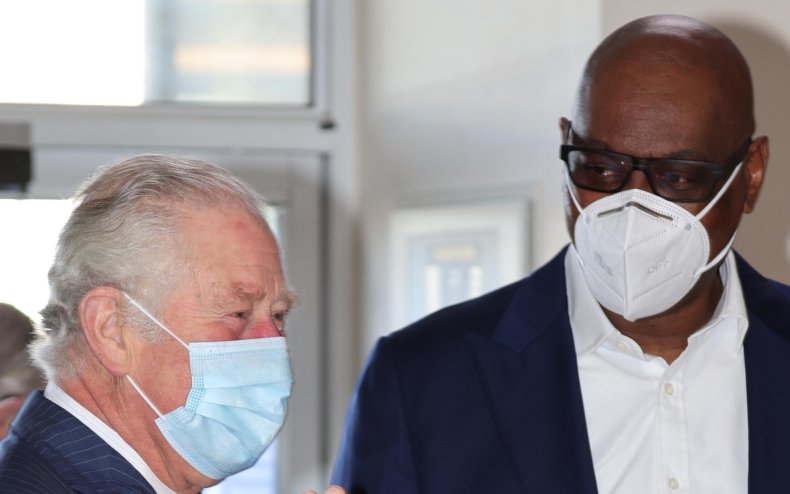 Campaigners from within the party complained that he had previously opposed gay marriage and claimed the church was linked to conversion therapy.
Starmer apologized yesterday, sparking calls for a similar statement from the next in line to the British throne.
Graham Smith, chief executive of Republic, told Newsweek: "Prince Charles needs to be clear whether he wants to only be the representative of all faiths or whether he wants to be the representative of all people.
"He has to acknowledge that we are a diverse and multicultural society and he should apologize for associating himself with people who have disturbing views about gay rights."
Pastor Agu was one of 250 pastors to sign a letter to the Daily Telegraph in 2006 against an equality law, the Sexual Orientation Regulations.
Quoted by The Independent, it read: "The regulations force Christians in churches, businesses, charities and informal associations to accept and even promote the idea that homosexuality is equal to heterosexuality.
"For the sake of clarity, this is not what the Bible teaches and it is not what we believe to be the truth."
A 2013 letter signed by Pastor Agu and nine other preachers read: "Marriage is and always will be distinctively a union between a man and a woman."
On Prince Charles' visit, he was asked by a journalist about Meghan and Harry's interview, broadcast less than 48 hours earlier on CBS, but did not comment.
However, he did address race in a speech at the church, saying: "We are all immensely proud of the role Black majority churches play and it is, of course, a profound sorrow to me to know that Black communities have been hit particularly hard by this pernicious virus.
"I can only wish you every possible success as you promote and facilitate the take up of this essential vaccine that is so utterly vital to our community."
The speech, on March 9, began: "Ladies and Gentlemen and Pastor Agu, it really is such a blessing to be with all of you today, particularly as it is 14 years I think after my last visit here with the Bishop of London, who had asked me to come to celebrate the contribution of black majority churches to our society.
"Of course it happened to coincide with my birthday and I couldn't think of a more joyous place to spend it frankly and Pastor Agu of course you were here and then I had the opportunity to thank you for the contribution that you and black majority churches generally were making both to your local communities and to the life of this nation as a whole."
Starmer posted on Twitter yesterday: "I completely disagree with Jesus House's beliefs on LGBT+ rights, which I was not aware of before my visit.
"I apologize for the hurt my visit caused and have taken down the video. It was a mistake and I accept that."
Campaign group LGBT+ Labour, had previously posted: "We have spoken with the Leader of the Opposition's [Starmer's] team regarding his visit to a church on Good Friday that does not align with our values on conversion therapy or LGBT+ equality."
They later added: "The visit was unacceptable and we made this clear to LOTO [Leader of the Opposition]. We received an unreserved apology, and will be urgently meeting with them next week to ensure this does not happen again and that LGBT+ equality is embedded in everything that @UKLabour does."
A representative for Prince Charles declined to comment.