Prince Charles Under Fire For Reportedly 'Bailing Out' Andrew Over Epstein
Prince Charles was accused of "bailing out" Prince Andrew over reports he is giving his brother most of a $9 million (£7 million) loan for his Jeffrey Epstein settlement.
The future king has been accused of giving Andrew a short-term loan to cover the cost of a settlement in the lawsuit brought by Virginia Giuffre.
The Duke of York is selling his ski chalet, but The Sun reported he may not complete the sale in time and needed to borrow in order to relieve financial pressure.
The U.K. tabloid suggested the Prince of Wales was covering the bulk of the sum but Queen Elizabeth II would also contribute, while no public funds have been used.
Prince Charles' representatives at Clarence House declined to comment on the allegations.
It comes after U.K. broadsheet The Daily Telelgraph reported Queen Elizabeth II was making a contribution via her Duchy of Lancaster estate.
Andrew was accused of raping Giuffre when she was a 17-year-old sex trafficking victim but agreed to an out-of-court payment which must be made by March 17, 2021.
Graham Smith, chief executive of Republic, a British pressure group advocating the replacement of the United Kingdom's monarchy with a de facto parliamentary republic told Newsweek: "The whole thing stinks really. The whole arrangement is to avoid Andrew having to go to court.
"We're now seeing the monarch and the heir bailing out Andrew so he doesn't have to face up to very serious accusations which have not been withdrawn and which he has not proven are incorrect," Smith said. "The accusations still stand.
"The questions still remain about where all this money is coming from and why they're so keen to bail him out to avoid what should happen, which is that he should be made to answer these questions in a court of law."
Nigel Cawthorne, author of Prince Andrew: Epstein, Maxwell and the Palace, told Newsweek any loan was not a good use of money but would not harm Charles' prospects as king in the long term.
He said: "Diverting money to Andrew doesn't seem terribly right to me. We could very well have a bankrupt royal family before we know it.
"I don't think its particularly tainting to Charles because he's being loyal to his brother, which I don't think would be seen as a bad thing.
"There's no implication that he ever knew Epstein or was tied into this at all."
Giuffre accused Prince Andrew of sexually assaulting her in London, New York and the U.S. Virgin Islands in 2001 while she was a victim of Jeffrey Epstein and Ghislaine Maxwell.
The prince was friends with the couple and was photographed visiting Epstein in December 2010, after his conviction for soliciting prostitution from a minor.
Several efforts by the duke to get Giuffre's lawsuit thrown out failed in January when Judge Lewis Kaplan ordered a trial, which looked set to hang over Queen Elizabeth II's Platinum Jubilee year.
However, sources close to Andrew maintained he would fight the case right up until the surprise announcement of an out of court settlement, including an undisclosed payment to Giuffre.
An order by Kaplan, seen by Newsweek, read: "The joint application to suspend all deadlines and hold the action in abeyance is granted to the extent that deadlines are suspended and the action will be held in abeyance to and including March 17, 2022.
"In the event the stipulation of dismissal is not filed by then, it remains entirely possible that this action will be set for trial when previously indicated."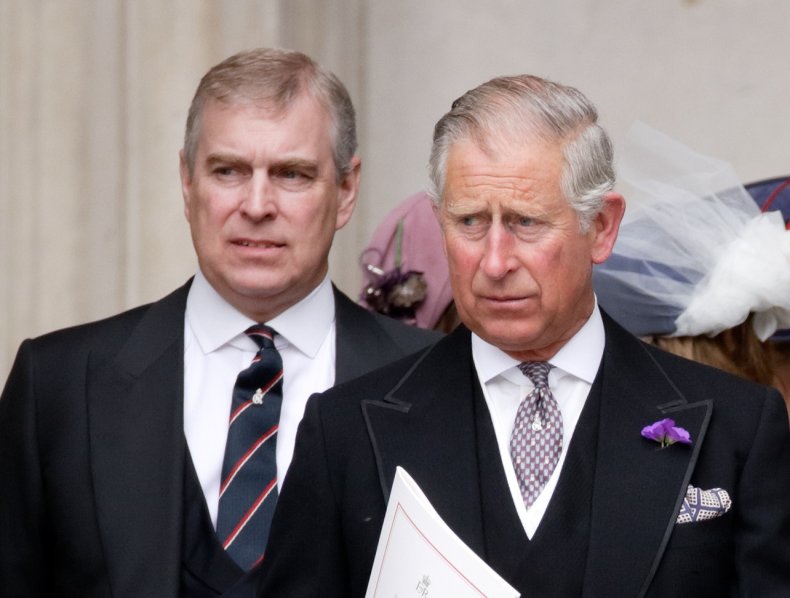 Update 3/8/22, 9:20 a.m. ET: This article and headline were updated to clarify the source of the allegation against Charles and the amount of money he loaned Andrew.