Prince Charles' Future Kingship Damaged by Aide's Honors Scandal—Expert
Prince Charles could find a "cold wind blowing" when he becomes king—after allegations his trusted aide offered a Saudi tycoon help getting a knighthood.
Lobbying scandals can be complex and difficult to follow at the best of times and doubly when they involve an arcane and secretive institution such as the U.K. honors system.
However, on Sunday morning Prince Charles woke up to calls in the British press for a police investigation into one of his closest aides.
Michael Fawcett is accused of offering to help a Saudi tycoon get a knighthood and British citizenship after a donation to Charles' charity, The Prince's Foundation, where Fawcett was until one day ago the chief executive.
Newsweek has contacted Prince Charles' representatives at Clarence House, and is awaiting a response.
Michael Fawcett was asked about the scandal by journalists at his home today and did not comment.
The aide (perhaps more than any other royal courtier) strikes to the heart of Charles' own reputation because the prince brought him back into the fold after a previous resignation, and then promoted him.
In 2003, Fawcett was accused of selling royal gifts but cleared of financial misconduct and resigned after an internal report criticised the running of the royal household, the BBC reported.
The former valet was then brought back to run stately home Dumfries House before three years ago being made chief executive at The Prince's Foundation, Charles' charitable empire, an appointment announced to the British media at a charged press conference in 2018. He has temporarily stepped down from that role.
Famously, Fawcett has been close enough to Charles that he once had to squeeze the toothpaste onto his toothbrush after a polo accident.
Now he has been reported to the police by Norman Baker, a former U.K. government minister for crime prevention.
Experts are now questioning Charles' judgement after he kept Fawcett in such close orbit and gave him such power and prominence.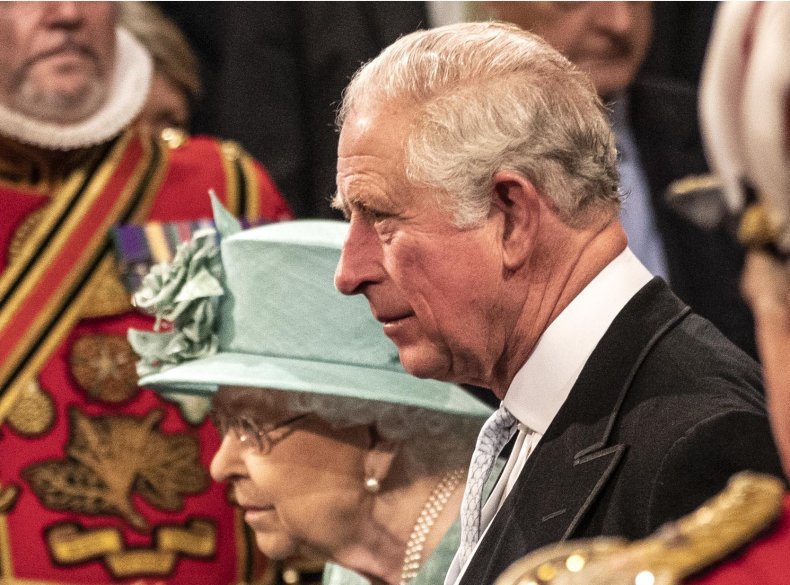 Baker told Newsweek: "The royal family already has enough problems with Andrew and bleating Harry and Meghan, without Prince Charles having a go.
"But it's very different. Charles is heir to the throne. Just imagine what would happen if heaven forbid the Queen died today. Do you want this guy on the throne?
"I think the public at large have great respect for the Queen and are keeping quiet out of respect for her, but I think when she goes Charles will suddenly find there's a cold wind blowing."
The Metropolitan Police is yet to confirm receipt of Baker's email, sent yesterday lunchtime to the Commissioner, Dame Cressida Dick.
However, should a police investigation be launched, the scandal could strike right to the heart of Prince Charles' affairs and question his decision making at a time when he may not be far off inheriting the throne from his 95-year-old mother.
Baker told Newsweek: "What Charles should do is actually make a statement and come clean on the whole thing, but he won't do that.
"[Fawcett] has resigned twice. Its becoming a habit. I think Prince Charles' judgement is very suspect. Its coloured by arrogance, vanity and naivety."
Anti-Monarchy campaign group Republic today said they had also now reported Fawcett to the Metropolitan Police.
Graham Smith, its chief executive, wrote on Twitter: "I have just reported Prince Charles and Michael Fawcett to the police on suspicion of breaching the Honours (Prevention of Abuses) Act 1925."
The allegation centers on a letter from Fawcett in August 17, 2017, to an aide to Saudi billionaire Marei Mubarak Mahfouz bin Mahfouz published by the Mail on Sunday yesterday, September 5.
Fawcett wrote: "In light of the ongoing and most recent generosity of His Excellency, Sheikh Marei Mubarak Mahfouz bin Mahfouz I am happy to confirm to you, in confidence, that we are willing and happy to support and contribute to the application for Citizenship.
"I can further confirm that we are willing to make [an] application to increase His Excellency's honor from Honorary CBE to that of KBE in accordance with Her Majesty's Honors Committee.
"Both of these applications will be made in response to the most recent and anticipated support of the Trust and in connection with his ongoing commitment generally within the United Kingdom. I hope this confirmation is sufficient in allowing us to go forward."
The scandal come just months before the queen is due to celebrate her Platinum Jubilee throughout next year, beginning in February.
Already, she has Prince Andrew Jeffrey Epstein sex abuse civil lawsuit and Prince Harry's memoir hanging over her.
Now she could also be forced to manage the fallout from a police probe into a man who has resigned twice already.
Former BBC royal correspondent Peter Hunt posted: "This is damaging for the future constitutional head of state and raises questions about his judgement.
"Michael Fawcett is the former valet who's said to have once squeezed the toothpaste for an injured king in waiting. Charles used to view him as 'indispensable'."
Royal author David McClure wrote on Twitter: "This is hardly the first time Prince Charles has shown, to put mildly, very poor judgment in his choice of mentors, aides and friends (Laurens van der Post, Jimmy Savile, Bishop Peter Ball - all now disgraced)."