Charles' Household Plagued by 'Internal Backstabbing,' New Book Claims
Employees of King Charles III's former household (when Prince of Wales) faced "internal backstabbing" and a "demanding boss," a new book has claimed.
Courtiers: The Hidden Power Behind The Crown, written by the royal expert and journalist Valentine Low, has examined the lives and roles of members of the royal households and how, at times, they have kept the monarchy afloat.
Low first broke the story last year of bullying allegations made against Meghan Markle from former members of her staff at Kensington Palace, many of whom gave themselves the name the "Sussex Survivors Club" after dealing with the duchess and Prince Harry's alleged demands.
As well as looking in-depth at the experiences of Harry and Meghan's staff who were disbanded after the couple stepped down from their working royal roles and moved to the U.S. in 2020, Low also turned his attention to the households of Charles, Queen Elizabeth II and Prince William.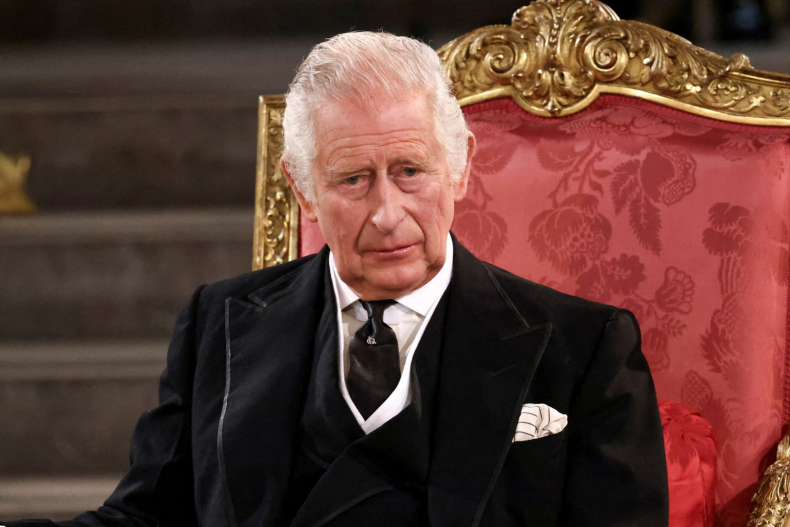 In an excerpt recently published by The Times of London, Low wrote that Charles, in particular, is a "demanding boss," and that "working for him is not a nine-to-five job."
"He is never satisfied with himself, or what he has achieved. People around him had to work hard to keep up. He had enormous stamina," Low quotes a former palace staffer as saying, adding another's comments that Charles "was demanding in that he is always working. Seven days a week. Never stops."
"At any moment he may want to call you about something. Working on his boxes, on his ideas, on his papers. The pace is pretty intense," she wrote.
One staff member, Low said, detailed the royal's famous temper saying:
"He also had a proper temper on him, which was quite fun. He would rarely direct it at the individual. It would be about something, and he would lose his temper. He would throw something. He would go from zero to 60 in a flash, and then back down again. Things would frustrate him, especially the media."
Members of the public saw two prime examples of this behavior in the days following Charles' accession to the throne with two separate pen-related outbursts.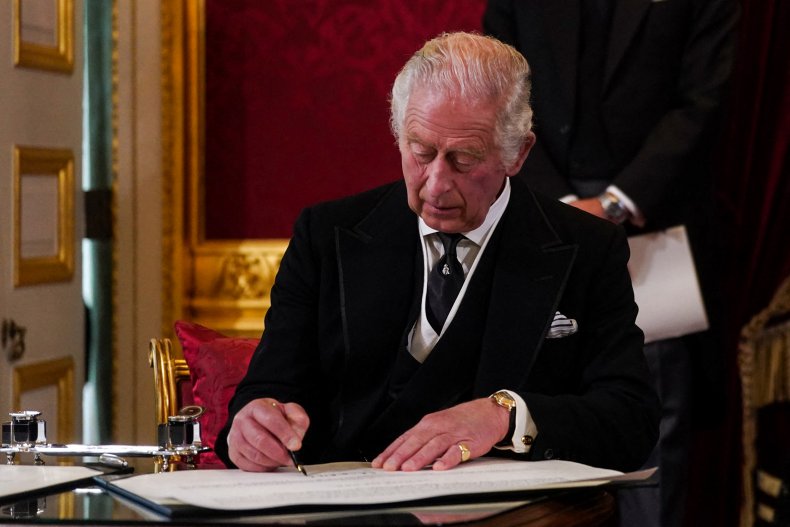 During his accession council on September 10 at St James's Palace, Charles was seen getting visibly frustrated with the arrangement of pens on the desk he was using to sign official documents. He gestured in a heated manner for the offending instruments to be removed which an aide swiftly did only for Prince William to need one of them moments later.
A second outburst was recorded during a visit to Ireland on September 13, where Charles was visiting to accept a message of condolence on part of a tour of the four nations making up the United Kingdom after ascending to the throne.
"Oh God, I hate this pen!" he was filmed saying after a fountain pen leaked ink on his fingers as he signed an official guest book at Hillsborough Castle.
"Can't bear this bloody thing!" he vented, before adding: "[It's] what they do every stinking time."
For Charles' staff, Low explains in Courtiers, there were two key "difficulties."
"One was the internal backstabbing," he writes, earlier referencing how members of the royal's household would "involve themselves in the dark arts of undermining other people" to make themselves look better in the eyes of their boss.
"The other was how to deal with the helpful suggestions made by all the outside advisers that Charles also spoke to."
According to a number of former aides spoken to by Low, Charles would often allow himself to be influenced by advisers who would sometimes offer advice contradicting that of his close aides which would undermine his trust in the household.
"One of Charles's former members of staff," Low wrote, "said the most pernicious effect of his outside advisers was the way they suggested that his usual team were not doing a good job. The prince is quite susceptible to new voices who tell him, 'They are stopping you doing what you want to do. They are holding you back, the suits.'"
"He loves it when someone says, 'Oh, they have got it wrong, sir, listen to me. I can see it better; I am outside of this.' The prince falls under people's spell," Low wrote. "That could then lead to real problems for individuals."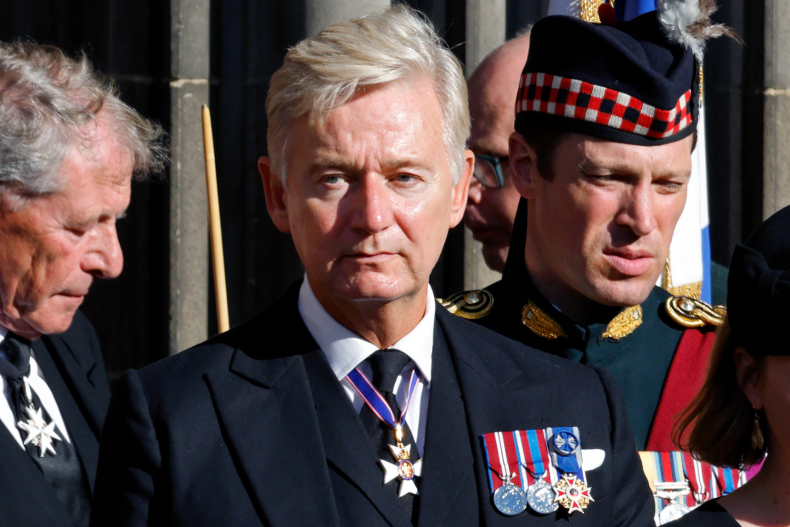 This echoes criticism often launched at Meghan Markle and Prince Harry, who while experiencing a difficult time within the royal household sought the advice of independent voices such as an American PR agency and high-profile friends like Oprah Winfrey and Tyler Perry.
How Charles' household will take shape now he is king remains to be seen, with a number of the late-queen's staff expected to be absorbed into his own established household which was formerly based at Clarence House.
Charles is expected to follow his mother's form of rule, though he has retained the high level staff who helped steer him through the final years of her reign, including his principal private secretary Sir Clive Alderton.
Newsweek reached out to Buckingham Palace for comment.
Courtiers: The Hidden Power Behind the Crown by Valentine Low, is published in the U.K. by Headline Books on October 6
Do you have a question about Queen Elizabeth II, King Charles III or their family that you would like our experienced royal correspondents to answer? Email royals@newsweek.com. We'd love to hear from you.