Prince Charles Played by Dominic West in The Crown Is Latest 'Generous' Casting
Dominic West is playing Prince Charles in season five of The Crown, the latest in a long line of what many fans of the show are calling "very generous" casting decisions.
The Great Gatsby actress Elizabeth Debicki will play Princess Diana, as the show depicts the breakdown of the royal marriage in the 1990s.
Some fans suggested West looked different—and somewhat better—than the real heir to the throne.
Margaret Menefee wrote on Twitter: "Casting Dominic West as Prince Charles is one of the most ... generous ... casting choices."
Film critic Robert Daniels wrote: "Look, I'm obsessed with THE CROWN. But casting Dominic West as Prince Charles is the dictionary definition of a stretch.
"He's just so much more rugged. Beyond his looks, it's his brooding physical presence. The resolute angles of his stature. I'm sure he'll have a great performance but visually this doesn't track not just with the appearance of Charles. But the essence of the character on the show."
Another Twitter user wrote: "It brings me so much joy to think about Prince Charles seeing that everyone thinks Dominic West is too hot to play him #thecrown"
West's role is far from the first time the casting team has flattered an important figure from the past.
Gillian Anderson was cast as the former British Prime Minister Margaret Thatcher, nicknamed the Iron Lady in the U.K.
And Trainspotting actor Jonny Lee Miller continues the tradition in season five in his role as John Major, Thatcher's successor as Conservative Prime Minister.
Season four of the show took Charles and Diana from their wedding ceremony in July 1981 through to the end of the 1980s.
Season five will likely cover their separation during Queen Elizabeth II's famous "annus horribilis," in 1992, when Prince Andrew and Sarah Ferguson also split up and Windsor Castle caught fire.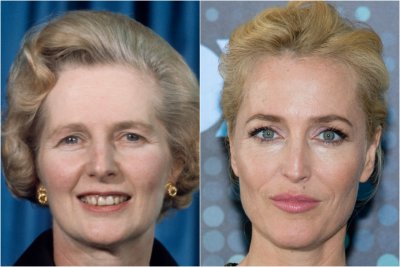 This was once intended to be the final season, but the show's makers have now said a sixth will be made, Sky News reported.
Creator Peter Morgan has also said he wants to stop in the early 2000s in accordance with his policy of only fictionalizing events once 20 or more years have passed.
Those timings suggest the next season may take the royal family up to Princess Diana's death before the final one deals with the aftermath.
However the episodes fall, the show is likely to explore Prince Charles' affair and Princess Diana's mental health struggles.
In season four, Josh O'Connor depicted the queen's son and heir screaming in a fit of rage and Emma Corrin portrayed Diana driven to bulimia by his affair.
No final date has been given for season five to air, but it is not expected until 2022, Sky News reported.