Prince Charles and Squirrels: Prince William Reveals Father Is 'Completely Infatuated' by Furry Friends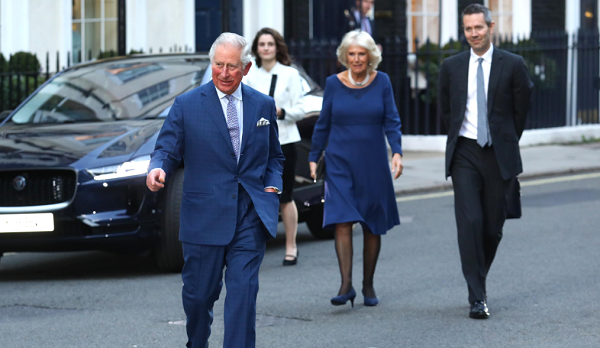 There's something Prince Charles holds near and dear to his heart. No, it's not his wife Camilla, Duchess of Cornwall, or his children Prince William and Prince Harry or even his mother, Her Royal Highness Queen Elizabeth II—although Charles certainly loves them too.
Its squirrels—red squirrels—that are the apple of the next king of England's eye.
In a special edition of British magazine Country Life commemorating—and guest edited by—Charles, William revealed his father's longtime adoration with his furry friends. According to William, Charles is "completely infatuated by the red squirrels" that live around his countryside estate in Scotland. In fact, Charles loves red squirrels so much, William said, "he's given them names and is allowing them into the house."
Charles couldn't deny favoring the animals. "They come into the house at Birkhall and we get them chasing each other round and round inside. If I sit there quietly, they will do so around me," Charles wrote of the "incredibly special creatures."
The 70-year-old often keeps treats for squirrels nearby. "Sometimes when I leave my jackets on a chair with nuts in the pockets, I see them with their tails sticking out, as they hunt for nuts," Charles revealed.
Charles, who is next in line to the British throne, has often used his platform to advocate for squirrel conservation in England, where populations of red and grey squirrels are in heavy decline. The prince launched the Red Squirrel Survival Trust, an effort to conserve red squirrel populations and habitats in Northern England, in 2011.
His mother recently praised Charles and his golden heart for preservation and environmental advocacy during her a speech to him on his birthday on Wednesday. The queen referred to her son as a "champion of conservation and the arts," "a great charitable leader" and a "wonderful father."
"It is a privilege for any mother to be able to propose a toast to her son on his 70th birthday. It means that you have lived long enough to see your child grow up. It is rather like—to use an analogy I am certain will find favor—planting a tree and being able to watch it grow," Elizabeth said.