Pictures of Prince George and Princess Charlotte At Royal Wedding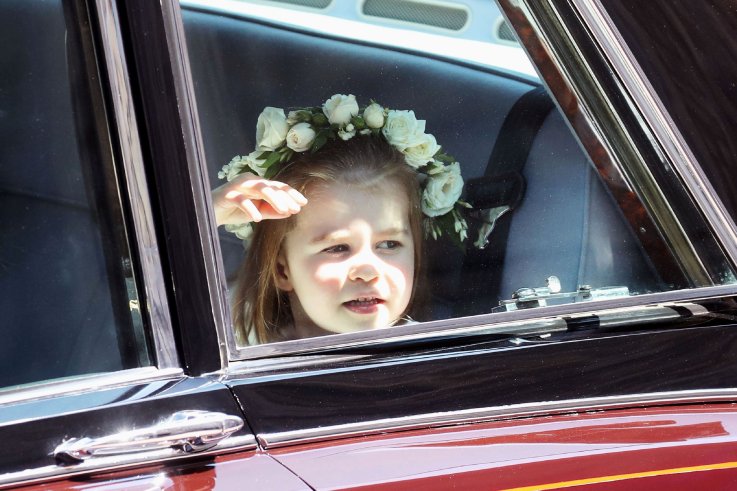 Former actress Meghan Markle and Prince Harry became the Duke and Duchess of Sussex upon marrying at St George's Chapel, Windsor Castle Saturday. Viewers eyes may have been glued to the Suits alum's Givenchy dress, but her nephews—Princess Charlotte and Prince George—proved to be scene stealers as well.
The newlyweds followed royal tradition by recruiting young children to be members of their bridal party. Kensington Palace announced Wednesday that the royal siblings were selected to participate in the ceremony, with Charlotte serving as one of Markle's six bridesmaids and George as one of Harry's four page boys. The chosen bridesmaids and page boys were all aged 7 and under.
Charlotte and George, children to Duke and Duchess of Cambridge, witnessed history in attending their aunt and uncle's wedding. However, this wouldn't be George and Charlotte's first time in their respective toles. In May 2017, the two children were selected to perform the same task at their aunt Pippa Middleton's wedding to James Matthews. Pippa's sister, Kate Middleton, was responsible for looking after the seven chosen children, Sky News reported at the time.
Harry chose his brother, Prince William, to be his best man after serving in the same role during the Duke of Cambridge's royal wedding in 2011. Middleton did not have an official role in the royal affair. However, she did help to walk their children into St George's Chapel for their part in the ceremony.
On her big day, Markle opted to not have a maid-of-honor by her side. "She has a very close-knit circle of friends and she didn't want to choose one over another," a representative for Kensington Palace told People May 4. "All have been actively involved in helping her prepare for the day and will be there in the days beforehand. She's very happy to have their support."