New Prince George Photo for Eighth Birthday Compared to Young Prince William
Prince George turns 8 years old tomorrow and his mother Kate Middleton has released a heartwarming birthday photo to mark the occasion.
The third-in-line to the British throne is pictured in Norfolk where the family have their country retreat, Anmer Hall, in Sandringham.
The prince smiles warmly as he sits alongside a car while yellow flowers grow in a field behind him in the relaxed portrait.
The Duchess of Cambridge captured the precious moment earlier this month, adding to the growing collection of official birthday photos she has taken herself.
Princess Charlotte and Prince Louis celebrated their birthdays in May and April, when similar pictures were released by Cambridge family.
A Kensington Palace spokesperson said: "The Duke and Duchess of Cambridge are very pleased to share a new photograph of Prince George ahead of his eighth birthday tomorrow. The photograph was taken earlier this month in Norfolk by The Duchess."
Prince George's year has seen him engage with the highs and lows of the England soccer team for the first time as he watched his country make it to the finals of the European Championship only to lose a shoot-out.
The young royal went with his mother and father to Wembley Stadium to watch two games, the last-16 match against Germany which England won 2-0 and the final which ended 1-1 before being decided by penalties.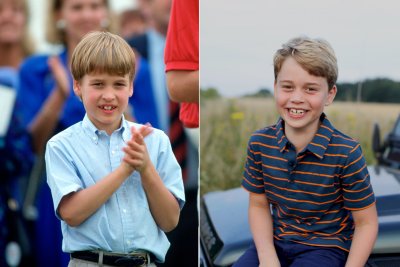 After the match, Prince William said on Twitter: "Heartbreaking. Congratulations@Azzurri on a great victory. @England, you've all come so far, but sadly this time it wasn't our day. You can all hold your heads high, and be so proud of yourselves—I know there's more to come. W"
Like most British children the past year has been like no other with much of his time spent at home during coronavirus lockdown.
However, the prince made it out to Luminate, a Christmas light show on Queen Elizabeth II's Sandringham Estate in December.
And his grandmother Carole Middleton also said she would make sure he got a chance to take part in a cherished family Christmas tradition.
Writing on the Instagram for her company, Party Pieces, she said: "For me, what really matters is that my family feels connected.
"I normally let my grandchildren help me decorate the tree. This year, I'll ask them by video call to decide which decoration should go where. It may need to be tastefully rearranged later...!"
George and his siblings also got to enjoy a Christmas pantomime performance at London's Palladium Theatre, which was put on to thank key workers who risked their lives during the pandemic, on December 11.
Rhiannon Mills, Sky News royal correspondent, wrote at the time: "Their first red carpet, a rite of passage for any royal child.
"Prince George, Princess Charlotte and Prince Louis were all on best behaviour. Prince Louis snuggled into mum Kate, when she tried to introduce him to an elf, and while Prince George is growing up fast, Princess Charlotte again seemed the most confident, at one point rejecting Prince William's hand, happy to walk by herself without any support from dad."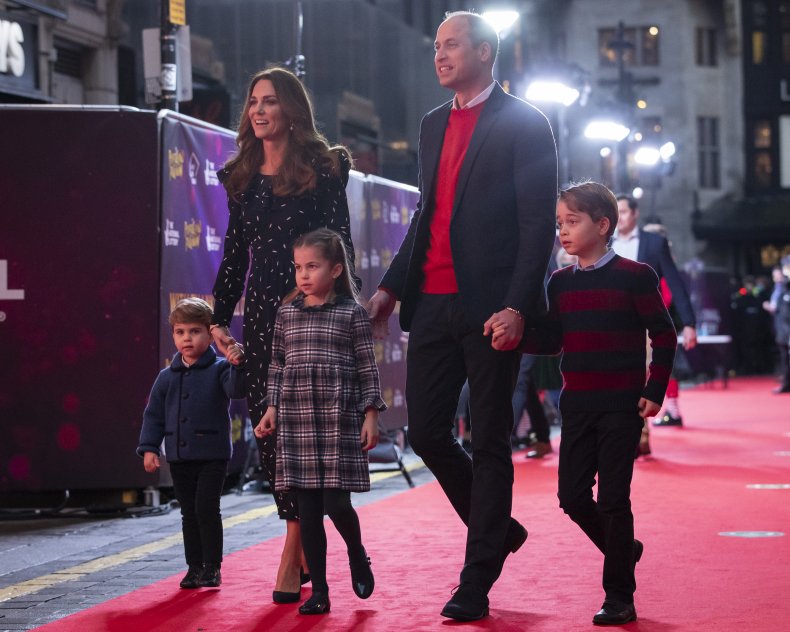 In Focus
Prince George with his family at London's Palladium Theatre for key workers and their families, on December 11, 2020 in London, England.
Launch Slideshow

3 PHOTOS