Prince George's Godfather Donates Over $15M to Coronavirus Relief in Britain, Praises Health Workers
Prince George's godfather has donated a total of $15.6 million to fight coronavirus in Britain as he praised the health workers who "keep us safe." Hugh Grosvenor, 29, was a guest at Prince Harry and Meghan Markle's 2018 Windsor Castle wedding.
And he is close enough to Prince William that when Prince George, 6, was born in July 2013 he was made a godfather and attended the christening at St. James Palace.
Grosvenor, the Duke of Westminster, is said to be the richest person in the world aged under 30, with a $12.6 billion fortune linked to his family's property portfolio which includes some of the wealthiest parts of London and Cheshire.
He made an initial donation of $3.1 million (£2.5 million) to the U.K. coronavirus relief effort in March but has now followed up with an additional $12.5 million (£10 million).
He said: "On behalf of my family and everyone at the Grosvenor Estate, I want to say a huge thank you to all our amazing NHS staff and everyone providing critical frontline services. We are all humbled and incredibly grateful that you are working tirelessly to keep us safe and keep the country functioning.
NHS staff and key workers don't work in isolation. They have children and families whose health and wellbeing will also be highly impacted by this crisis. As they keep us safe, I want to help provide as much support to them and their families as we can."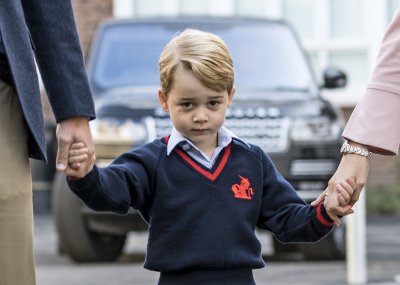 The duke inherited $11.2 billion (£9 billion) at the age of 25 after his father died in 2016 and lives in palatial 17th century mansion Eaton Hall in Cheshire.
Prince Harry was a guest there at the duke's multi-million dollar, star studded 21st birthday party in 2012.
His donations will be spread across several areas with $6.2 million (£5 million) going to an NHS Charities Together fund aimed at providing respite, rehabilitation and mental health assistance to staff and their families.
Another $3.7 million (£3 million) will go towards medical research and development projects targeting coronavirus while $2.5 million (£2 million) will go to those suffering from the long-term economic impact of the pandemic.
When he made his original donation, the duke said: "While the impact of this crisis is being felt immediately, the virus will sadly also affect people's lives long into the future. That's why I'm keen to support the longer-term scientific and socio-economic response to the epidemic."
Ellie Orton, chief executive of NHS Charities Together, said: "We know many NHS staff have chosen to keep their families safe by staying apart and focusing their time and energy to care for their patients and save lives.
"Their dedication is not only remarkable but no doubt comes with its own price and, if I may speak on their behalf, we say a heartfelt thank you to the Westminster Foundation."