Prince George Holds Wimbledon Trophy at First Tennis Match: 'Don't Drop It'
Prince George was seen holding the Wimbledon tennis trophy in a viral video after meeting Novak Djokovic.
The beaming eight-year-old said watching the tense men's singles final was "great" as he came face-to-face with the tennis champion.
Djokovic got a thumbs up from the young prince, who was at his first Wimbledon match and watched the game from the stands with father Prince William and mother Kate Middleton.
The Serbian star then handed over the trophy and let George hold it, while Kate and William watched on nervously.
William said "yeah, don't drop it," while Kate reached out for the trophy lid, seemingly worried it would fall on the floor.
The Duke of Cambridge then continued the conversation while Kate spoke to George.
After around 30 seconds Kate appeared to notice her first born struggling with the trophy and took it, before passing it back to Djokovic.
She said: "I'd better give it to you."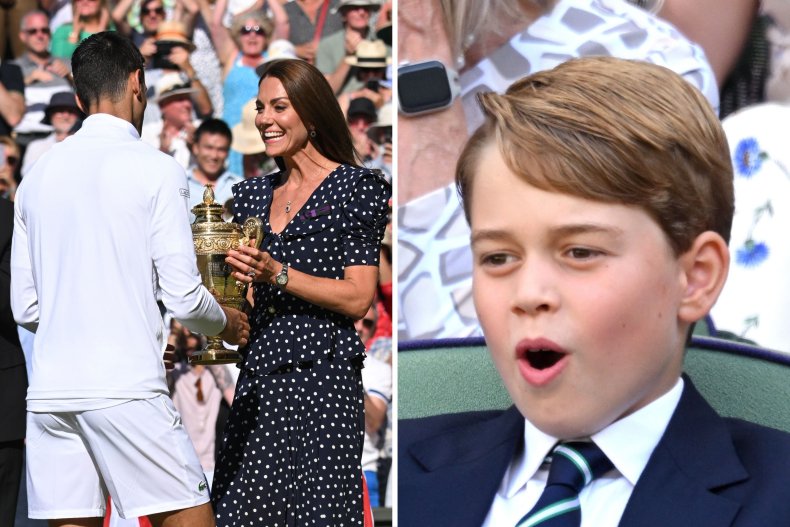 As Djokovic first approached Prince William he said, "your highness, thank you very much," while the duke gestured towards his son and said: "First Wimbledon."
Djokovic then shook George's hand, before adding: "First Wimbledon. I heard. How did you like it?" The prince replied: "Great."
As the royals arrived at the All England Lawn Tennis and Croquet Club, Kate was asked why Princess Charlotte was not with her older brother. Quoted by The Independent, the duchess said: "It's George's treat today."
Wimbledon is the latest sporting event the young future king has been taken to by his parents after watching England reach the final of Euro 2021 and lose on penalties to Italy.
He was then seen at an England Six Nations rugby match against Wales on February 26, 2022.
The latest chapter in his foray into live sport comes ahead of his birthday on July 22, when he will be nine years old.
While the experience will have been fun for George, watching sport also counts as work for the royals, as Kate Middleton is patron of the All England Lawn Tennis and Croquet Club.
William is President of English football's governing body the FA, and Prince George could at some point in the future stand to inherit either role many years in the future once he is a working royal.
Ball girl Amy Granger, who was among those to meet the royals, was quoted by The Independent saying: "It was really cool. I was quite nervous. They were really really nice, asked lots of questions.
"They asked us about our training and how we had to get to this stage and had we found it fun."
For more royal news and commentary check out Newsweek's The Royal Report podcast: