Prince Harry and Elton John announced on Tuesday the launch of the MenStar Coalition, which hopes to "expand the diagnoses and treatment of HIV infections in men," with the goal of ending the AIDS epidemic by 2030.
The two were attending the 22nd International AIDS Conference in Amsterdam. The coalition consists of seven founding organizations, including the Children's Investment Fund Foundation, the U.S. President's Emergency Plan for AIDS Relief and the Elton John AIDS Foundation.
Harry was at the event as the co-founder of Sentebale, an Africa-based charity that helps young people with HIV. He said he was "honored to be sharing the stage with someone who has always put people at the center of his work," in reference to John.
"For over a quarter-century, Elton has worked tirelessly to fund research and services in communities around the world. And today he has come to Amsterdam to announce his latest endeavor, a billion-dollar global partnership to break the cycle of male transmission of HIV, particularly in sub-Saharan Africa," Harry said.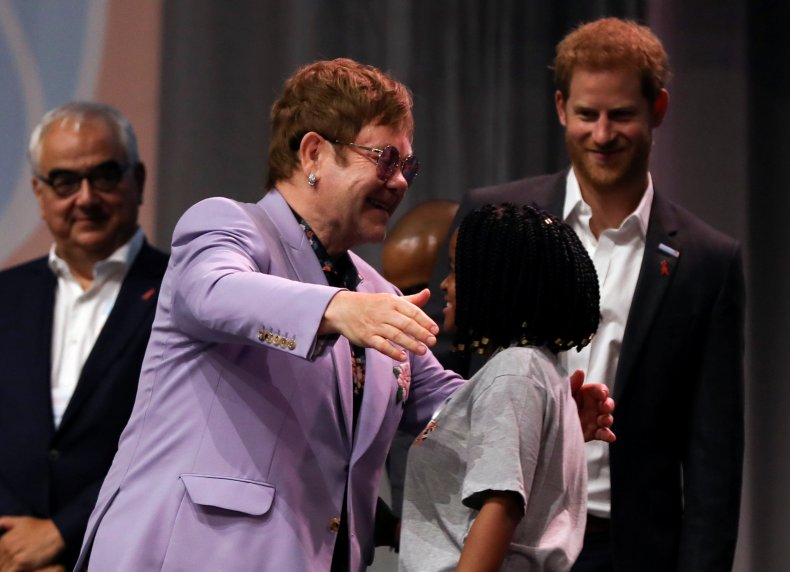 Harry added that the coalition began due to the "growing alarm of the rate of new HIV infections among young women." He said "the lack of awareness of HIV prevention amongst hard-to-reach young men" became the main reason for the organization's creation.
John also addressed the audience and expressed his concerns over the low rate at which men ages 24 to 35 are being tested. "Young people are the only age group where HIV infections are rising, not falling," he said.
John added, "We have to do much, much more, to bring men, especially younger men, more fully into the fold."
Harry's altruistic efforts resemble his mother's work. Princess Diana, who was also close friends with John, opened the U.K's first dedicated HIV/AIDS unit in a London hospital in 1987. There, she helped shift attitudes toward HIV and AIDS when she shook the hand of a patient with AIDS without wearing a glove.
John and Harry made the announcement on the second day of the conference. The day before, Harry spoke to young advocates from Sentebale. "We have to put power into the hands of the younger generation," he said. "Because that's where the solutions are going to come from, that's where the passion and engagement is coming from as well."
This isn't the first time that Harry and John have joined forces in the fight against HIV and AIDS. In 2016, the pair spoke at the International AIDS Conference in Durban, South Africa.