Prince Harry and Meghan Markle Wedding: 15 Times a Royal Married a Commoner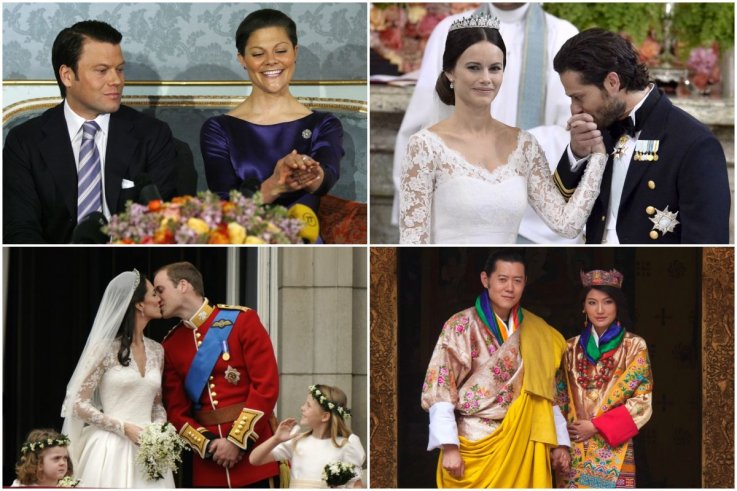 Prince Harry's wedding to actress Meghan Markle is nearly upon us, and the romance has been a whirlwind of excitement. It was only in November 2016 that the couple confirmed their relationship. Fast forward to November 2017 and Prince Harry got down on one knee during a cozy night in at their Kensington Palace cottage.
Their engagement faced a few early roadblocks. Markle is American, and a divorcee… But ultimately, Queen Elizabeth II gave them her blessing (anyone within sixth in line to the throne must ask permission.)
Now we are just weeks away from the big event, and if speculation holds true, Markle could become the Duchess of Sussex—if Prince Harry is given a royal dukedom by his grandmother, the Queen.
As Prince William married Kate Middleton in 2011, it's clear that a royal marrying a commoner (i.e. someone not of noble rank) is not particularly strange. But it's not always been pulled off with such apparent ease.
Take Harald V, the King of Norway, for example. As a prince, he dated a commoner—Sonja Haraldsen—for nine years before they got married.
King Harald V kept most of his relationship a secret from the public and ultimately told his father—King Olav V—that he would not marry at all if he could not marry Haraldsen. His father agreed, fearing if his son didn't marry that it would end his bloodline.
They married in 1968 and his reign commenced in 1991. The pair went on to have a daughter—Märtha Louise—and a son—Haakon— who will one day be king.
So, before Prince Harry and Meghan Markle tie the knot at Windsor Castle later this month, let's have a look back on some of the other times an everyday person has become a royal.