Prince Harry and Meghan Markle's Royal Tour of Australia in Pictures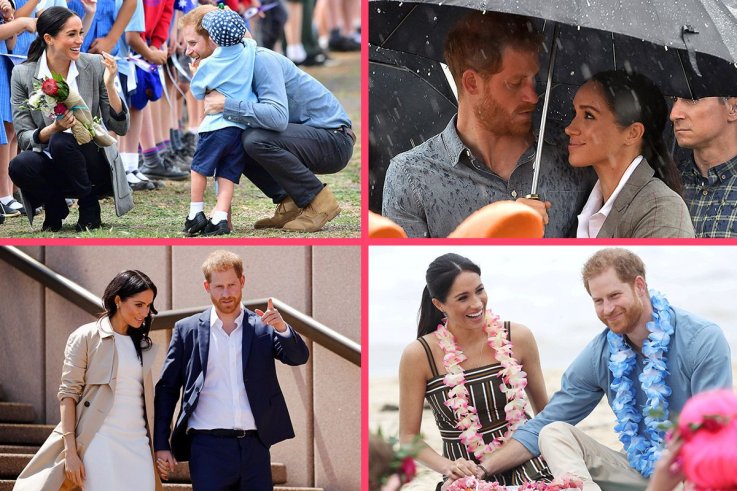 Prince Harry and his wife Meghan have been greeted by large crowds throughout the first few days of their visit to Australia. Thousands of people thronged Sydney's harbor on Tuesday October 16 to catch a glimpse of the couple on their first public appearance since the announcement they are expecting a child.
The news emerged shortly after they landed in Australia for their first overseas tour, a busy trip which will also take in New Zealand and the South Pacific islands of Tonga and Fiji.
Excitement over news of the baby was almost matched by a frenzy over Meghan's outfit. She wore a white cocktail dress by Australian designer Karen Gee underneath a beige trench coat that revealed just a hint of a baby bump. The $1,280 dress, dubbed "Blessed Dress", was an instant hit, with demand crashing the designer's website a number of times throughout the day.
Governor-General Sir Peter Cosgrove, the Queen's representative in Australia, presented the couple with their first baby gifts, a stuffed kangaroo and a tiny pair of fleece-lined Ugg boots.
On Wednesday the royals arrived with the gift of much-needed rain and cheer for the rural Australian city of Dubbo, where farmers are struggling with a prolonged drought. The prince charmed the crowd at a picnic in the town's main park, standing at a podium in pouring rain with Meghan holding an umbrella over him.
A five-year-old boy stole the show in a long line of school children who met the royals at Dubbo airport. Luke Vincent, who has Down Syndrome, threw his arms around Meghan when she knelt down to greet him and tugged at Harry's beard.
On Thursday the royals visited the city of Melbourne, where Harry left a royal fan in tears of joy by hugging her during a visit to the Royal Botanic Gardens.
On Friday, Prince Harry climbed Sydney Harbour Bridge, accompanied by Prime Minister Scott Morrison. The black, grey and yellow flag of the Invictus Games was hoisted on the landmark on the eve of the international paralympic event, founded by Harry for military personnel wounded in action, which runs until October 27.
Earlier, Harry and his Meghan joined a group hug on Bondi Beach at an event organized by surfers to build awareness of mental health issues. Harry, who has said he sought counseling in his late twenties to deal with the grief of losing his mother Diana, served in the British Army and campaigns to provide mental health help for soldiers who need it.
This is the second tour of Australia by the younger generation of royals after Prince William and his wife, Kate, and their eldest son, George, visited in 2014. Australia, a constitutional monarchy whose head of state is the British monarch, voted in 1999 against becoming a republic.
Support for a republic is hovering around 50 percent according to a January poll, a level largely unchanged in recent years, and there is little appetite to put the issue back on the agenda during Queen Elizabeth's reign.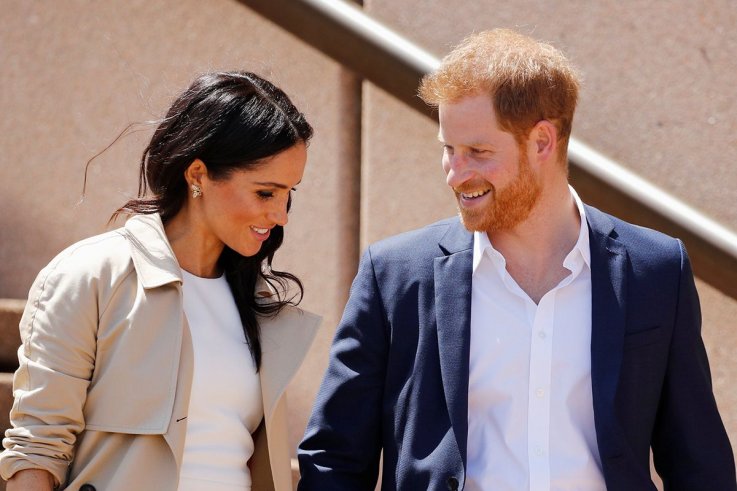 Phil Noble/Reuters
Prince Harry and wife Meghan, Duchess of Sussex share a moment as they visit the Sydney Opera House, October 16, 2018.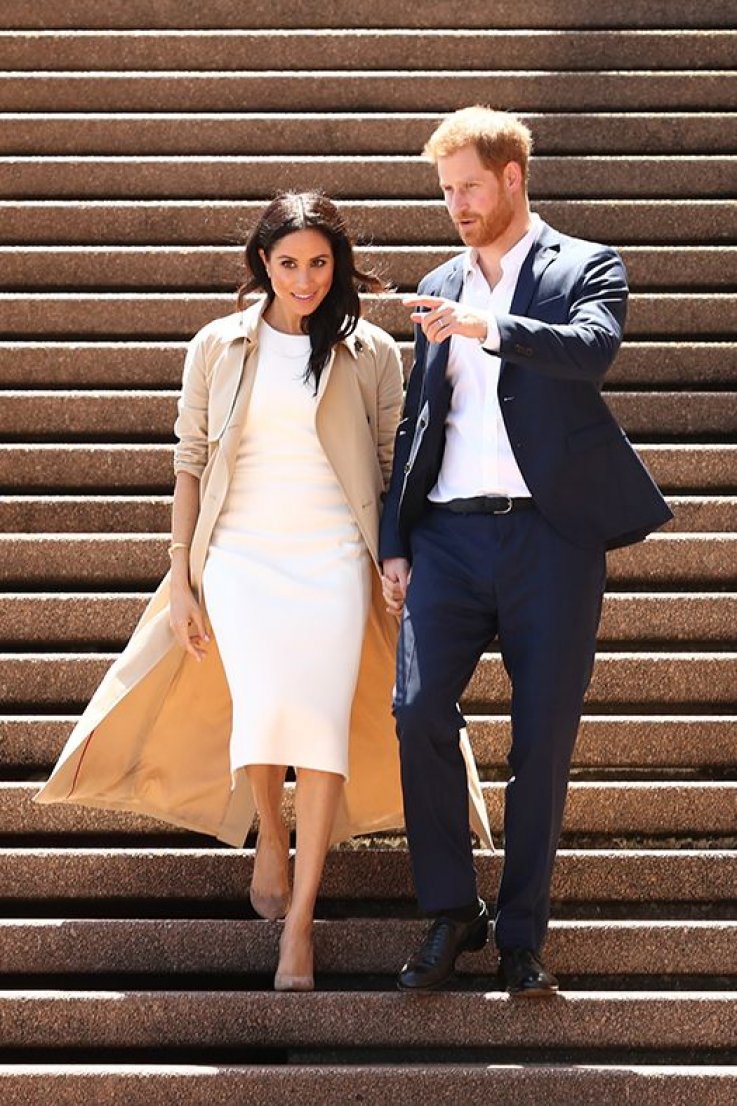 Mark Metcalfe/Getty Images
Meghan, Duchess of Sussex wears a white cocktail dress by Australian designer Karen Gee underneath a beige trench coat as she and Harry arrive arrive at the Sydney Opera House.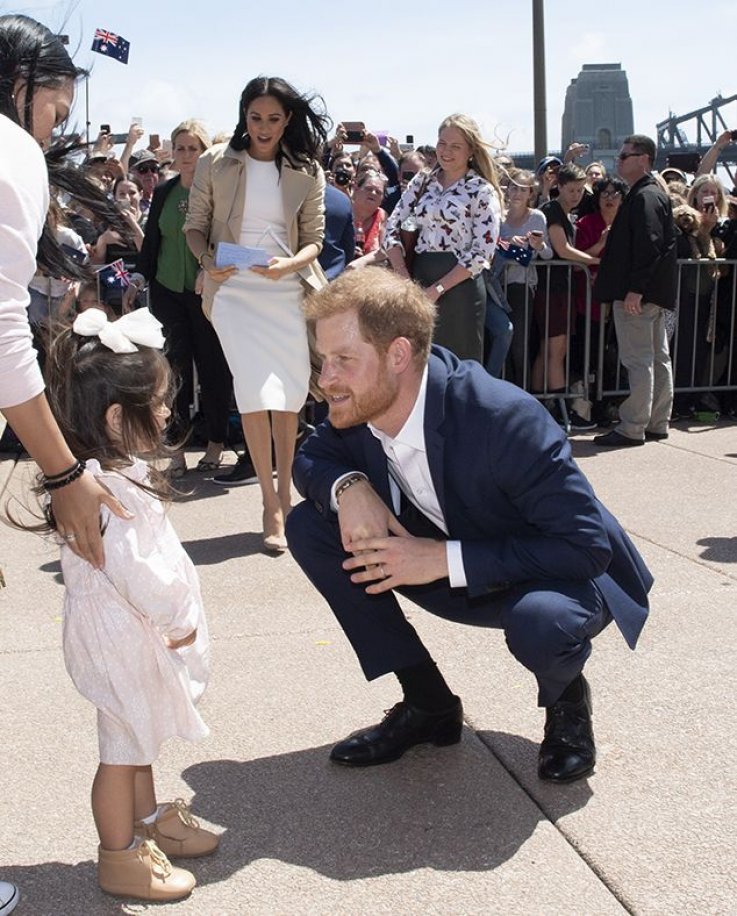 Paul Edwards
The Duke and Duchess of Sussex meet and greet the public at the Sydney Opera House.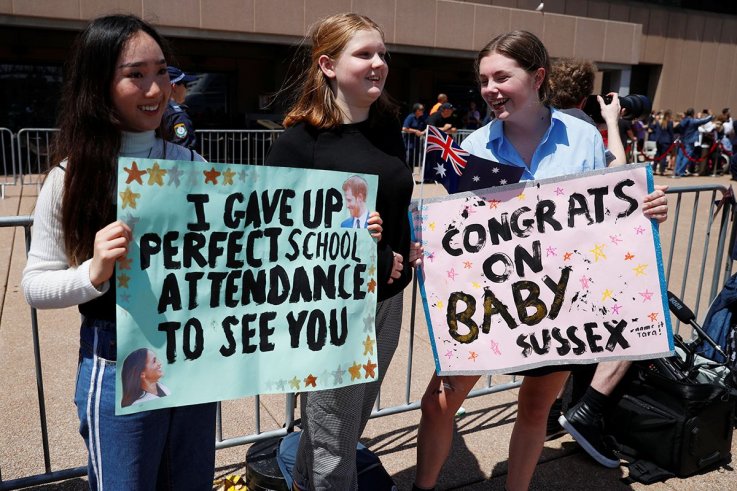 Phil Noble/Getty Images
Girls hold posters as they wait to catch a glimpse of Prince Harry and Meghan at the Sydney Opera House.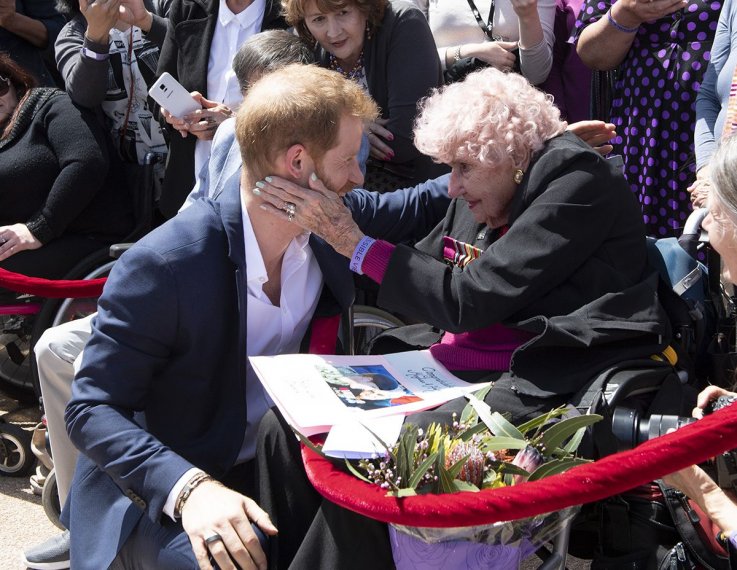 Paul Edwards
Prince Harry meets 98-year-old Daphne Dunne during a meet and greet at the Sydney Opera House.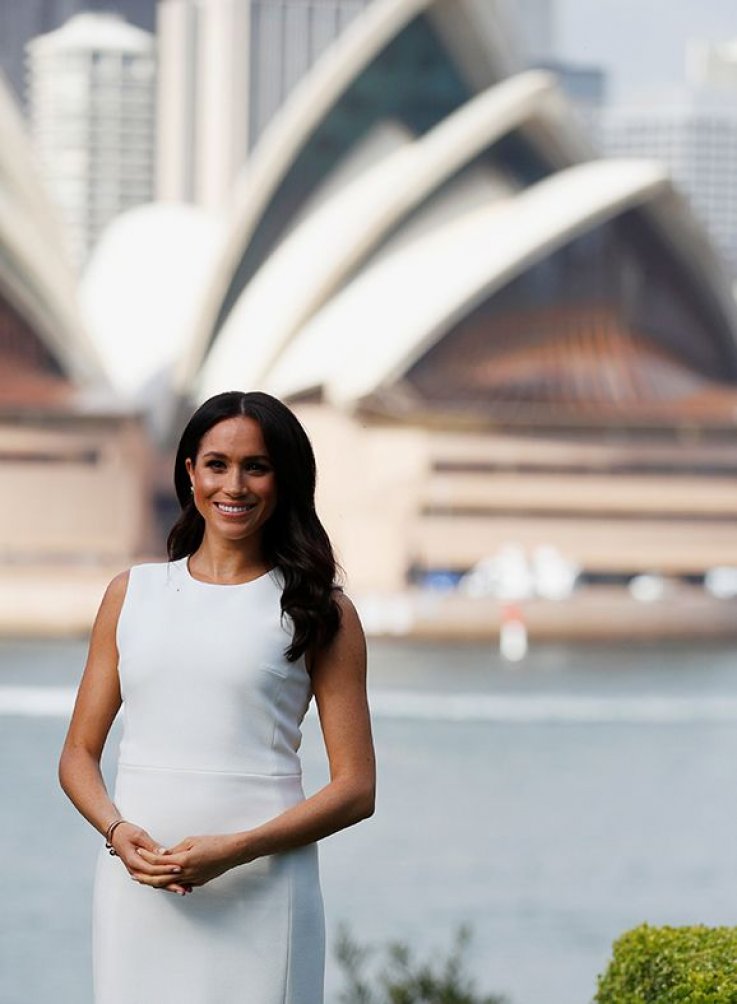 Phil Noble/Reuters
Meghan, Duchess of Sussex poses during a welcome event at Admiralty House in Sydney.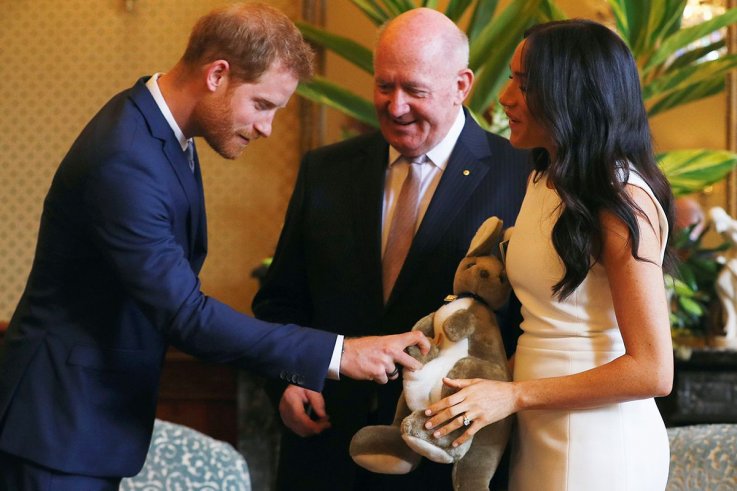 Phil Noble/Reuters
Australia's Governor General Peter Cosgrove gives the royals their first baby toy, a stuffed kangaroo, at Admiralty House in Sydney.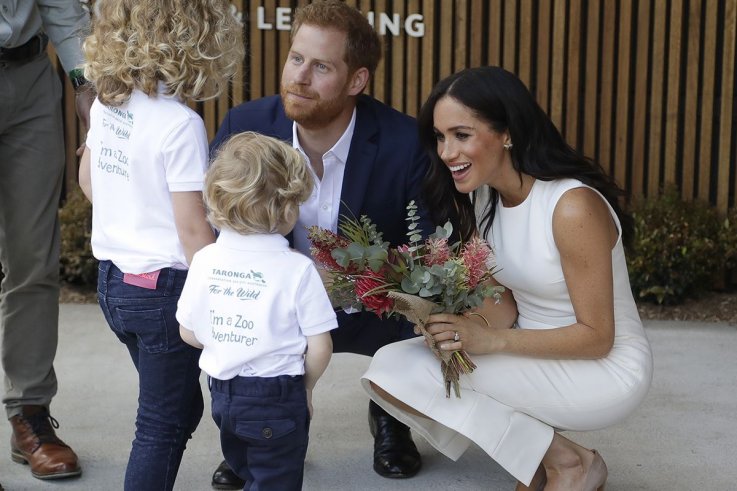 Kristy Wigglesworth
Prince Harry and Meghan, Duchess of Sussex are presented with native flowers by Dasha Gallagher and Finley Blue, during a ceremony at Taronga Zoo in Sydney.