Prince Harry Says Unconscious Bias is 'Most Dangerous' Among the Powerful in Politics and Media
Prince Harry today said unconscious bias is "most dangerous" among the powerful, "whether it's politics or whether it's the media."
The Duke of Sussex paid tribute to Meghan Markle, saying he only woke up to the experiences of people of color after "living a day or a week in my wife's shoes."
His comments came in a conversation with "guardian angel" Patrick Hutchinson who carried a white counter protester to safety from a Black Lives Matter march in London in June.
For British GQ magazine, the prince said: "You talk about unconscious bias to start with, which you and I both know is a huge thing globally.
"But, yes, it exists in the UK as well."
He added: "I think one of the most dangerous things is people within positions of power, whether it's politics or whether it's the media, where if you're not aware of your own bias and you're not aware of the culture within your system, then how are we ever going to progress?"
Hutchinson was hailed a hero in the U.K. after he was photographed carrying a white counter-protester to safety in a fireman's lift on June 13 in London.
Bryn Male was on the ground being beaten when Hutchinson, surrounded by a protective ring of his friends, carried the ex-police officer out of the crowd and to safety.
Hutchinson later told CBS News he stepped in because the "narrative would have changed, and it would be more of a focus on what the Black Lives Matter protesters did to an individual as opposed to us saving his life."
Harry said: "To me, you seem a form of guardian angel, that you were there to protect everybody from that red mist that comes in when you're acting as a group against another group."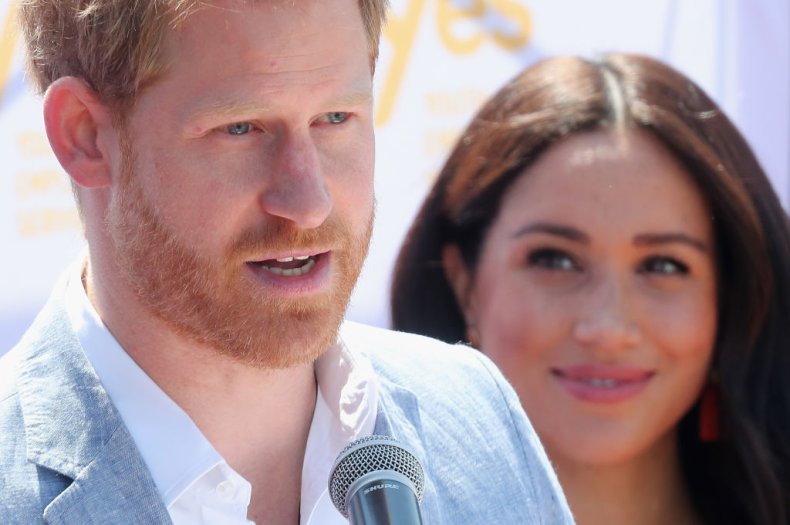 Meghan backed Black Lives Matter in a passionate speech given without notes to her former school Immaculate Heart, in June.
Since then, the duke and duchess have spoken regularly about fighting against racism.
In today's pre-recorded footage, the prince said: "Once you realise or you feel a little bit uncomfortable, then the onus is on you to go out and educate yourself, because ignorance is no longer an excuse.
"And unconscious bias, from my understanding, having the upbringing and the education that I had, I had no idea what it was. I had no idea it existed.
"And then, sad as it is to say, it took me many, many years to realise it, especially then living a day or a week in my wife's shoes."
He added: "It's going to take every single one of us to really change things and anyone that's pushing against it really needs to take a long, hard look at themselves in the mirror."
Dad-of-four Hutchinson said he was raised mainly by women and added: "That has a lot to do with the person that I am."
He skipped university and went to work in IT in the city, for almost 25 years, but told the prince he struggled with unconscious bias and became a fitness trainer.
Hutchinson said that class was also an issue alongside race as he talked about the importance of listening.
He told the prince: "I can only give my opinions, but first of all you have to be willing to listen and have the conversation, have those uncomfortable conversations, because it is an uncomfortable conversation.
"And I totally get it, especially for a white person. Who wants to be told that they may potentially have a little bit of racism in them?
"[How do you] tell the working-class white person that's worked really hard all their life to get where they are that they've had a leg up?
"They're not going to have that and this is where the problem lies.
"There's a big class thing in here too and it's a combination of the two, because it's not only black people who are struggling or nonwhite people."