Why Prince Harry Can't Blame Las Vegas Naked Photos on British Press
Prince Harry's account of being "skinned alive" by the British media over his naked photos from Las Vegas omits the fact the images were published in America while the U.K. media initially complied with palace demands for privacy.
The Duke of Sussex was dating Cressida Bonas when, shortly before he was due to begin his second tour of duty in Afghanistan, his friends persuaded him to go on a "seize the day" lads holiday in Las Vegas.
During one drunken night, Harry suggested a game of strip billiards with some young women he had only just met and he was photographed naked alongside one of them, in August 2012.
Harry writes in his memoir Spare about how the media depicted him as "Prince Thicko" but his account omits some major details about what actually happened.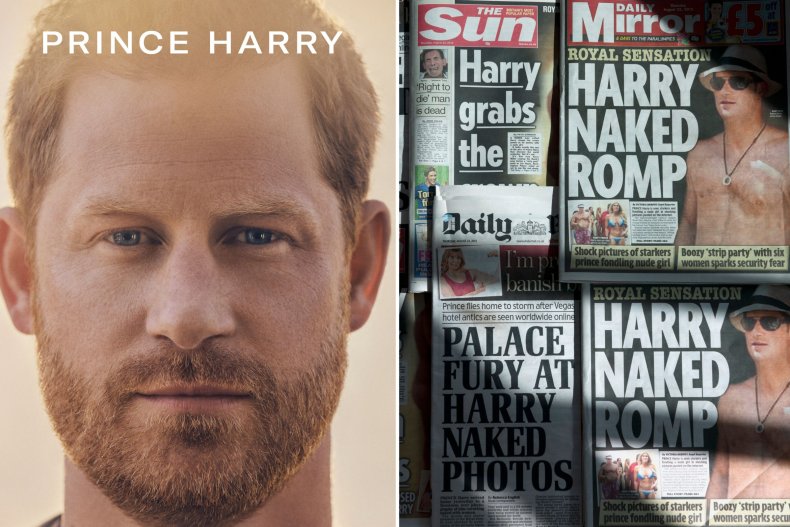 What Harry Says in Spare About Naked Photos
Spare reads: "Around 2am we went back to our suite. My mates invited four or five
women who worked at the hotel to join us, along with two women they'd met at
the blackjack tables."
Harry began playing billiards with his bodyguards. Of this, he recalled: "Then I noticed the blackjack girls hovering. They looked dodgy. But when they asked if they could play I didn't want to be rude. Everyone took turns, and no one was very good. I suggested we up the stakes. How about a game of strip pool?"
Harry initially thought "It was harmless, silly," until one of the girls sold the pictures, which rapidly spread across the internet.
"My sense of guilt and shame made it hard at moments to draw a clean breath," Harry wrote. "Meanwhile, the papers back home had already begun skinning me alive. The Return of Hooray Harry. Prince Thicko Strikes Again.
"I thought of Cress [Bonas] reading the stories. I thought of my superiors in the Army. Who would give me the heave-ho first?"
It is not clear whether Harry intended readers to interpret the phrases "The Return of Hooray Harry" and "Prince Thicko Strikes Again" as actual headlines or simply Harry's recollection of the tone of coverage. Either way, the debate in Britain at the time was far more complicated than Harry lets on in his book.
How U.K. Media Reported Harry's Las Vegas Naked Photos
The pictures were offered for sale to Britain's biggest national newspapers on the evening on August 21 but the U.K. media initially deemed them unpublishable on the grounds of Harry's privacy and instead they were published on TMZ's website in America.
A public debate in the U.K. media then ensued over whether British newspapers could also publish them, as the images were already spread across the internet and social media.
Ultimately, it was two days later on August 24 that a British newspaper followed America's lead, though The Sun's justification for running the pictures is difficult to marry with Harry's account of the U.K. reaction.
David Dinsmore, the paper's managing editor at the time, said in a video on the tabloid's website: "We've thought long and hard about this. The Sun is a responsible paper and it works closely with the Royal family. We take heed of their wishes.
"We're also big fans of Prince Harry, he does a huge amount of work for this country and for the military and for the image of both of those institutions.
"We are not against him letting his hair down once in a while. For us this is about the freedom of the press.
"This is about the ludicrous situation where a picture can be seen by hundreds of millions of people around the world on the internet, but can't be seen in the nation's favourite paper read by eight million people every day."
For any who may doubt Dinsmore's account, a story in The Sun on August 23, 2012, read: "Perfect gent Prince Harry hugged a naked blonde from behind to protect her modesty, a witness at his wild party in a Las Vegas hotel told The Sun last night."
There was certainly criticism of Harry too, for example from the Daily Mail whose front page headline read: "Palace fury at Harry naked photos."
And then-Daily Telegraph columnist Peter Oborne wrote: "What was Prince Harry thinking of? He's not a gormless 19-year-old boy any more. He's a grown-up man, a 27-year-old Army officer who also happens to be third in line to the throne.
"It was a stone-cold certainty that photographs would appear once the holidaying Prince concluded that it would be fun to take his clothes off in a Las Vegas hotel room, along with some like-minded young women he'd apparently met a few minutes earlier."
Another headline in the Telegraph, though, read: "Prince Harry shouldn't worry—every young person has an embarrassing photo somewhere on the internet."
Harry's One-Sided Portrayal of U.K. Media
As with much of Harry's account of the British media in Spare, the duke's portrayal of the U.K. press is one-sided.
The pictures only surfaced because the U.S. media published them at a time when the British media was complying with the palace's request for privacy.
Dinsmore's reference to The Sun taking "heed" of the palace's "wishes" alone is interesting in light of Harry's past account of an invisible contract between the palace and the media.
The prince told Oprah Winfrey in March 2021: "If you as a family member are willing to wine, dine and give full access to these reporters, then you will get better press."
However, he has not acknowledged specific ways the palace relationship with the media has benefited him at points—and this could be viewed as one of those times.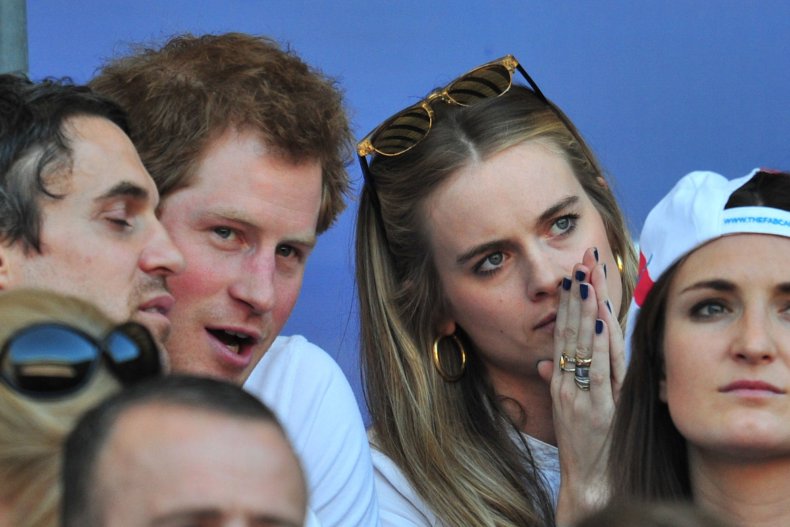 While there were certainly critical voices in Britain there were publications defending him too—among the first British newspapers to go to print with a story about the scandal was the Evening Standard, which ran the headline: A Royal Defence of Naked Harry."
In fact, U.K. pollster YouGov conducted focus groups on whether the public were most concerned about the photos as a breach of royal security or because of how they reflected on Harry's royal status, or neither.
The research concluded that people were most concerned about the security breach and least concerned about damage to his reputation as a royal.
One respondent, named only as Paul, from Woking, was typical of the responses published when he observed: "He is a young man enjoying himself, it's not his fault he was born into royalty, and who has the right to tell him what he should and shouldn't do."
Reasons for Differing U.K. and U.S. Media Responses
While there is some validity in Harry presenting an account of how it felt to experience the PR crisis he endured in 2012, there is no way based on the material in the book alone for a reader to gain a rounded impression of what actually took place.
Even just to have mentioned the role of U.S. tabloid TMZ would have helped his readers to understand the way U.K. newspapers reacted.
Harry's account in Spare describes the royals forgiving him, his army superiors being "non-plussed" and fellow soldiers posing for their own naked pictures in solidarity.
Bonas, Harry writes, reached the conclusion he was "a dummy, not a debaucher," but "the British papers, even knowing I was off to war, continued to vent and fume as if I'd committed a capital offense."
By contrast, a CNN headline at the time read: "Nude Harry photos: How UK tabloids lost their sting," and offers another interesting explanation for the different responses on each side of the Atlantic.
Written by U.K. royal correspondent Robert Jobson, it read: "The party-loving grandson of Queen Elizabeth II has been exposed again, this time naked, playing strip billiards flanked by an equally naked girl.
"But what makes this story interesting—and not just gratuitous tittle-tattle—is the initial reluctance of the British press to even report the story in print or on their online digital media.
"It seems patently absurd to me that millions around the world can view the photographs online, yet no British newspaper would touch them."
Jobson recounted how the pictures were "first published on the net by TMZ and seen by millions" but the palace "PR team reminded media outlets in the UK that the pictures were taken in a hotel suite where the prince would have had a reasonable expectation of privacy" in the eye's of the U.K. press regulator.
"This was a sharp move," he continued, "given that every editor in this land would know that Clause 3 of the Press Complaints Commission (PCC) Editor's Code of Practice states: 'It is unacceptable to photograph individuals in private places without their consent.' To publish in a UK tabloid then would be a clear breach.
"But the newspapers have been left impotent by this move. They have again been scooped by the digital media."
Not least of all, Harry may want to give genuine thought to the reality that the American press has no equivalent to the PCC, meaning there was no regulator for the palace to complain to about TMZ.